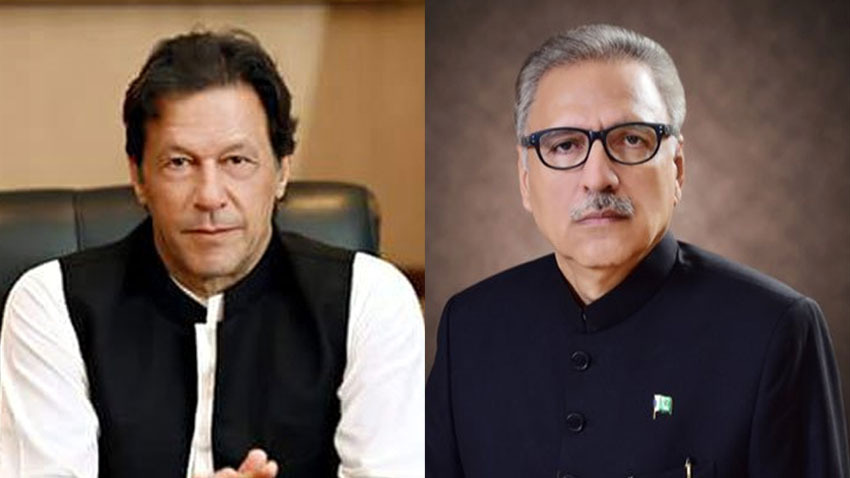 ---
President Arif Alvi and Prime Minister Imran Khan on Saturday urged the nation to strictly observe precautionary measures on the occasion of Eidul Azha in order to mitigate the risk of an increased number of Covid-19 cases post-Eid.
The two also asked the people of the country to take care of the poor and needy segment of the society.
In their separate Eid messages, felicitating the nation, the president and prime minister said it is a day of remembrance of the obedience shown by Hazrat Ibrahim (AS) and the reverence of Hazrat Ismael (AS), who set an exemplary example of sacrifice and selflessness.
President Alvi urged people to help the needy as the coronavirus pandemic had negatively affected the economy.
آپ سب کو عید مبارک۔ میری اللہ سے دعا ہے کہ آپ خوش رہیں، آباد رہیں۔ پریشانیوں، بیماریوں اور مشکلات سے دور رہیں، اور اپکی زندگی قناعت اور سکون کے ساتھ گزرے۔ روزی کی تلاش تو زندگی کا حصہ ہے مگر آپکو اس میں دقت نہ ہو۔ اللہ میرے ملک کو ترقی، خوش حالی اور امن کا گہوارہ بناۓ۔ آمین https://t.co/4qn7suSXl3

— Dr. Arif Alvi (@ArifAlvi) August 1, 2020
Prime Minister Imran, in his message, said the pandemic had become a challenge for humanity and the entire world is faced with a critical situation.
The premier added that the people should strictly adhere to the SOPs in place and the government is utilising all its capabilities to control the epidemic in the country.