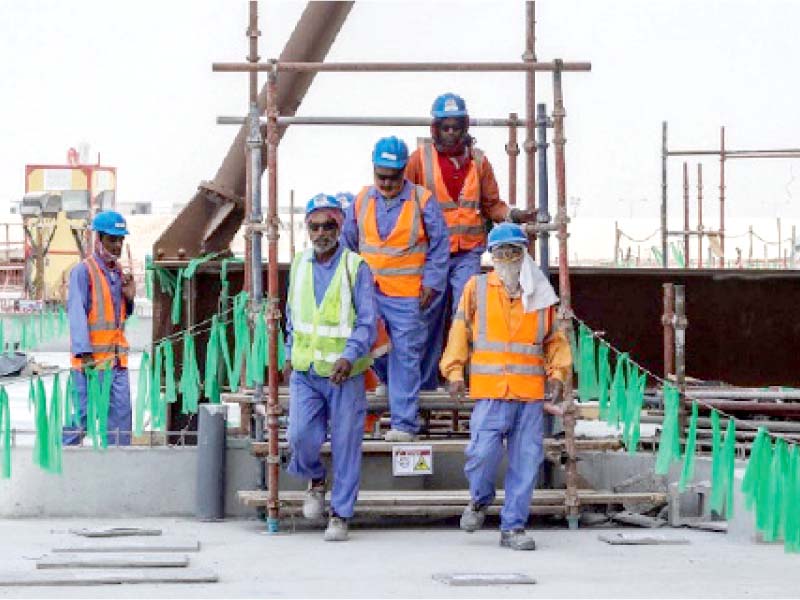 ---
Pakistan's economy has remained at a crossroads. It has achieved medium-term growth targets many times, but has failed to sustain higher growth partly due to a lack of educated and skilled human resources and little capital investment in the workforce.
The untrained labour is not only the reason for a low industrial and agricultural output, which then hinders growth of businesses, but also the reason for the workers getting low wages and a lack of personal growth.
"In Pakistan, the poor state of human capital proved to be a major hurdle to achieving high growth and development," the State Bank of Pakistan (SBP) said in its third quarterly (January-March) report for FY20 titled "The State of Pakistan's Economy" issued the other day.
A significant surge in investment activities and an increase in the level of export-orientation are required to lead the country towards sustainable growth direction.
Likewise, the focus on liberalising trade policy, diversifying the export base, reducing overdependence on locally available resources and digitising production processes need to increase substantially.
However, "when it comes to productivity, the poor state of human capital development is cited as one of the major binding constraints for Pakistan," the central bank said.
With education and training on the lower side, the existing and incoming labour force does not have the desired level of capacity to effectively participate in economic activities. "This is also evident from labour productivity levels in Pakistan lagging behind regional countries," it said.
Pakistan's labour productivity stood at the lowest level of average 32% in US dollar value during 2000-2019 compared to Bangladesh at 109%, Sri Lanka 116%, Vietnam 137%, India 177% and the output of labour in China stood at 388% in the past two decades.
Primary reason for low labour productivity is allocation of little funds for education in the annual budgets. The government allocated just over 2% of GDP on education at present compared to minimum 4% desired band as per sustainable development goals (SDG) strategy.
"Higher incidence of non-discretionary spending given the country's huge bill on defence spending, interest payments and energy needs (and) lack of proper training of staff," are cited as weak governance and budgetary constraints in the SBP report.
Besides, the available technical and vocational education and training (TVET) institutes are insufficient in number and master trainers also lack capacity to train the labour as per existing requirements of local, regional and international markets, according to the report.
The private sector feels the need for training workforce, but invests very little on human resource for one reason or the other.
Solid evidence indicates that workforce training helps increase the labour productivity. This improvement in productivity, in certain cases, then leads to firms becoming more competitive and export-oriented, the central bank said.
"While analysing a multi-country multi-sectoral firm level database from Europe, they (authors) find that an extra hour of training per employee increases productivity growth by around 0.5 percentage points," the SBP said.
Pakistan is left with an ecosystem that is ill-equipped to produce the workforce compatible with the country's growth and industrialisation objectives. Importantly also, the domestic TVET system has not been able to contribute significantly to improving the competitiveness of the country's manpower exports either. "This is worrying, considering that workers' remittances continue to remain an important source of foreign exchange earnings for the country."
The existing vocational and technical training ecosystem of Pakistan is not adequate to meet the needs of the present and incoming labour force.
"Pakistan had 3.8 million people from its workforce unemployed as of 2018, with 1.8 million being added into the unemployed pool every year."
Furthermore, a majority of the TVET institutions are situated in major urban centres, which makes acquiring skills for people in far-flung areas difficult. This proves particularly challenging for the female labour force, as they often cite distance to workplace/training institute as one of the principal barriers to employment.
Studying the firms situated in the knitwear cluster in Lahore, it was found in 2012 that the presence of highly educated entrepreneurs and a skilled workforce was associated with higher productivity, more innovations, bigger firm size and better marketing strategies that helped attract and book more product orders.
A 2005 study suggested that alongside better investment policies and stronger institutions, a much higher human capital quality is what led the East Asian miracle economies to perform much better, concluding that "Pakistan could have achieved higher growth rates, had it invested more in its human capital" it said.
Pakistan currently stands far from achieving the goal of universal primary and secondary education - in the context that the lack of basic education compromises the ability of labour force to effectively acquire the needed vocational and technical skills.
Published in The Express Tribune, August 1st, 2020.
Like Business on Facebook, follow @TribuneBiz on Twitter to stay informed and join in the conversation.