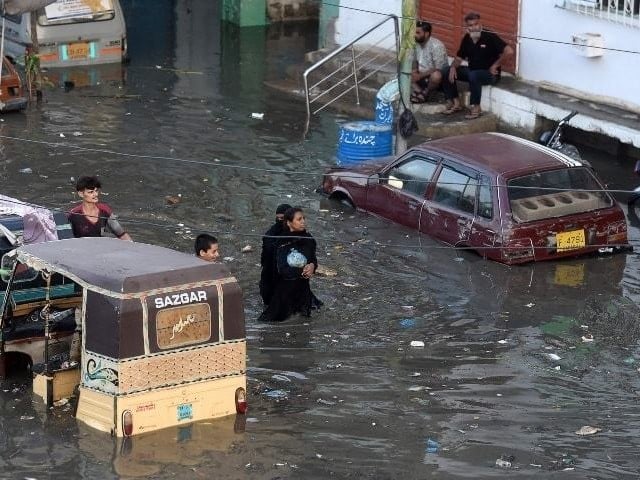 ---
KARACHI:
Karachi, Hyderabad, Thatta and Badin among other Sindh cities are likely to receive rainfall with thunderstorm on Thursday. However, hot and humid weather is expected in other parts of the province, Pakistan Meteorological Department (PMD) said in its weather report on Wednesday.
Mirpur Khas, Sanghar and Nawabshah would also receive drizzle tomorrow, the weather report further said.
Maximum temperature in Karachi will remain between 33 – 35 ºCelsius with 70-80 % humidity in morning and 55 – 65 % in the evening, according to the weather department. The winds are blowing in westerly and south-westerly direction, it added.
On Sunday, heavy rainfall flooded Orangi Town, Surjani Town, Clifton, Gadap Town, Garden Town, Federal B Area, Jamshed Road and other areas of the port city, causing power outages in several areas of the city.
Child among at least four die in Karachi downpour
The rain played havoc in the city, as most of the roads were submerged with rainwater. The presence of rainwater caused accidents and affected underground power cables, spokesperson of K-Electric – city's power utility – said.
'Could be worse'
In the face of the monsoon devastation, Sindh Information and Local Government Minister Nasir Hussain Shah, while visiting different areas of the city, defended the provincial government and called it a "natural calamity", adding that even developed countries were affected by heavy rainfall.
"The Sindh government has been implementing emergency [rainfall] measures under a comprehensive, integrated policy for several months. The situation is not 100 per cent, but at least we are in the field with our people," he stated.
Claiming that "evil elements" were "slandering" the government on social media, he added that if the provincial government had not taken timely steps to clean storm drains, the situation could have been even worse.
Leaders of other political parties, though, lambasted the Sindh government, with Pakistan Tehreek-e-Insaf (PTI) Karachi president Khurrum Sher Zaman claiming that the situation spoke volumes about the Sindh government's performance.
"The Sindh government should admit to its incompetence and apologise to the people, who are struggling while the ministers sleep," he stated. "Cars wouldn't have been floating in the rainwater if the nullahs had been cleaned," he added, calling for an audit of the World Bank funds meant to be used for cleaning the drains.
Meanwhile, Pak Sarzameen Party chief Mustafa Kamal said that the Pakistan Peoples Party, PTI and Muttahida Qaumi movement had all contributed equally to Karachi's destruction, adding that the local government was lying about not having the funds or power to help the city.
Residents, too, complained that they constantly suffered from the negligence of the authorities, claiming that all the political parties did was blaming each other.
(With additional input from News Desk)