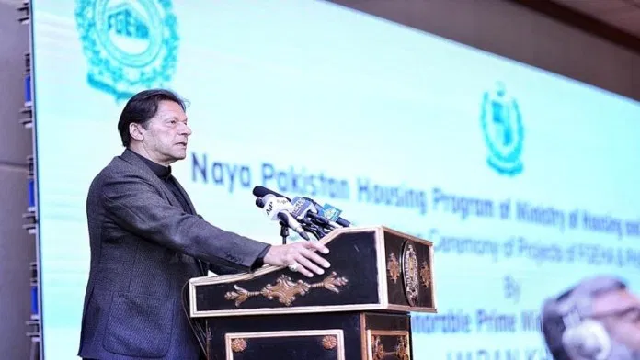 ---
ISLAMABAD:
Prime Minister Imran Khan on Tuesday said that the long-standing problems of Karachi cannot be solved unless the elected local government representatives become financially, politically and administratively independent in line with the spirit of the Constitution.
"The federal government is in favour of full implementation of Article 140-A of the Constitution in its true spirit," the PM Office quoted the premier as saying in a statement.
The premier, according to the statement, directed the attorney general to immediately appeal to the Supreme Court for an early hearing and decision of the petition related to Article 140-A filed in the apex court.
The Article 140-A (Local Government) states, "Each province shall, by law, establish a local government system and devolve political, administrative and financial responsibility and authority to the elected representatives of the local governments."
It further states that the elections to the local governments shall be held by the Election Commission of Pakistan.
In February, the Federal Minister for Planning, Development and Special Initiatives Asad Umar had revealed that he and the prime minister were petitioners in a constitutional petition that the federal government filed to empower local representatives for the betterment of Karachi.
"Karachi needs an effective local government to stand on its feet," Umar had said, adding that the betterment of the city was the foremost priority of PM Imran.
He was of the view that the local government law in Sindh denied empowerment to local representatives and Karachi needed a government with administrative, financial and political powers.
Umar said that he had called for a local government system in Karachi under Article 140-A of the Constitution, saying: "Naya Pakistan" is not possible without "Naya Karachi".
Naya Karachi would be formed under the guidance of the prime minister, he had said, adding that a new local system should be put into practice in which the people of Karachi have power and resources.
Media reported in the first week of March that Mayor Karachi Wasim Akhtar had approached the Supreme Court with a petition seeking empowerment of local bodies in Sindh under Article 140-A.
Talking to the media, the Karachi mayor had said that the case seeking enforcement of Article 140-A of the Constitution was important for the Muttahida Qaumi Movement (MQM) as the local governments in Sindh were deprived of powers guaranteed under Article 140-A.
The mayor had maintained that the provincial government kept all powers with it, saying he has pleaded the court to decide the matter as early as possible. "The federal government has been on the same page with us over the empowerment of local councils," he was quoted as saying.