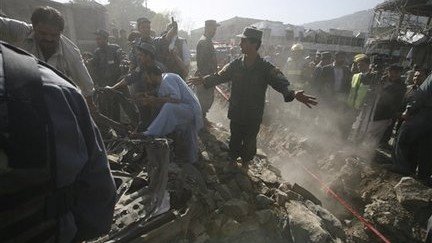 ---
KABUL: Five civilians, including three children, were killed and 24 other people were wounded in three separate attacks by Taliban militants in southern and eastern Afghanistan on Sunday, officials said.

A rocket hit house early in the morning in Behsud district of eastern Nangarhar province, killing two children while wounding three women and one man, an interior ministry statement said.

The ministry blamed the attack on "enemies of the people of Afghanistan" -- a term often used to refer to the Taliban insurgents waging a bloody insurgency against Afghan and US-led Nato troops.

Meanwhile, a bomb blast near a bank branch in Lashkar Gah, the capital of southern Helmand province, killed three civilians and wounded 15 others, provincial spokesman Daud Ahmadi told AFP.

"The bomb, which was remotely detonated next to a Kabul bank branch here, killed a 12-year-old girl and two adults while wounding 15 other civilians," he said.

Minutes later a second bomb exploded close to a high school in Lashkar Gah and injured three more children, an adult and a policeman, Ahmadi said.

Ahmadi blamed the Taliban insurgents for both attacks. The militants have not claimed responsibility for the attacks. Last 1,630 civilians were killed in Afghanistan by insurgent attacks, according to a UN report.
COMMENTS
Comments are moderated and generally will be posted if they are on-topic and not abusive.
For more information, please see our Comments FAQ