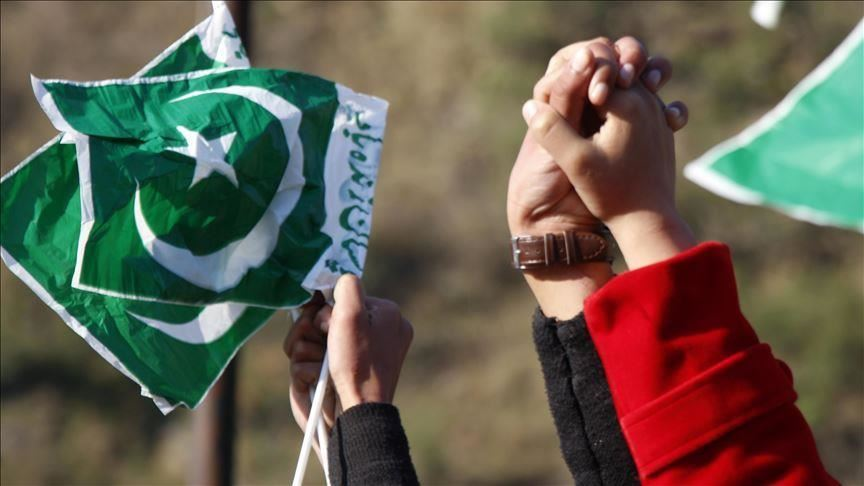 ---
KARACHI, PAKISTAN:
Kashmiris across Azad part of Jammu and Kashmir region observed the 73rd Accession to Pakistan Day on Sunday.
No major events, except for a few rallies and conferences, were held to mark the day due to ongoing coronavirus pandemic.
Hundreds of refugees from Indian-occupied Kashmir took out a rally in Muzaffarabad, the capital of Azad part of the valley, pledging to continue their struggle for the right to self-determination in accordance with UN resolutions.
The day is observed to mark a resolution passed by several Kashmiri groups, linking the destination of Muslim majority valley with Pakistan on July 19, 1947, only weeks before the end of British colonial rule in united India, which resulted in the creation of two independent states, India and Pakistan.
The valley's Hindu ruler, Maharaja Hari Singh, however, handed over the control of the Himalayan valley to India in line with a counter accession he signed in October 1947, triggering a decades-long acrimony between the two rivals.
The Islamabad-administered part of Kashmir, also known as Azad (liberated) Kashmir, was captured by a Pakistani tribal militia, following the accession signed by Kashmiri groups.
Since then, the picturesque valley has been a key bone of contention between the two nuclear rivals that have fought three full-scale wars - two of them on Kashmir in 1948, and 1965 - in addition to a three weeks-long Kargil skirmish in 1999.
Prime Minister Imran Khan reiterated his country's longtime support to "Kashmiris' just struggle for self-determination."
"Today, we commemorate the historic occasion of Youm-e-Illhaq-e-Pakistan (accession to Pakistan), when Kashmiris passed the resolution for Accession to Pakistan. We reaffirmed our commitment to the Kashmiri people, and stand with them in their struggle for self-determination," Khan said in a series of tweets.
"Kashmirs' right of self-determination is recognised by the UNSC, and under international law. We will continue to fight for justice for Kashmiris as they struggle against brutal and illegal actions of the Hindutva supremacist Indian government in IOJ&K (Indian occupied Jammu and Kashmir). I know that justice will prevail."
Kashmiris right of self-determination is recognised by the UNSC & under international law. We will continue to fight for justice for Kashmiris as they struggle against the brutal & illegal actions of the Hindutva Supremacist Indian govt in IOJK. I know that justice will prevail.

— Imran Khan (@ImranKhanPTI) July 19, 2020
Raja Farooq Haider, the prime minister of Azad Kashmir, said the people of "occupied Kashmir" have offered unprecedented sacrifices for the cause of liberation from India.
"Kashmir banay ga Pakistan [Kashmir will become Pakistan] has become a popular slogan on both sides of the Line of Control (LoC) and people have been offering matchless sacrifices to achieve this cherished goal, " he said, referring to LoC, a de facto border that splits the valley between the two arch-rivals.
Pakistan, he said, was the center of hope for the people of Kashmir, and "a strong and stable Pakistan is the greater guarantee for the liberation of occupied Kashmir."
"The day is not far when occupied Kashmir will be liberated from Indian yoke, and the dream of entire state accession to Pakistan will be realised," Haider said.
Disputed region
Already fraught relations between India and Pakistan further flared up when New Delhi scrapped special provisions of the occupied valley last August. It has been under a near-complete lockdown since then.
The region, from 1954 until Aug 5, 2019, enjoyed special status under the Indian Constitution, which allowed it to enact its own laws.
The provisions also protected the region's citizenship law, which barred outsiders from settling in and owning land in the territory.
Both the countries hold Kashmir in parts but claim it in full. China also controls a small sliver of the contested region.
Some Kashmiri groups have been fighting against Indian rule for independence, or unification with neighboring Pakistan.
According to several human rights organisations, thousands of people have been killed and tortured in the conflict that flared up in 1989.
COMMENTS
Comments are moderated and generally will be posted if they are on-topic and not abusive.
For more information, please see our Comments FAQ