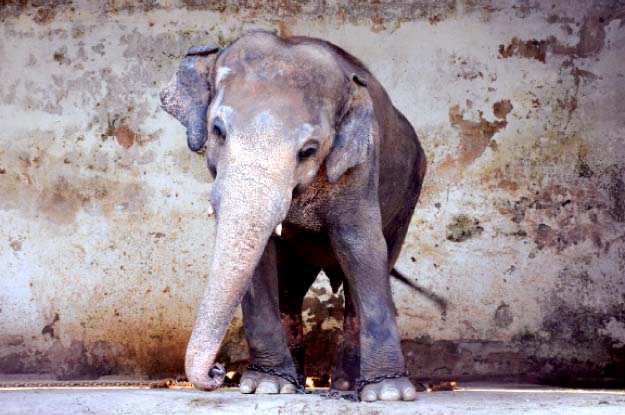 ---
ISLAMABAD:
With the advent of modern technology such as the internet and four-dimensional viewing, there is little justification for keeping animal in cages for either entertainment or educative purposes.
This was stated in a 15-page-long verdict issued by the Islamabad High Court (IHC) Chief Justice Athar Minallah on Sunday. The court disposed of a case on the protection of animals in the Islamabad (Margharzar) Zoo after the government assured it that Kaavan, the only elephant at the zoo, will be sent to a sanctuary in Cambodia.
In the verdict, Chief Justice Minallah noted that Prime Minister Imran Khan has undertaken to shift animals from the zoo to sanctuaries.
The order further stated that the Islamabad Wildlife Management Board (IWMB) had assured it that in its fourth emergency meeting held on July 13, it had decided to relocate Kaavan to an appropriate sanctuary. The appropriate facility was decided as the Cambodia Wildlife Sanctuary.
After a health assessment by visiting veterinarians and staff from the sanctuary, the process of physically relocating the pachyderm will begin.
The court noted that the climate change ministry may write to the Ministry of Foreign Affairs (MoFA) to expedite the visa process of the visiting vet and consultants. The court was further informed that some caged birds have already been freed.
CJ Minallah stated the government has recognised the jurisprudence of the court's decision that the right place and home for wild animals were their respective natural habitat and not the confined boundaries of a zoo.
The judgement added, "imagine a child born in the hottest part of the planet and sent to spend the rest of its life in captivity in a luxurious enclave in one of the coldest areas, separated from the warmth of its mother and other members of its clan."
When the menageries were transformed into 'zoological gardens,' one of the reasons given to justify their existence was to educate children and other humans about the life and behaviour of animal species. But there was no internet or other means to access information then.
"Will such a reason justify the captivity of wild animals in a zoo today?" the court asked.
The federal government, it said, should consider changing its focus from keeping animals in captivity to developing, preserving, protecting, and maintaining natural habitats. Modern technology such as 4-D will be far more beneficial and effective in educating and entertaining children as well as adults rather than merely displaying animals in cages and enclaves.
Published in The Express Tribune, July 20th, 2020.