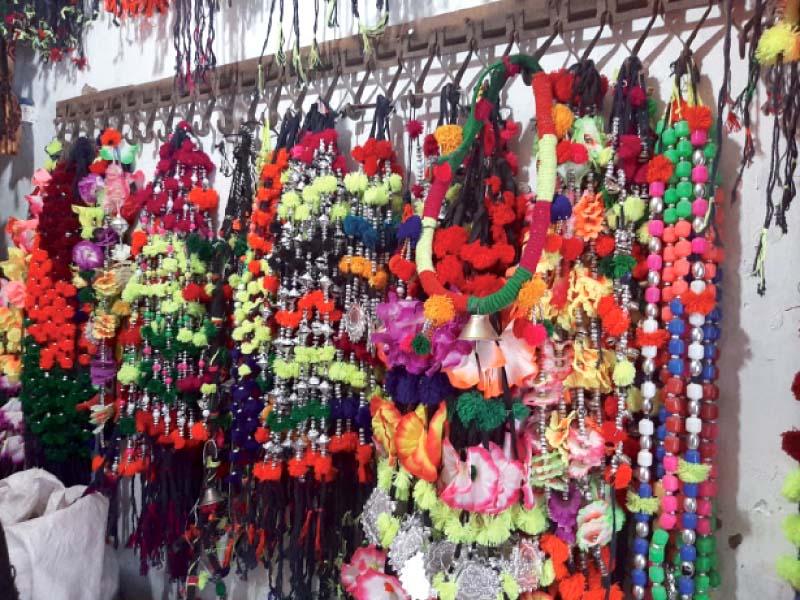 ---
RAWALPINDI:
With Eidul Azha around the corner, the business of decorating sacrificial animals has also started taking rise in the city. Like every year, several makeshift stalls and markets selling knick-knacks and ornaments like beads, anklets and collars have been set up across Rawalpindi. These decoration items which can also be made for all sizes of sacrificial animals remain most popular among young children and teenagers.
Although these decoration items are available for sale during the year, it is during Eidul Azha that stalls are set up in every street and corner, proudly displaying the various multicoloured garlands and decorative collars. Seeing the increase in sales, stall owners in Rawalpindi have increased their prices from 50% to 150% and introduced new, attractive ornaments and decorative items. As per market sources, the prices of these items varies according to the material used and the size of the animal. The bigger the animal, more expensive to decorate it. "It takes Rs6,000 to Rs7,000 to decorate an ox, Rs4,500 to Rs5,000 to fully decorate a goat or a sheep and Rs8,000 to decorate a camel. Decorative beads for cows and ox range between Rs300 to Rs1,000, while the price of a set of anklets can cost between Rs200 to Rs350 and facial ornaments with flowers and garlands cost up to Rs200 to Rs300. Similarly, decorative cloth to cover the animal can cost anywhere between Rs2,000 to Rs3,000 and bells sell for approximately Rs100 to 300 depending on the size."
Sale of sacrificial animals banned in Rawalpindi
Stall-owners Mohammad Ahsan and Shaukat Mehmood, this business gets a boost once in a year otherwise, these decorative items have no value for the rest of the year. "Everyone wants their animal to look beautiful and people take great pleasure in adorning them. Thus customers seldom bargain around this time of the year and are willing to pay," he told.
Young customers Kamil Hassan, Saif Ahmed and Naveed Khan said that they enjoy decorating their animals and use it to remember their beloved animals by. "We decorate and parade our animals on the streets, which is a lot of fun. We sometimes use our own pocket money to pay for it. We take photos and videos of them and look back on our time spent with them every year," Khan candidly told The Express Tribune.
Published in The Express Tribune, July 17th, 2020.
COMMENTS
Comments are moderated and generally will be posted if they are on-topic and not abusive.
For more information, please see our Comments FAQ