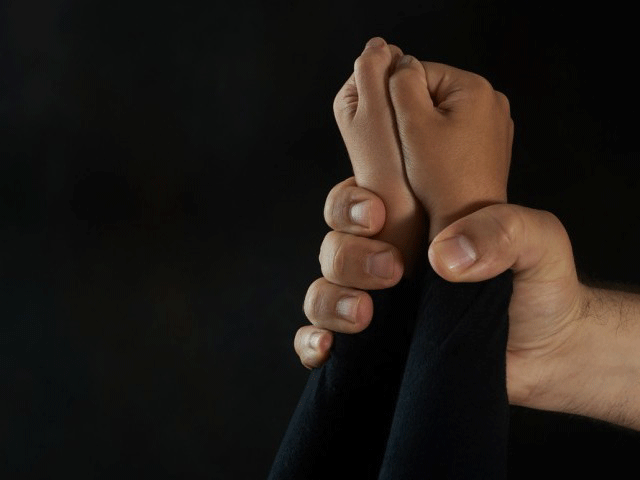 ---
KARACHI:
After videos and pictures emerged on social media showing a retired teacher and tutor allegedly raping children in Khairpur, the Thari Mirwah police registered a case against the suspect, who is reportedly the father of a Pakistan Tehreek-e-Insaf office-bearer, on Wednesday.
According to the FIR, a copy of which is available with The Express Tribune, Z* told the police that his 10-year-old son S*, who studies in Grade 6, had been sexually assaulted by his tutor, Sarang Shar. He added that Sarang managed to escape when he and two other relatives went to find him and had not been arrested yet.
Z told The Express Tribune that he had also received a video clip that had gone viral on social media on Wednesday, showing S being raped by Sarang. "I was horrified to see the video," said the helpless father, who is a driver by profession and originally from Karachi. "A teacher is supposed to build his students' careers but this one destroyed my child's life."
He explained that S had recently joined Sarang's tuition centre during the lockdown. "My son's school was closed, so I thought it was a good idea to send him to a tuition centre instead. But this man is not a teacher, he is an animal."
Stating that his son was traumatised, Z demanded justice for S. He added that senior police officials, including Khairpur SSP Aamir Saud Magsi and DIG Fida Hussain Mastoi, had contacted him with assurances of tracing Sarang soon.
Aslam Shar, the suspect's son and PTI Khairpur district vice-president, told The Express Tribune that he was currently out of town and unaware of the details. "I cannot say that the person in the videos or photos is my father," he said, adding that the phones of his family members were switched off. "I am trying to contact them and will provide updates when I get home."
Advocate Raza Hussain, a lawyer who had highlighted the matter on social media, said that Sarang was a very influential person in the area. "But the whole city stands with S. We will go to court for the issue," he insisted, adding that they would also register a case in Karachi.
According to local residents, several other videos had also circulated showing Sarang sexually abusing other children.
"He forced his students to engage in sexual activities with each other and made videos of them," claimed Hussain, accusing the teacher of blackmailing the children as well.
Despite several attempts to contact him, SSP Magsi was unavailable to comment on the case.
*Initials used to protect identity