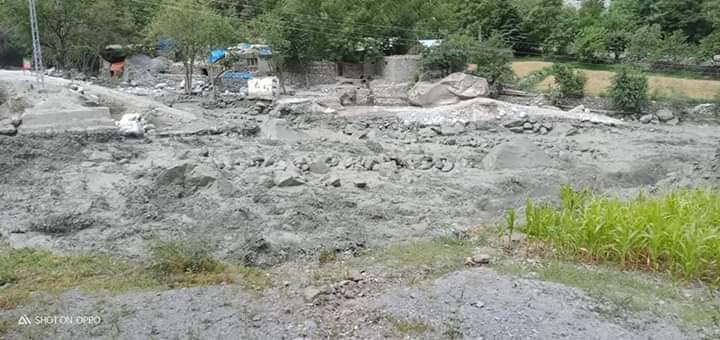 ---
CHITRAL:
Rescue efforts continued in Golen valley near Chitral city on Wednesday, after a glacial lake outburst flood (GLOF) swept away houses, livestock, bridges, a small hydropower station, and cut off the Golen valley from other areas on Monday morning.
Fortunately no loss of life was reported but people were left stranded due to destroyed roads and bridges. A temporary bridge was built by Rescue 1122 to vacate people from the affected areas, said Rescue 1122 Director-General Dr Khatir Ahmed. Patients in Golen valley are being tended to by medical teams of the rescue service, he added.
According to local eyewitnesses, the floods occured after a glacier lake experienced an outburst in the Azghor area. That coupled with rains caused the flooding, they said.
Last year in July, flash floods left at least 70 people stranded after Jam Ashpar glacier burst overnight. The floods had wreaked havoc, taking down houses, livestock and roads. Only recently Rs400 million had been set aside for flood rehabilitation in the area as it awaits restoration yet.
In 2015, a similar incident killed at least three people and caused extensive damage to property and infrastructure and affected more than a quarter of a million in Chitral.
COMMENTS
Comments are moderated and generally will be posted if they are on-topic and not abusive.
For more information, please see our Comments FAQ