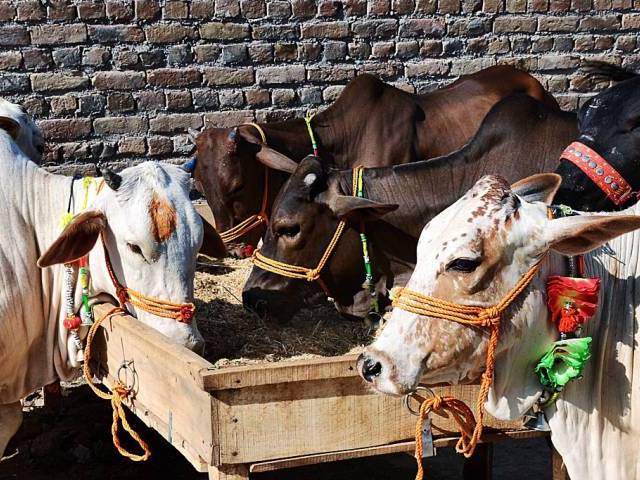 ---
KARACHI:
The clerics of Ittehad-e-Tanzeemat-e-Madaris Pakistan (ITMP), including Mufti Muneebur Rehman, announced on Thursday that they had reached a consensus with the Sindh government over standard operating procedures (SOPs) for Eidul Azha.
Addressing a press conference, Rehman said he and other clerics met Sindh Education Minister Saeed Ghani and Sindh Local Government Minister Nasir Hussain Shah and decided on a set of guidelines in relevance to the religious festival.
Cattle market SOPs
Outlining the SOPs for Eidul Azha, he said that cattle markets were to be set up in the cities' suburbs, at locations distant from residential areas, in open grounds. All cattle market peripheries are to be marked by boundary walls and insecticides are to be regularly sprayed inside the markets, he added.
Talking to the media, ITMP clerics said that children would not be allowed to visit cattle markets and people were to avoid visiting them in large numbers.
These markets are not recreational spots and only a limited number of people should go there to buy animals, they stressed.
According to the clerics, wearing masks for traders and buyers has been made mandatory and people at the markets are to maintain as much distance as possible.
The clerics called for the government to ensure that no sick animals were brought to cattle markets.
As per the guidelines, sacrificial animals brought to cattle markets are meet the criteria set by the Islamic law, according to which cows, buffaloes and bulls being sold for slaughter should be at least two years old, goats and lamb at least a year old and camels at least five years old.
Slaughter SOPs
The clerics further established that in accordance with the guidelines, people were advised to opt for combined sacrifice so that littering caused by offal in the streets could be minimised. They added that local government bodies would be instructed to collect the offal and waste from the streets and transport them to disposal sites at the earliest possible.
They further stated that slaughter sites were to be washed with insecticides after the ritual was completed and all possible measures were to be taken to maintain cleanliness and hygiene.
Moreover, they said, before the slaughter, people would not be allowed to let their animals roam the streets. Meanwhile, they added, local government authorities would spray insecticides in their respective localities from Zil Hajj 8 to Zil Hajj 15 and make arrangement for sprinkling slaughter spots with chuna [crushed limestone] after the slaughter.
Hide collection guidelines
Besides, those collecting animal hides were also to collect and transport them for treatment in minimal time, they said.
As per the clerics, the provincial ministers had agreed to allow the collection of hides on the basis of permits issued last years.
Those intending to collect hides would neither need to get a new permit made, nor the previous one updated, they explained, however, adding that if anyone wanted to get a new one made, they may do so.
Confusion prevails over Eid arrangements
The Sindh government's apparent ambivalence and muddled response to the question of setting up cattle markets ahead of Eidul Azha has left many perplexed.
A notification issued by the Sindh local government department on June 3 had allowed the establishment of cattle markets in the province, subject to pandemic-related standard operating procedures issued by the government.
Following this, cattle markets, which thus far remained closed due to a lockdown, had opened and a surge was observed in the arrival of livestock.
Meanwhile, arrangements for setting up a makeshift large-scale market on Super Highway, which is organised annually ahead of Eidul Azha, also began. The market sees the arrival of sacrificial animals from across Sindh and even from outside the province for sale before Eidul Azha.
And now, the sale of animals at these markets is in full swing - with many visiting them, including the main market on the Super Highway - despite warnings that allowing cattle markets to operate could worsen the coronavirus pandemic.
These warnings came from different quarters - including provincial ministers.
Earlier, Sindh Chief Minister Syed Murad Ali Shah had said that it was advised not to set up cattle markets this year and the local government minister had echoed these views. Moreover, Sindh Health Minister Dr Azra Fazal Pechuho, in a video statement issued on June 27, expressed concerns that setting up cattle markets could cause the virus to spread faster.
However, authorities, despite realising the risk, have allowed cattle markets to open, while issuing SOPs to be implemented.
COMMENTS
Comments are moderated and generally will be posted if they are on-topic and not abusive.
For more information, please see our Comments FAQ