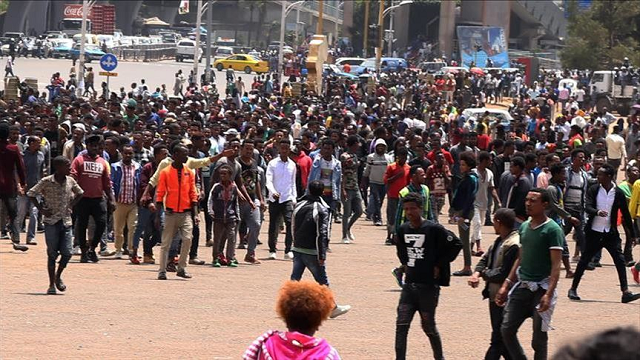 ---
ADDIS ABABA:
Demonstrations in Ethiopia after the assassination of activist and artist Hachalu Hundessa turned violent, leading to at least 81 deaths and many injuries, officials said.
Nationwide protests, and bomb attacks were carried out in different parts of the country on Wednesday, Ethiopian police sources said.
Among the deceased are three police officers and 78 civilians, Commissioner Bedassa Merdassa told local media.
The demonstrators tore down the statue of Ras Makonnen, the father of Emperor Haile Selassie, who ruled the region in the 19th century.
Besides activist Jawar Muhammad, 34 others who took part in the protests and blocked the roads, were taken into custody.
Internet connection was also down across Ethiopia yesterday. The administration often shuts down online access in order to stop the protests from spreading.
Hundessa was attacked on Monday night in the capital Addis Ababa, and died in hospital shortly afterwards.
During protests that led to the downfall of the previous government in 2018, he became the voice of the Oromo ethnic group.
Oromo people form the majority in the East African country but have for long complained of discrimination and violation of their rights.
COMMENTS
Comments are moderated and generally will be posted if they are on-topic and not abusive.
For more information, please see our Comments FAQ