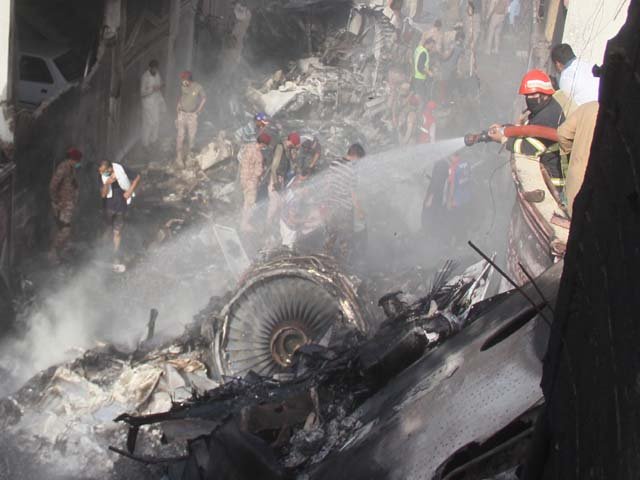 ---
KARACHI:
The families of those who passed away in the Pakistan International Airlines (PIA) plane crash in Model Colony last month rejected the preliminary investigation report on Monday, demanding a transparent, independent investigation into the tragedy.
Addressing a press conference at the Karachi Press Club, they insisted that the investigation into the deadly crash should be assigned to an autonomous international agency that was not affiliated with any political party, the PIA, the Civil Aviation Authority (CAA) or the Pakistan Airline Pilots Association (PALPA) in any way. They further demanded that the investigation must be directly monitored by the Supreme Court of Pakistan.
PIA flight PK8303, carrying 99 people, plunged into a densely populated residential area near Karachi airport on May 22 as it was making its second attempt to land. A total of 97 people on board the plane perished in the accident, as well as a child who was present on the street at the crash location.
The preliminary investigation report stated that the crash was a result of human error and the negligence of both the cockpit crew as well as the air control tower.
The families of the victims, however, claimed that even though the pilot had been declared responsible for the crash, there was still a possibility of technical, software or hardware faults that could not be ignored.
Arif Farooqi, whose wife and three children died in the crash, stated that the incident should be reinvestigated, while flight operations of the PIA should be suspended completely for some months and political appointments in the airline terminated.
"Many such incidents have occurred due to corruption in the PIA, which includes drug smuggling," claimed Farooqi, adding, "The CAA and PALPA are all the same. Their unions should be banned."
Meanwhile, Junaid Hamid, whose wife had died in the AirBlue plane crash in 2010, revealed that when he approached the CAA regarding the tragedy, he had learned that nearly all officials on their investigation team had been transferred from the Pakistan Air Force and had no experience of civil aviation.
"The Pakistani airspace is the most dangerous airspace in the region, with an aviation accident occurring every two years," he alleged, adding that despite the ban on construction in the vicinity of airports, illegal building activities were still being carried out.
Hamid further claimed that those affected by the PIA crash were struggle to secure compensation, adding that the Rs5 million given was the initial compensation amount paid on the government's behalf and not the insurance amount, which was paid according to the age, education and experience of each passenger.
Kanwal Arsalan, the relative of another deceased passenger, said they were waiting for justice from the country's judiciary, adding that despite the fact that the PIA was the second most over-employed airline in the world, its staff members were nowhere to help.
Published in The Express Tribune, June 30th, 2020.