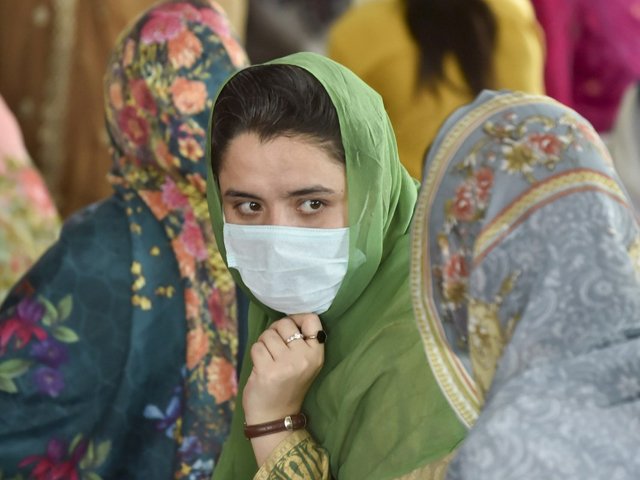 ---
ISLAMABAD / KARACHI / PESHAWAR / LAHORE / QUETTA / MUZAFFARABAD: The novel coronavirus emerged in the central China city of Wuhan towards the end of last year and proliferated to almost the whole world within a couple of months. It's not the virulence or fatality, but the infectivity of the new virus – also known as SARS-CoV-2 – that has set off a global frenzy.

The Covid-19 respiratory illness caused by this mysterious contagion has so far infected more than 9 million people in 202 countries and territories of the world – and over 467,000 of them have died and counting.

Pakistan, despite its close proximity with China, remained coronavirus-free until February 26 when a young man from Karachi tested positive after returning from Iran – one of the worst-hit countries. After a brief hiatus following the first case, Covid-19 cases spiked as more pilgrims returning from Iran tested positive for the virus.

Nearly one-and-a-half months after imposing the lockdown across the country, Prime Minister Imran Khan announced to ease the lockdown in phases.

The nationwide tally of Covid-19 patients stands at 183,362 with 66,943 cases in Punjab, 71,092 in Sindh, 21,997 in Khyber-Pakhtunkhwa, 9,475 in Balochistan, 1,326 in Gilgit-Baltistan, 10,912 in Islamabad and 864 in Azad Jammu and Kashmir.

The virus has claimed at least 3,630 lives while around 71,458 coronavirus patients have recovered.

The situation remains fluid and we're updating stats as soon as new figures are officially released.

Follow The Express Tribune's live coverage of the pandemic here.






11:50pm: AJK minister infected with virus shifted to hospital

Azad Jammu and Kashmir (AJK) Information Minister Mushtaq Minhas has been shifted to Military Hospital (MH) Rawalpindi after his health deteriorated late Monday evening.

The minister has been suffering from coronavirus infection for past one week and he was in isolation at home.

AJK Prime Minister Raja Farooq Haider Khan called Minhas and inquired after his health.  He also appealed to the people to pray for early recovery of the minister and other Covid-19 patients.




11:35pm: 38 fresh Covid-19 cases take G-B tally to 1,326

Gilgit-Baltistan has reported 38 more cases, taking the tally to 1,326.

The health authorities said that 77 more patients have recovered from the disease, taking the total recoveries to 946.

They further said that 22 people have lost their lives due to the contagious disease in the region so far.




11:18pm: AJK reports 24 fresh Covid-19 cases, two more deaths

Azad Jammu and Kashmir (AJK) reported at least 24 fresh coronavirus cases, taking the tally to 869.

According to health officials, two more Covid-19 patients succumbed to the contagious virus as the total deaths soared up to 22.

They further said that 350 people have so far recovered from the contagion.




10:30pm: PM Imran directs for strict implementation of smart lockdowns

Prime Minister Imran Khan on Monday directed the relevant authorities to ensure implementation of the smart lockdown strategy by involving of local community leaders as well as the volunteers of the Tiger Force.

Chairing a review meeting on the pandemic situation, the prime minister also directed for finalisation of the standard operating procedures (SOPs) for Eidul Azha in consultation with the provincial governments as soon as possible.

"This time, Eidul Azha will be being celebrated under extraordinary circumstances. The current situation demands that clear SOPs should be formulated as soon as possible for the protection of the people and their strict implementation be ensured," the prime minister said.

Full story here




10:00pm: 22 more die of Covid-19 with 636 new cases in K-P

Health officials in Khyber-Pakhtunkhwa (K-P) have confirmed 22 more fatalities due to coronavirus to bring the death toll to 843.

15 deaths were reported from Peshawar, two from Mardan, as many in DI Khan, and one each in Swat, Abbottabad and Malakand.

636 new cases – four from Int'l flights – were also recorded in the past 24 hours, taking the total to 22,663.

333 more patients recovered to raise the tally to 6,869. A total of 128,105 tests have been conducted in the province thus far.


Total deaths stand at 843. Please ignore the typographical error in the earlier tweet.

— Health Department KP (@HealthKPGovt) June 22, 2020


9:45pm: Health department seeks 'curfew' in Karachi

Dissatisfied with the 'smart lockdown' imposed as the coronavirus continues to spread in the metropolis, the Sindh health department recommended that the government enforce a stricter lockdown in 182 union councils (UC) across the provincial capital on Monday.

According to the official figures released by the Sindh government, a staggering 56,775 coronavirus cases have been reported in Karachi to date – nearly a third of all virus cases that have been detected in the country so far.

Read more here




9:30pm: Balochistan reports two more deaths, 112 new Covid-19 cases

The Balochistan health department has confirmed two more casualties due to coronavirus to bring the provincial death toll to 104.

They also reported 112 new cases to raise the province's tally to 9,587.

3,670 patients have recovered so far.




7:10pm: After three months: Pakistan partially resumes international flights

Pakistan partially allowed international flights to resume on Sunday to bring back more citizens stranded in other countries because of the coronavirus, over three months after they were suspended as part of the country's efforts to stem the spread of the disease.

The country had closed its airspace for international flights on March 21 for two weeks and then extended the suspension several times as the Covid-19 situation grew worse in the country.

Now the government has reopened 25% of the country's airspace so that the citizens stuck abroad could return.

Read more here




6:50pm: More than 600 stranded Pakistanis brought back from Kuwait

In order to alleviate the situation of stranded Pakistanis in Kuwait, the Speaker National Assembly, Asad Qaiser had recently directed the Ministry of Foreign Affairs to arrange flights to Kuwait.

Subsequently, three special PIA flights have been operated to bring back Pakistanis stranded in Kuwait. The instant flight operation has lowered the number of stranded Pakistanis in Kuwait. The Ministry of Foreign Affairs has informed that a comprehensive plan has been devised through which PIA will fly to different destinations to bring back stranded Pakistanis abroad.

The National Assembly speaker on this occasion said that safe repatriation of Pakistanis stranded in foreign countries due to the coronavirus pandemic is our top priority. He assured that all resources will be used to repatriate migrants from abroad.




6:00pm: Punjab reports 28 more deaths, 1,204 new Covid-19 cases

The primary and secondary health department in Punjab has confirmed another 28 fatalities due to Covid-19 in the past 24 hours to bring the provincial death toll to 1,435.

Health officials also reported 1,204 new coronavirus cases to raise the province's tally to 66,943.

19,100 patients have so far recovered across Punjab.




5:50pm: Five more Islamabad neighbourhoods to be sealed in 36 hours

Islamabad Deputy Commissioner Hamza Shafqat has said that five more areas will be sealed in the next 36 hours to curb the spread of Covid-19 in the federal capital.

The areas include sector G-6/2, G-6/1, G-10/4, G-7/2 and Ghori Town.

DC Shafqat said that more than 40 cases per area were reported with over 25 deaths in the last few days.


We are about to seal Sector G-6/2, G-6/1, G-10/4, G-7/2 and Ghori Town in next 36 hours. There were more than 40 cases/area in last few days. There were more than 25 deaths reported. Residents are requested to please plan accordingly.

— Deputy Commissioner Islamabad (@dcislamabad) June 22, 2020


4:00 pm: PM Imran predicts June, July as difficult months for Pakistan

Prime Minister Imran Khan reiterated on Monday that the months of June and July will be difficult for Pakistan with regards to the coronavirus outbreak in the country.

Read full story here




3:30 pm: Sindh reports new cases

Provincial authorities said 1,464 cases emerged in the province during the last 24-hour period, pushing the provincial tally to 71,092.

Authorities added that 14 more people succumbed to the virus.


2:50 pm: Advisor CM K-P addresses the media
#Live: Advisor to Chief Minister KP on Information, Ajmal Wazir Khan talking to media in Peshawar https://t.co/ZE1rUfoS1H

— Radio Pakistan (@RadioPakistan) June 22, 2020
2:10 pm: Spokesperson Balochistan govt addresses the media
#Live: Spokesperson of the Government of Balochistan Liaquat Shahwani addressing a news conference in #Quetta https://t.co/9uuxtzV60a

— Radio Pakistan (@RadioPakistan) June 22, 2020


12:50 pm: NCOC releases mortality statistics 

The NCOC has stated that 72pc of those who have succumbed to the virus are males and the median age is 60 years and 74pc of the victims were over 50.

It added that 72pc of those who died from Covid-19 had comorbidities.




12:00 pm: CM Sindh inaugurates HDU unit at Expo Center Karachi

Chief Minister Sindh Murad Ali Shah inaugurated a high-dependency unit (HDU) at the field hospital set-up at Expo Center Karachi.

The HDU has a capacity of 140 oxygenated beds spread over seven rooms.


A High Dependency Unit (#HDU) for COVID-19 patients has been set up with the joint cooperation of Sindh Government and Pakistan Army at Expo Centre Karachi https://t.co/cwmAkUinAB

— Radio Pakistan (@RadioPakistan) June 22, 2020


11:30 am: NCOC says 559 areas under lockdown

The NCOC has said the 559 areas are under a 'smart lockdown' in the country in accordance with the TTQ strategy.




10:45 am: 'Pakistan self-sufficient in PPE'

Special Assistant to the Prime Minister on National Health Services Dr Zafar Mirza said Pakistan is self-sufficient in manufacturing Personal Protective Equipment (PPE) to contain the coronavirus pandemic.

He again stressed the need to maintain social distancing, frequent washing of hands, avoid visiting crowded places and special care of elders to successfully control the pandemic.




10:00 am: 'Smart lockdowns' take effect in over 400 areas across K-P

In an effort to bring down the escalating number of novel coronavirus (Covid-19) cases, over 400 areas across the province have been put under the smart lockdown.

This was disclosed by Khyber-Pakhtunkhwa (K-P) Chief Minister's Adviser on Information and Public Relations Ajmal Wazir on Sunday.

Read story here




9:00 am: Covid claims lives of 63 healthcare workers across Pakistan

At least 63 doctors, paramedics and others affiliated with healthcare sectors have died of coronavirus while battling on the frontline against the disease.

According to figures compiled by the medical community, 30 doctors, three nurses, a paramedic and an operation theatre assistant have lost their lives to Covid-19 in Punjab; 11 doctors and one nurse in Sindh; six doctors, two nurses and one paramedic in Khyber-Pakhtunkhwa; four doctors and three paramedics in Balochistan; an operation theatre technician at PIMS in Islamabad; and one doctor in Gilgit-Baltistan.

Read story here




8:00 am: 92 Covid hotspots identified in 20 cities across Pakistan

The National Command and Operation Centre (NCOC) has identified 92 Covid-19 hotspots in 20 cities across the country, which cover some 40% of all the active cases nationwide, Planning Minister Asad Umar said on Sunday.

The minister, who heads the NCOC – the nerve centre of the country's unified efforts against the spread of the deadly contagion, said in a tweet that an effective smart lockdown in these hotspots could make a decisive difference.

"NCOC has identified 92 hotspots in 20 cities, which cover 40% of all active cases & effect only 3% of Pak population. We can have substantial impact on disease spread while minimizing disruption in livelihood of citizens. Effective hotspot lockdown can make a decisive difference," Umar tweeted.

Read story here