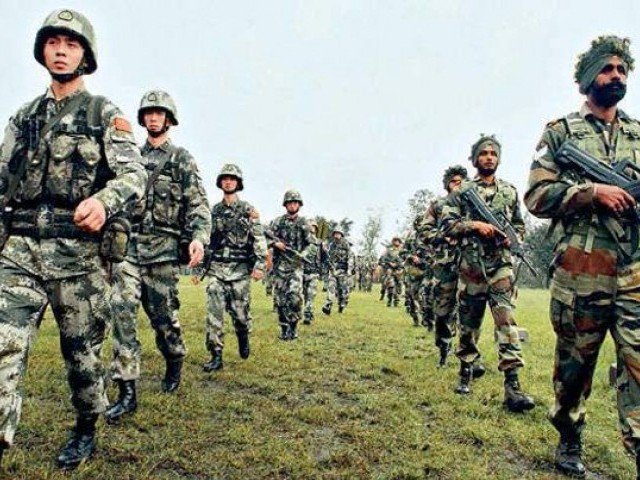 ---
ISLAMABAD: While China and India were trying to resolve the standoff at high-altitude Ladakh region through military contacts, there has been a messaging going on at the civilian leadership level between the two countries.

If observers and assessment of the diplomatic circles in Islamabad are to be believed, China has linked the de-escalation in tensions with India to its commitment for restoring the status of Indian Occupied Jammu and Kashmir to pre-August 5, 2019 level.

Modi government had in August last year revoked the Article 370 of the Indian Constitution that gave Jammu and Kashmir territory a special status. China at the time reacted angrily since the change also affected the status of Ladakh, which is claimed by Beijing. It also took the issue to the United Nations Security Council.

Chinese diplomat's tweet on Ladakh standoff ruffles feathers in India

However, this is for the first time the current standoff between China and India is being linked with Modi's August 5 move in IOJ&K.

Although, there is no official word either from Beijing or New Delhi on the link between Ladakh situation and Kashmir, a recent article written by a Chinese scholar, who is working with an influential Chinese think tank, hinted at China's border tussle with India having tied to the Kashmir dispute.

Dr Wang Shida, deputy director of the Institute of South Asian Studies at China Institutes of Contemporary International Relations, writes that India has, since last August, taken constant actions to unilaterally change the status quo of Kashmir and continued to exacerbate regional tensions.

On the Chinese side, he adds India "opened up new territory on the map," incorporated part of the areas under the local jurisdiction of Xinjiang and Tibet into its Ladakh union territory, and placed Azad Jammu Kashmir within its so-called union territories of Jammu and Kashmir.

"This forced China into the Kashmir dispute, stimulated China and Pakistan to take counter-actions on the Kashmir issue, and dramatically increased the difficulty in resolving the border issue between China and India," Dr Wang notes.

Significantly, the spokesperson of the Chinese Embassy in Islamabad shared the article, something that created a storm in New Delhi, with Indian commentators termed the move as an extraordinary development.

Some in India also alluded to the fact that China through igniting border tensions is, in reality, seeking the reversal of Modi's illegal annexation of Jammu and Kashmir.

"China wants both ways: PLA has changed LAC alignment, made DSDBO road to SSN adjacent to Siachen unusable for army reinforcements. China wants Indian commitment from the highest level to restore the J&K state. Indian military cannot do much and the US will not. Modi's government's biggest challenge!," tweeted Pravin Sawhney, a retired Indian army officer and expert on China.


China wants both ways: PLA has changed LAC alignment, made DSDBO road to SSN adjacent to Siachen unusable for army reinforcements. China wants Indian commitment from highest level to restore J&K state. Indian military cannot do much & US will not. Modi's gov biggest challenge!

— Pravin Sawhney (@PravinSawhney) June 13, 2020


In Islamabad, officials have no knowledge or they deliberately do not want to say it but acknowledge the current Indo-China standoff can't be de-linked from Modi government's expansionist policies in the region.

However, AJK President Sardar Masood Khan, who previously served as Ambassador to Beijing, in one of his recent interviews said China had given a clear message to India to renounce the "expansionist agenda."

On June 6, senior military commanders of China and India met to resolve the current border standoff. Indian media quoting sources claimed that both sides agreed to disengage, although official handouts issued by the two sides didn't say so.

Some reports suggested the corps commander level meeting took place at least 3.5 kilometres inside a territory which was under the Indian control in Ladakh region before the current standoff began. Indian govt and media were reluctant to acknowledge the fact that Chinese troops changed the alignment of Line of Actual Control (LAC) by now controlling areas that were under Indian control till May.

Not just that, Chinese forces have made advances at the LAC, a de facto border between two countries, to the extent that the road recently built by India in Ladakh for defence purposes is no more usable.

India, China agree to resolve border dispute 'peacefully'

In fact, the current border tussle was triggered by the road and other military infrastructure built by India in the Himalayan region. China, observers believe, moved to stop such infrastructure since it considered the area as part of China.

Before the corps commanders level meeting, there were at least 18 sessions between the level of local commanders and three meetings took place at the level of major generals.

However, all those efforts yielded no result with China strengthening its position as some of the Indian retired generals admitted that China now controls 40 to 60 square kilometres of the Indian territory in the disputed region.
COMMENTS
Comments are moderated and generally will be posted if they are on-topic and not abusive.
For more information, please see our Comments FAQ