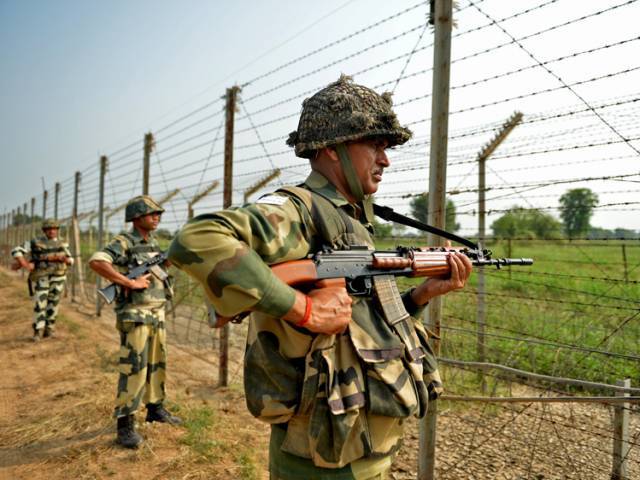 ---
MUZAFFARABAD: Azad Jammu and Kashmir (AJK) President Sardar Masood Khan has once again warned that there is a high probability of India's aggression against Pakistan – in one form or the other.

He was replying to a question during an interview with an online news portal and a monthly magazine. "I believe that Pakistan is already under attack and in a state of war with India. An attack on Indian Occupied Jammu and Kashmir (IOJ&K) is an attack on Pakistan. This is not Indian territory."

India, President Masood said, is decimating potentially Pakistan's citizens. "Indian occupation forces target and kill civilians across the Line of Control (LoC) in Azad Kashmir and terrorise 80,000 families now and then. Indian political and military leaders, including their prime minister and army chief, have threatened the use of military force against Pakistan."

'BJP-RSS regime plans to turn IOJ&K into Hindu state'

He also said that China has given a clear message to India to stay away and renounce its revisionist and expansionist agenda. "After China's robust response on Doklam, Sikkim and Ladakh, India caved in because it does not want a repeat of the 1962 war but its designs vis-a-vis China remain unchanged."

The AJK president went on to say that China does not want India to imperil the China-Pakistan Economic Corridor (CPEC) passing through Gilgit-Baltistan or attempt to alter the status of Azad Kashmir in any way. So the Pakistan factor in Chinese military and diplomatic posture is evident. "There is a careful but understated calibration and alignment. The Line of Actual Control (LAC) and the Line of Control are part of the same irredentist continuum so far as India is concerned."

About AJK's position on the disputed Ladakh region boundary, President Masood said that words would be chosen carefully in deference to the Chinese sensitivities and our long-standing relationship, but China's pressure on India is a decisive factor because it reins in New Delhi's aggression in IOJ&K and against Pakistan.

He, however, said that the standoff would not bridle India's atrocities in the disputed valley or the rush for colonisation in the territory. "That can be stopped only through active resistance by Kashmiris and to a lesser extent by some decisive action by the international community."

World leaders urged to take notice of India's attempts to disrupt regional peace

When asked how does China-India border standoff affect the morale of Kashmiri people, the AJK president said that hopes of Kashmiris have been raised. "Kashmiris think they are not alone and that China is on their side. That's true but to an extent. Some engage in a flight of fancy visualising and goading for a two-front attack on India, an opportunity they think was missed in 1962."

Ruling out an all-out war between China and India, the AJK president said that despite their significant differences, both the countries are tamping down tensions. "China, Pakistan and India are all nuclear powers and an active war threat between them could trigger a global nuclear Armageddon."

When asked to comment on Indian Defence Minister Rajnath Singh's remarks in which he warned that this is not India of 1962, President Masood said that Rajnath Singh's bravado should not be taken seriously. He said that he did not see any difference between today's India and India of 1962.

"Yes, it [India] has more arsenals and nuclear power today but has the same hegemonic mindset with feet of clay," the AJK president said. "The costs of a confrontation for India would be too high, and Modi does not want to be excoriated like Nehru for another discomfiture."

About the US offer to help mediate between India and China, he said there would be no mediation by embattled President Trump. "The suggestion was disingenuous because both Washington and New Delhi knew that Beijing would not accept the offer."
COMMENTS
Comments are moderated and generally will be posted if they are on-topic and not abusive.
For more information, please see our Comments FAQ