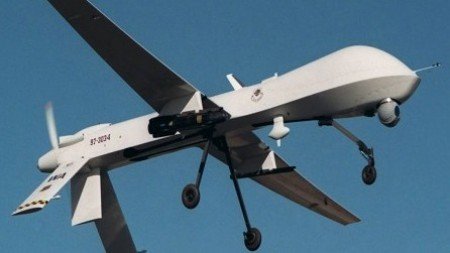 ---
At least 13 suspected militants were killed and 14 others injured in a US drone attack in Sokhhel village of the North Waziristan tribal agency on Saturday.

The attack occurred at around 10 am when a US pilot-less aircraft fired two missiles at a building in Sokhel village of the Mir Ali sub-division, sources told The Express Tribune. The Haqqani network and the Hafiz Gul Bahadar group are said to have a presence in the area.

"The drone targeted a compound used by Taliban and al Qaeda militants," Reuters news agency quoted an unnamed intelligence official as saying.

The dead are said to be local militants but it is not clear with which group they were associated. However, some news reports say the nationalities of the dead could not be ascertained.

The injured were shifted to private hospitals in the area. The site of the attack is around 25 kilometres east of Miramshah, North Waziristan Agency's headquarters.

Earlier in the day, North Waziristan's political agent, Muthari Zeb, had announced an indefinite curfew in Miramshah, Mir Ali and Dosali.

The curfew was lifted on Saturday evening, sources told The Express Tribune. Drones attacks are repeatedly targeting North Waziristan, and over the past few months around 300 people have been killed, according to records of The Long War Journal.

It is very difficult to confirm whether the dead are militants or ordinary residents in the area. Last month, al Qaeda's number three leader, Abu Mustafa Al Yazid, was also killed in one such attack in Dattakhel area of North Waziristan.
COMMENTS
Comments are moderated and generally will be posted if they are on-topic and not abusive.
For more information, please see our Comments FAQ