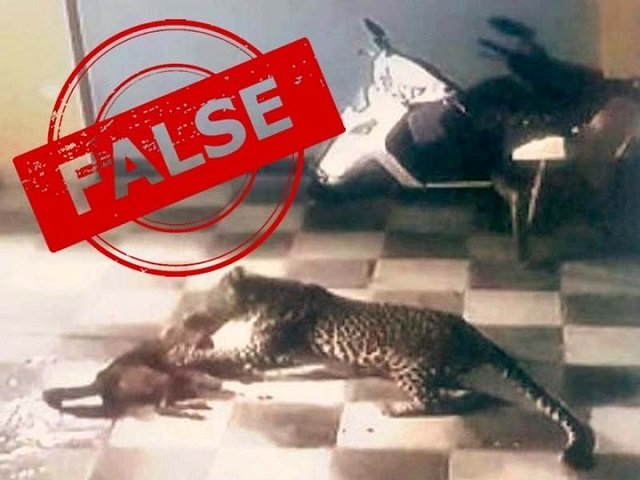 ---
Home security footage of a leopard purportedly jumping into a house and attacking a pet dog  in Islamabad has gone viral.

The video was shared thousands of times on Facebook, Twitter and WhatsApp.

The Express Tribune found the claim to be false as the footage is actually from an attack in India.

https://twitter.com/MSharifKhattak/status/1250801737650376715

The video, which is 38 seconds long, has been viewed more than 14,000 times since being published here on Facebook on April 16.

Tribune Fact Check: Sana Makki — a cure for Covid-19?

The post's caption reads: "A leopard jumps into the porch of a house at Margalla Road, Islamabad. Tried to kill house dog but suddenly man from inside came out with weapon and saved his dog. Leopard jumped out and ran away. Residents of Islamabad must be extra careful these days. [Captured by CCTV]".

The video has the stamp of "Inside Rawalpindi", the name of the Facebook account that published the post, along with the date of "April 9, 2020" is shown in the top right corner.




A keyword search found several reports from Indian news outlets that reported the incident occurred in Una, a city in the Indian state of Gujarat.

The Hindustan Times posted the same video on YouTube here on April 13.

The video's description reads: "A leopard entered a house in Gujarat's Una. The leopard vaulted over the house's gate.The wild cat then attacked a dog in the courtyard. The dog reportedly survived the attack. Watch the video for more details."




Similarly,  The Times of India, published the video on its website here.

"A leopard entered a bungalow and attacked a dog is sleeping in the courtyard in Golden Society of Una in Gir Somnath district on Friday night," the news outlet reported.




The owner of the house, Mahesh Bamania, also confirmed that the attack took place in India.

"The incident happened at my home in Golden City society in Una, Gujarat state on April 9, 2020, at around 1:40am," Bamania said.

https://www.youtube.com/watch?time_continue=2&v=6ClCdO44_2Q&feature=emb_logo

"We were asleep and came to know the next day after seeing injury marks on our pet dog. We scanned the CCTV and found that it was attacked by a leopard," he added.
COMMENTS
Comments are moderated and generally will be posted if they are on-topic and not abusive.
For more information, please see our Comments FAQ