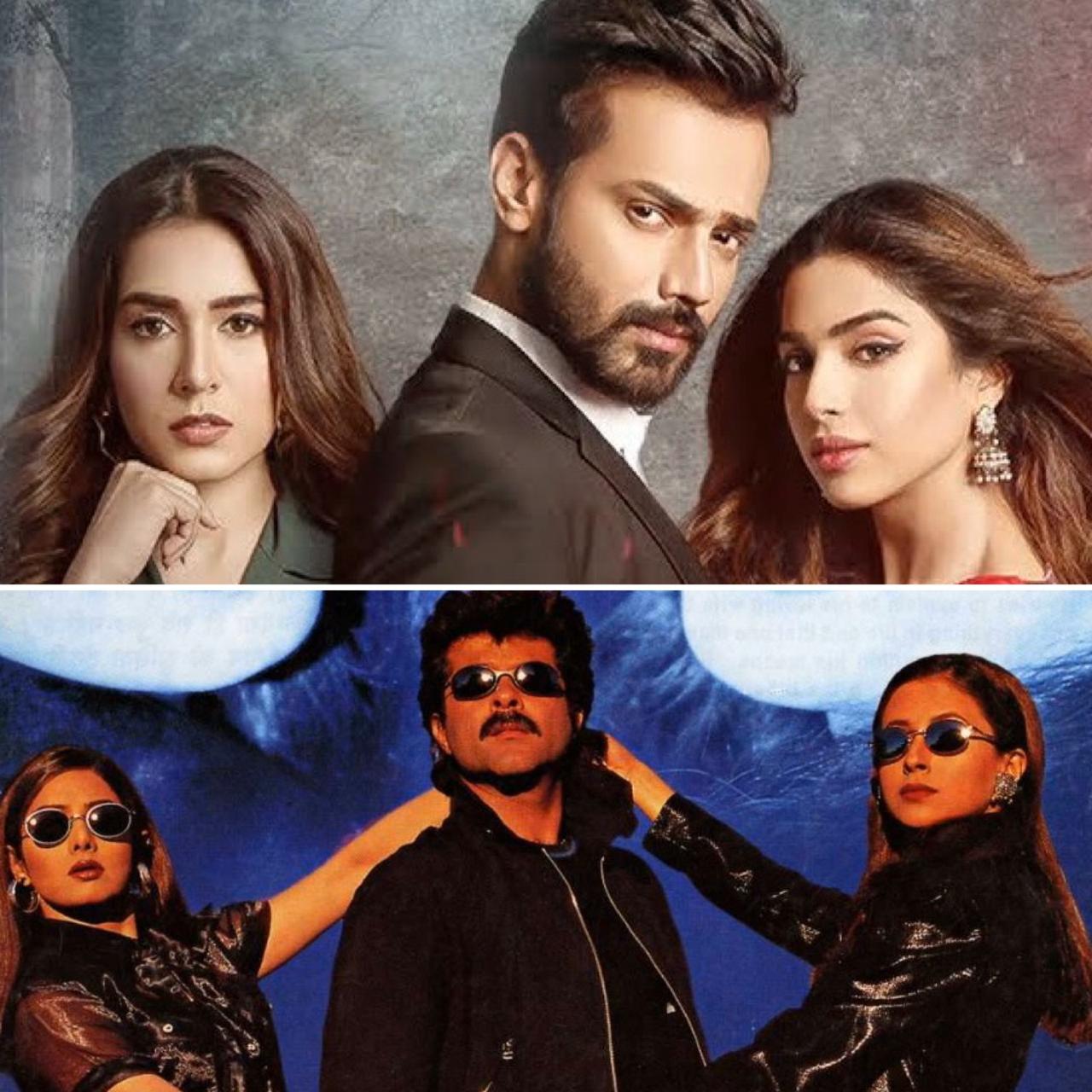 ---
KARACHI: The year is 1997. Bollywood bigwigs Anil Kapoor, Sridevi and Urmila Matondkar are taking over the Indian box-office with their latest offering, Judaai. The film has been praised by fans and critics alike for its refreshing and bold storyline. All is good in the world.

Fast forward 23 years and the audience witness a very similar plotline in an upcoming Pakistani serial, Mohabbat Tujhe Alvida. The TV show stars Sonya Hussyn, Zahid Ahmed and Mansha Pasha in pivotal roles.

Soon after the teasers drop, many took to social media and shared how these two projects bear an uncanny resemblance.

Check out the teaser of the two:




While few were excited to see what star cast had in store for them in Mohabbat Tujhe Alvida, others were a bit more critical of 'blatantly copying' the Bollywood film.

https://twitter.com/taraxri/status/1268554659754659842


"Aaj shaadi hay mere shohar ki"
I know that we all know its a remake of "Judaai" but I must say, this cast is so perfect for this story🔥#MohabbatTujheAlvida #ZahidAhmed #SonyaHussyn #ManshaPasha pic.twitter.com/bNy9PWlGhe

— hayaa 🦋 (@hayamalik_) June 5, 2020
A complete copy of judai. Seriously @Humtvnetwork you call this content.

No wonder you have the shittest trp after producing shit content for 3+ years straight.#MohabbatTujheAlvida Teaser 3 HD pic.twitter.com/5aQLMeqsAv

— Hamzah Bhuta (@Hamzah_Bhuta) June 5, 2020


https://twitter.com/sanarites/status/1269615815445356546

We reached out to Sonya Hussyn, who plays Ulfat in the show, to share her two cents on the criticism.

"Mohabbat Tujhe Alvida is a story of a lower-middle-class family. It's a story of a woman who has certain dreams, few desires - which many will be relating to," Hussyn shared. "Ulfat wants best for her son, for her family. That's how she is. Whatever she couldn't get in her life, she wanted it for her son. My character is very human."

The actor shared one of the reasons she took the role was her co-star Ahmed. The duo had previously worked in critically acclaimed serial, Ishq Zah-e-Naseeb.

"Everyone loved Zahid and I in Ishq Zah-e-Naseeb," she continued. "I think people love our chemistry onscreen and would love to see us back together. He was one of the main reasons I took this project."

Hussyn went on to add how everyone in the show has worked extremely hard. "When we read the script, all of us loved it. We are hoping the audience will love it just as much if not more," she said, adding, "I think this could very well be one of my best projects to date."

Addressing the controversy, Hussyn commented, "You know, we never thought about this. None of us thought it's copied from a Bollywood film." She went on to add, "If anyone would have thought it was similar to Judaai, we would have changed the script. It's so unfortunate that we have received such feedback."

The Meri Guriya actor shared that the audience's perception will change once the show commences.

Apart from the obvious criticism, the serial has also garnered some praises for its stellar cast and strong dialogues.


I'm here for this!! #MohabbatTujheAlvida pic.twitter.com/fslufpuPwm

— . (@splendeurr) June 4, 2020
I'm super excited for this one😍 Look at the cast maaan🙌🏼 And can we apperciate how beautiful Sonya and Mansha is looking in thisss drama!! #MohabbatTujheAlvida pic.twitter.com/AP1xTamZyB

— Toheed🇵🇸 (@toheedx_) June 4, 2020


https://twitter.com/yourstrulyaliya/status/1268582070420267008

Mohabbat Tujhe Alvida starts from next week.

Have something to add to the story? Share it in the comments below.