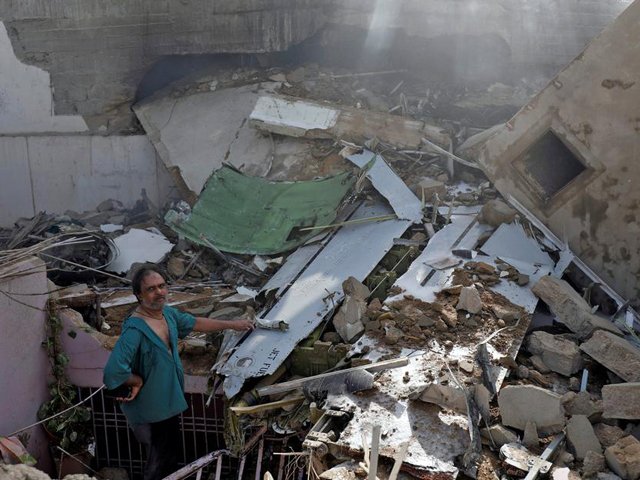 ---
KARACHI: The engine of the Pakistan International Airlines (PIA) flight PK8303 has yet to be salvaged from the crash site despite a lapse of two weeks, as authorities identified four more bodies through DNA tests and handed over to their relatives.

The engine of the ill-fated Airbus A320 is still lodged over roof of a house in Model Colony, where the plane crashed on May 22 while making second attempt to land at Karachi airport. According to sources, the delay is caused by differences over technicalities between the PIA and civil aviation officials.

The sources said equipment required to remove the aircraft debris is also not available. On Friday, a PIA engineering team visited the crash site again but no further work was carried out. Since the area is not cleared of the plane debris, the rehabilitation of the damaged houses at the accident site was also pending.

Bodies of 92 PIA crash victims identified

Meanwhile, residents near the crash site have complained about the presence of carbon residue in the area following the burning of the plane. They said the recent storm in the city had scattered carbon dust over a large area, causing skin and respiratory diseases.

The PIA plane, carrying 91 passengers and 8 crew, crashed in a residential area near Karachi airport after the pilot reported loss of engines on May 22. Two passengers miraculously survived the crash, while there was a significant damage on the ground.

On Friday, the Edhi Foundation charity said that bodies of 2 children of the Polani family were handed over to their relatives after identification. The body of 10-year-old, Imam Waqas, was also identified. The Chhipa Welfare charity said a body kept in its morgue was identified as air hostess Asma Shahzadi.

PIA pilot violated landing protocol: CAA

Sindh Chief Minister Syed Murad Ali Shah said in a statement that 97 passengers were martyred in the plane crash and so far, 94 bodies had been handed over to their relatives after identification. Shah has said that DNA matching of one body was being conducted again.

Also on Friday, President Dr Arif Alvi telephoned the families of the victims of the air crash and expressed his profound grief over the loss of lives. The president talked to the family members of the deceased Raza Naqvi, Musarrat Yar Khan, Afrah Shahid, Simon Eric, Shahnaz Parveen and Zainul Arif and condoled with them over the tragedy.
COMMENTS
Comments are moderated and generally will be posted if they are on-topic and not abusive.
For more information, please see our Comments FAQ