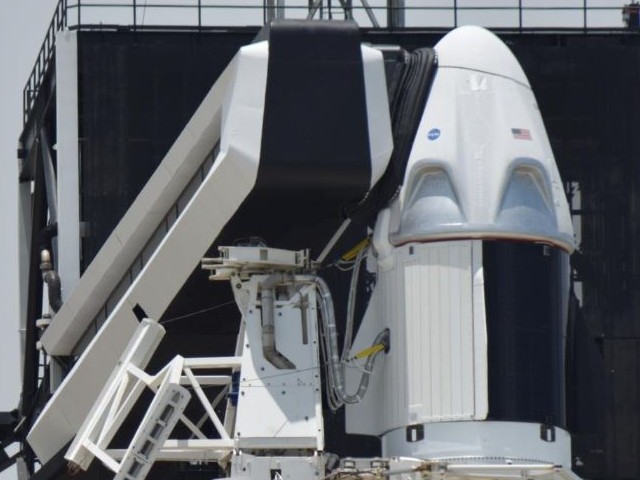 ---
CAPE CANAVERAL: SpaceX, the private rocket company of billionaire entrepreneur Elon Musk, launched two Americans toward orbit from Florida on Saturday in a mission that marks the first spaceflight of NASA astronauts from US soil in nine years.


President Donald Trump and Vice President Mike Pence watch the SpaceX Falcon 9 rocket and Crew Dragon spacecraft blast off from Cape Canaveral. More photos from the historic launch: https://t.co/L9wxIdlCV0 📷 @j_ernst_DC pic.twitter.com/tYa6uWhGmN

— Reuters Pictures (@reuterspictures) May 30, 2020


A SpaceX Falcon 9 rocket lifted off from the Kennedy Space Centre at 3:22 p.m. EDT (1922 GMT), launching Doug Hurley and Bob Behnken on a 19-hour ride aboard the company's newly designed Crew Dragon capsule bound for the International Space Station.

The astronauts — Hurley, 53, and Behnken, 49 — were blasted off from the same launch pad used in 2011 by NASA's final space shuttle flight, which was piloted by Hurley. Since then, NASA astronauts have had to hitch rides into orbit aboard Russia's Soyuz spacecraft.

Prototype of new SpaceX rocket Starship explodes on Texas test pad

For Musk, who is also CEO of electric carmaker Tesla Inc (TSLA.O), the first manned SpaceX launch represents another milestone for the reusable rockets his company pioneered to make space flight less costly.

SpaceX, founded by Musk in 2002 and formally known as Space Exploration Technologies, has never previously flown humans into orbit, only cargo.

It marked the first time commercially developed space vehicles - owned and operated by a private entity rather than NASA - have carried Americans into orbit.


NASA resumes human spaceflight from U.S. soil with SpaceX launch https://t.co/5ZK3O8wWix

— Reuters (@Reuters) May 30, 2020


NASA has awarded nearly $8 billion combined to SpaceX and Boeing Co (BA.N) for development of rival space launch systems.

The last time NASA launched astronauts into space aboard a brand new vehicle was four decades ago at the outset of the shuttle program.




The two astronauts are NASA employees under contract to fly with Hawthorne, California-based SpaceX. Plans call for them to remain at the space station for several weeks, assisting a short-handed crew aboard the orbital laboratory.


COMMENTS
Comments are moderated and generally will be posted if they are on-topic and not abusive.
For more information, please see our Comments FAQ