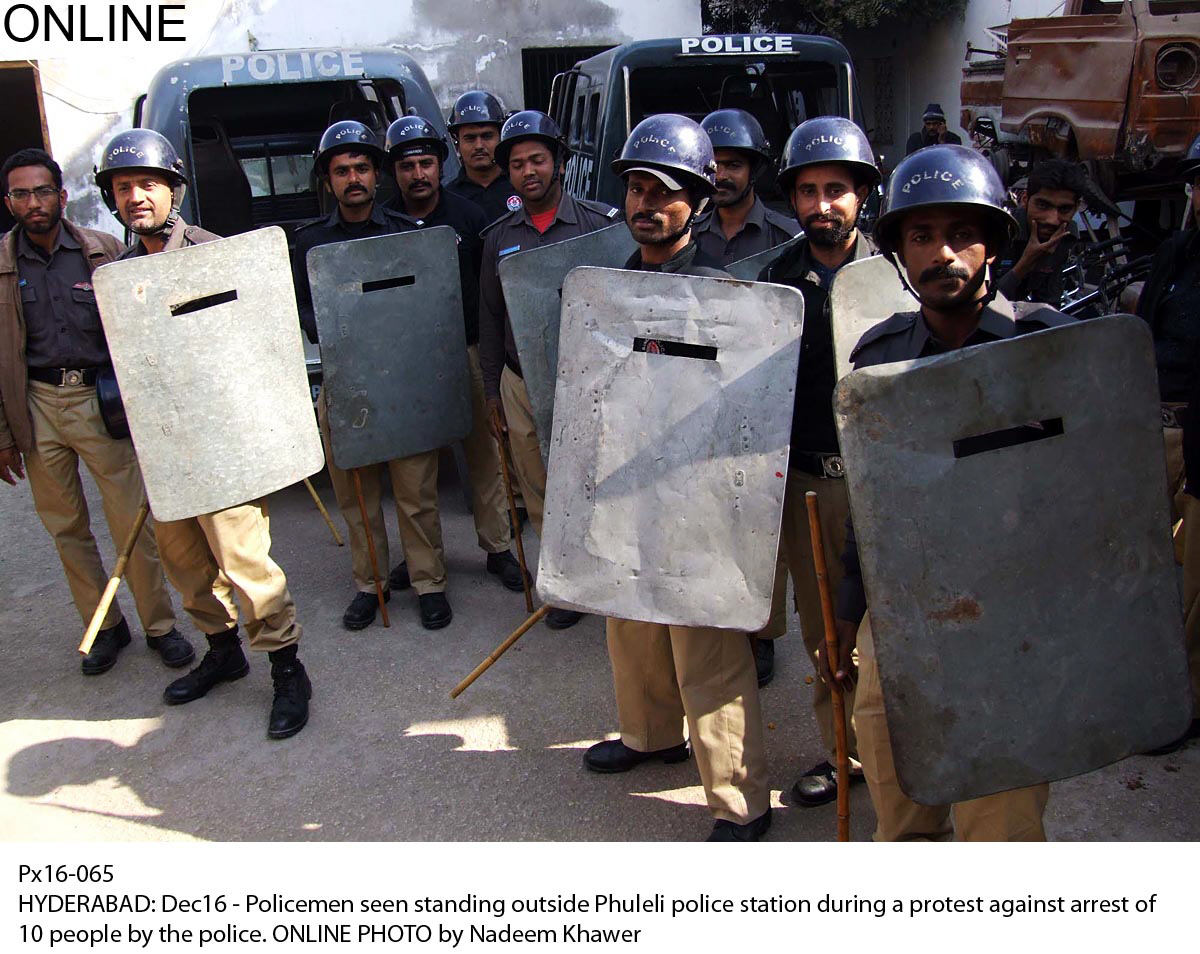 ---
HYDERABAD: A quarrel between a deputy superintendent of police (DSP) and a station house officer (SHO) in Hyderabad has once again exposed corruption in the police force.

Phuleli DSP Faheem Ahmed Farooqi had accused Pinyari SHO Niaz Ahmed Panhwar of facilitating criminals.

"The SHO has left eight to 10 beaters [who collect bribes] in the field," alleged the DSP in a voice message that circulated on social media on Wednesday night. "The [Hyderabad] SSP [Adeel Hussain Chandio] knew about it, but he did not do anything."

The DSP claimed the message was only sent to senior police officers in Hyderabad, insisting that he did not share the message on social media or with other individuals.

In the viral recording, he went on to accuse Panhwar of collecting bribes from those involved in the manufacture, distribution and sale of gutka and mainpuri.

He claimed that Panhwar used to sell the banned substances after they were confiscated in police raids, while understating the seized amount in police records. "I have made written and verbal complaints to the SSP and the DIG, stating that the Pinyari SHO was creating chaos and did not recognise me as the DSP," he said.

Farooqi claimed that any time he was assigned any matter relating to the Pinyari police, Panhwar barred the officers deputed at there from appearing before him.

Meanwhile, though Panhwar did not respond to the DSP's allegations, several men, allegedly involved in illegal activities such as betting, appeared to be making a case against Farooqi in response.

"A man named Adnan used to collect bribes from my betting den," claimed Ali Haider alias Kodu. "He recently took me to the DSP's office and threatened to book me in a case about hashish or moonshine liquor if I did not pay him."

Taking notice of the issue, Hyderabad police chief Ghulam Qadir Thebo removed both the DSP and the SHO from their respective posts.

Panhwar has also been demoted from the rank of inspector to a sub-inspector, while both officials have been directing to report at the AIG's office.

Meanwhile, Hyderabad DIG Naeem Ahmed Shaikh formed an inquiry committee to probe the allegations against both Panhwar and Farooqi. The committee, led by Sujawal SP Suhai Aziz Talpur, comprises SITE SP Anil Hyder and Inspector Sirajuddin Lashari. It will recommend actions against the officials within seven days.

Published in The Express Tribune, May 30th, 2020.
COMMENTS
Comments are moderated and generally will be posted if they are on-topic and not abusive.
For more information, please see our Comments FAQ