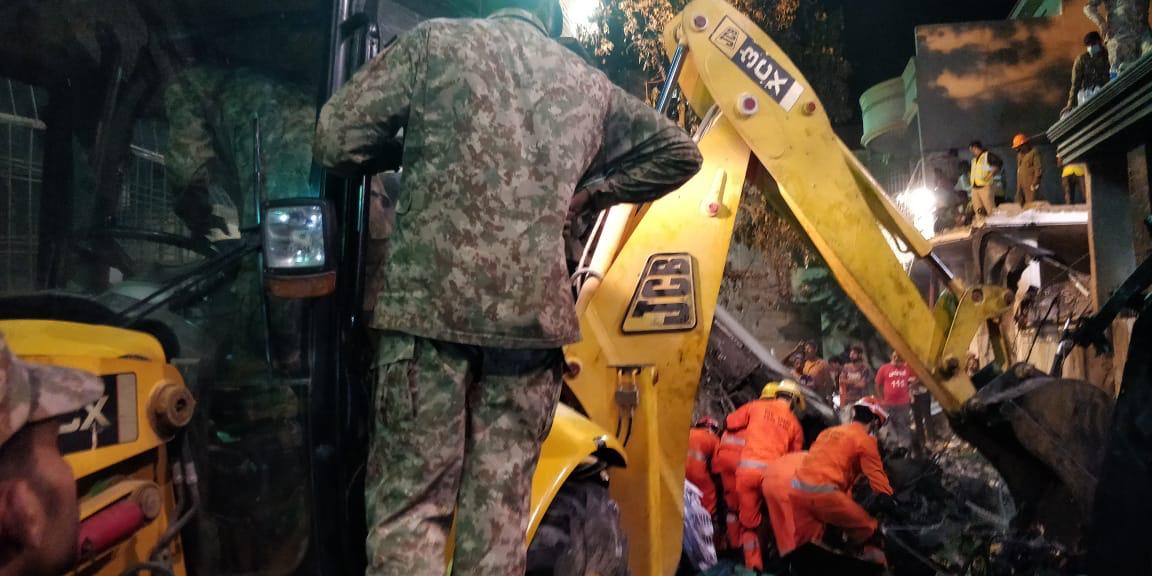 ---
KARACHI: The families of some of the Model Colony plane crash victims, exasperated by the agonising delays in DNA test results for the identification of their loved ones, have demanded that the Sindh government to either expedite the testing or hand over testing samples to them so that they may get them tested in Lahore, where, they say, the process takes less time.

"Laboratories in Lahore take just six hours [to release DNA test results]," claimed Mobin Ahmed Idrees, whose cousin was onboard the plane. "[But here] our samples were collected on Sunday, and we are yet to receive the results."

Idrees, who was accompanied by his uncle, the deceased passenger's father, insisted that the official deployed at the collection point, opposite Sindh Forensic DNA and Serology Laboratory at the University of Karachi (KU), take another sample for DNA testing and hand it over to him so he could take it to Lahore for testing.

"I will get it tested from Lahore where results will be released within hours," he said, quick to add that his intention was not label the KU laboratory "inefficient," but just to have his cousin identified immediately.

Trying to convince police officials at the collection point to help him get another sample, he was told that DNA matching was underway in the laboratory. "We have to follow standard operating procedures and will let you know when your samples match any of the bodies," said a policeman, trying to appease Idrees.

Irritated, Idrees knocked on the door leading to the sample collection room, but in vain. While the security helped him reach lab officials, this too was unsuccessful.

"They are not willing to take another sample," he told The Express Tribune, tired after multiple refusals.

Bodies of 43 crash victims handed over to families

Right then, two Pakistan International Airlines (PIA) officials arrived at the lab, one of them prodding Idrees to continue in his attempts. "Another person used an influential source to get it and you must too."

Another PIA official, who said he was there to help the bereaved, complained that no information about test results was being shared with them.

When asked about the same, a junior Sindh government official that the results would be shared with unspecified "higher-ups."

Amid the confusion, two other relatives of a deceased passenger continued to stare at the laboratory doors. "The wait is painful," said one. "I don't know how long it will take but I want it to be done today."

He called for authorities in Lahore and Karachi to work in collaboration to end their wait as soon as possible. "They must divide the work and help each other. This is Pakistan, [not just Karachi or Lahore], and our loved ones who died were also Pakistanis," he said with tears.

Laboratory capacity

Sindh Health Minister Dr Azra Fazal Pechuho claimed that at least six bodies are being identified in a day.
According to Dr Iqbal Choudhary, the head of the International Centre for Chemical and Biological Sciences at KU, DNA matching will take at least four more days. "We are working round the clock," he said, adding that though the task was challenging, his team would complete it soon.

KU lab officials stated that 20 supporting staff had been working round the clock. They disclosed they had received 76 samples from families and 69 samples of passengers so far, adding that at least 16 samples had been matched by Friday evening.

The officials said it was the first time that so many DNA samples were being matched at the same time at the laboratory since its establishment last year.

Both Dr Pechuho and Dr Choudhary believed that matching all samples to a body in six hours was more efficient than matching all samples to all bodies simultaneously. They further denied that any samples were sent to Lahore for testing.

Health department spokesperson Meeran Yousuf confirmed this, adding that while families could take DNA samples to Lahore on their own, doing so would increase the burden on laboratories there. She also denied that any officials from Lahore visited the lab and took samples.
COMMENTS
Comments are moderated and generally will be posted if they are on-topic and not abusive.
For more information, please see our Comments FAQ