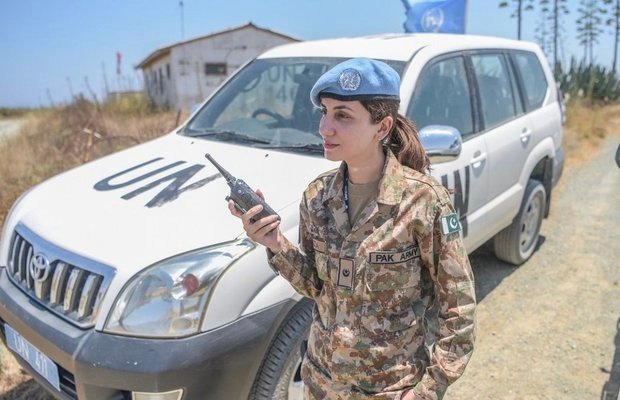 ---
KARACHI: There are few countries in the world that have shown the kind of dedication to United Nations peacekeeping missions that Pakistan has. For six decades, the country has ranked consistently as a top five contributor of personnel, deploying more than 200,000 troops in almost every continent in the world.

But while Pakistan's peacekeeping role in Africa and the Balkans remain rather well known, the women peacekeepers the country has deployed have received rather less attention. Indeed the role of women is often glossed over even though they are understood to be vital contributors in any peacekeeping activity.

Speaking to The Express Tribune, Major Fauzia Parveen, the first Pakistani officer to serve as a peacekeeper in Cyprus, explained how crucial women were to peacekeeping operations.

"Ever since the UN deployed the first woman peacekeeper in Liberia – and opened the door for women like me to have the honour of serving as blue berets – the world body has recognised the importance of women in peacekeeping," she said. "As 50 per cent of any society, it is a no-brainer that women have to be equal stakeholders if there is to be peace. In terms of peacekeeping operations in particular, women bring a certain nuance and sensitivity that makes the process much more robust,"

"In the past there have been some controversies and the presence of women peacekeepers has greatly reduced the risk of such incidents happening again," she added. "And then there is the on-ground impact the deployment of women peacemakers has."

Maj Fauzia explained this impact using the example of Cyprus, where she was deployed for a year and which is currently split into two zones with their own administration.

"In Cyprus, our main role is to bring two communities together and to bridge the gap between them. To do so, we have to maintain a high level of engagement with local communities," she said. "In my experience, locals, particularly women, are more open to engagement if the officer dealing with them is a woman."

She pointed an interesting and pertinent feature of the UN mission in Cyprus. "I had the unique opportunity of serving in a female-led mission," Maj Fauzia said. "The head of the UN mission in Cyprus is a woman, a civilian officer from Canada. Not only that, the head of the police component of the mission is also a woman."

Talking about her own role, she said she had served a military public information officer for the UN mission. "It was the same role as the one I held back home as I have been serving Inter Services Public Relations since I was commissioned in 2007," she said. "So, I was comfortable in that respect at least."

But that is not to say Cyprus was a cakewalk, Maj Fauzia was quick to point out. "Before I went there last March, everyone had told me it was an easy deployment since there was no active conflict in the country," she said. "However, I quickly realised that when things appear simple, they usually aren't."

According to Maj Fauzia, the dynamics in the island nation were completely different from what she had encountered before. "Cyprus is a very old nation and one that is very politically sensitive. In essence, I had to model myself into a diplomat-soldier."

On a personal level, she also had the challenge of being the only Pakistani officer in the country when she landed. "Pakistan has a long history of taking part in UN peacekeeping operations, but until I went there, it had sent no officer to Cyprus. The only Pakistani in the UN mission when I landed was an NCO. I was the first officer," she said.

"As a woman officer who began working without the support of full Pakistani contingent, the experience provided a new challenge and an opportunity to learn. I had to prepare a lot of things on the ground, like coordinating logistics, independently. In this was on top of being away from my family and my people with the heavy responsibility of acting like an ambassador," she added.

That said Maj Fauzia took pride in being the first Pakistani officer to serve in the UN mission in Cyprus. "Participating in the UN mission provided me with an experience like none I had before. The mission had three components – military, civilian and police – that work hand in hand. So I had a chance to learn how to work in a cross-component mission," she said.

"The mission in Cyprus is one that makes it difficult to assess progress in tangible ways. But we feel a sense of pride and success whenever we bring two sides to the table to talk and achieve confidence-building measures," she added.

According to sources, Pakistan was the first country to deploy women peacekeepers in Female Engagement Teams (FETs) in peacekeeping missions. Currently, the country has deployed two FETs comprising 30 women officers in the UN missions in Congo and the Central African Republic. Another FET will be deployed in Congo next month, they said. One Pakistani woman peacekeeper has also laid down her life in the line of duty.