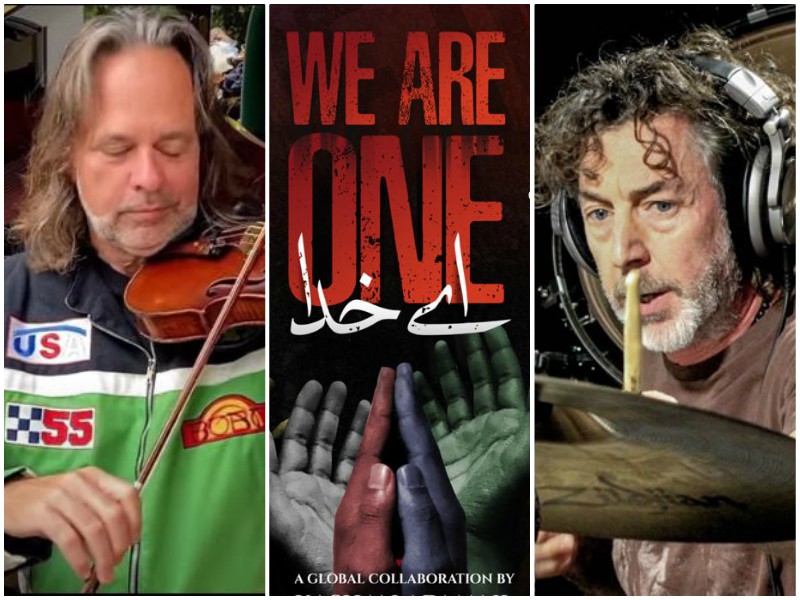 ---
KARACHI: Covid-19 shunned whatever was left of the music muzzle into the homes of performers, but the human race has always proven that necessity is the mother of creation. And that is precisely what producer, guitarist and Dream Station owner Kashan Admani knew was needed to create a song that would echo across the world as a prayer in times of despair.

"Artists are difficult to control and contain. Even if you put them in a box, they will manage to make their presence outside of it," Kashan told The Express Tribune. The Mizmaar guitarist came up with the idea to create a song that would be a united prayer, featuring singers and musicians from across the world.




The union

Kashan managed to incorporate artists from six countries aside from Pakistan. Artists include Grammy Award-winning violinist Charlie Bisharat, Grammy nominee and drumming maestro Simon Philips, legendary bassist Stuart Hamm, percussionist Gumbi Ortiz and drummer Taylor Simpson, all from the US.

He also joined virtual hands with multi-award winning guitarist, composer and record producer Roman Miroshnichenko from Russia, Euphoria's front-man Dr Palash Sen from India, singer-songwriter, actress and dancer Luiza Prochet from Brazil, Matt Laurent from Canada and singer-songwriter Lili Caseley from the UK.

Hands rose faster than he could say "bless us", and everyone started working on Áe Khuda with the producer. "Simon is a friend and he also visited Karachi last year to give his masterclasses. Charlie was very kind, and he loved the song. Luckily all my friends in Pakistan were also eager to participate because the project paints a very positive image of our country," he said.

The song officially released yesterday after being delayed due to the tragic plane crash.


Artists representing Pakistan in the song include Faakhir, Omran Shafique, Najam Sheraz, Bilal Ali (Kashmir), Natasha Baig, Amir Azhar, Ahsan Bari (Sounds of Kolachi), Natasha Khan, Farhad Humayun (Overload), Asad Rasheed (Mizmaar), Maha Ali Kazmi, Raafay Israr, Farooq Ahmed (Aaroh), Ali Khan, Dino Ali, Salwa Najam, Babar Sheikh, Imran Akhoond, Khaled Anam, Nida Hussain, Faisal Malik, Nazia Zuberi (Rushk), Meraal Hassan, Alex Shahbaz, Ashir Wajahat, Fahad Ahmed, Ammar Khaled, Eahab Akhtar and Sabir Zafar.

"We also have Euphoria's Palash on board and although they have political implications, we are like brothers," said Kashan.




Palash also told The Express Tribune that Kashan was like his 'bro' and it was an honour for him to be on the same song as Stu, Simon, Najam, Faakhir and Farhad among others. "The song is a sign of times and a call of the times and I hope it teaches the world We Are One," concluded Palash.

The connection

Charlie talked about how things had changed in terms of entertainment at his end and what led him to become a part of the collaboration. "Since most of my work comprised of motion picture soundtracks and television shows, the shutting of commercial studios in Los Angeles meant nothing could be recorded the way it was before," he said.




But when Kashan and Roman called him to ask about the collaboration, he was instantly interested. "I've always been a fan of what they call 'World Music' in the States," he said.

Whereas another thing that connected him to Pakistan was the plethora of artists he had heard from around the world, including Nusrat Fateh Ali Khan, who was among his favourites. "Kashan inspired me to explore Pakistani music again," remarked Charlie, concluding that it would be a treat for him to perform in the country someday.




Legendary drummer Phllips explained how attitudes had changed since the pandemic erupted. "I fear we won't ever be back to the way we were. The pandemic has changed everything, including our attitudes."

Bassist Stu told The Express Tribune that after listening to the song, he realised there were many fine musicians in Pakistan. But before this collaboration, his closest connection to the country was his brother Bruce Hamm. "Bruce played the sarod while studying with Ali Akbar Khan, a classical musician of the Maihar gharana. He also taught at his school of music in North California," Stu revealed.




Multi-Award winning guitarist, producer, and Independent Music Awards Judge Roman from Russia also felt that the music industry was most affected by the pandemic and so he wanted to be a part of the collaboration to revive hope.




"This is especially true for artists whose main source of income was live performances," he told The Express Tribune. But despite collaborating with various studios around the world, he was pleasantly surprised with Kashan's initiative and was certain it would be a success. "To this day, I played hundreds of shows and visited over 150 cities, but I have never been to Pakistan. This gives me reason to finally do that!"




Canada's Matt also recalled hearing about Kashan's song from Roman who introduced the two, following which he immediately agreed upon participating with the kind of artists involved.

Whereas Taylor, who had been to Pakistan thrice so far, with his first time being a part of Junoon's comeback concert in 2018, said he listened to a lot of Pakistani music. "I listen to a lot of qawwali and I met Kashan for the first time in Junoon's 2018 concert. But knowing how musicians all over the world had been affected by Covid-19, I felt it was an important collaboration."

Percussionist Gumbi also relayed that he loved Pakistani music and particularly recalled listening to Allan Fakeer and Ali Zafar among others

The prayer

Lilly from London, however, was hopeful because even though live performances couldn't happen, she believed that people would adapt to something new. "As bad as it is, I feel if it wasn't for all this, such collaborations wouldn't have happened," she remarked.

https://www.instagram.com/p/B_kM1o1h_CT/

Lilly also admitted that she had been "quite ignorant" of Pakistani music until now but was grateful to have finally connected with musicians here. "Now I hope to perform in Pakistan someday," she said.

Roman on the other hand prayed for the past times to return. Being the director of international projects of Europe's biggest music festival, 'World of Guitar,' he said it was "saddening to move the entire event to the end of September, which is why such projects were mandatory to revive hope."

Matt also lamented that he had two upcoming tours that were pushed ahead or cancelled because of the virus. "But if collaborations like We Are One can give hope to even a single person, the goal is met," he concluded.

Have something to add to the story? Share it in the comments below. 
COMMENTS
Comments are moderated and generally will be posted if they are on-topic and not abusive.
For more information, please see our Comments FAQ