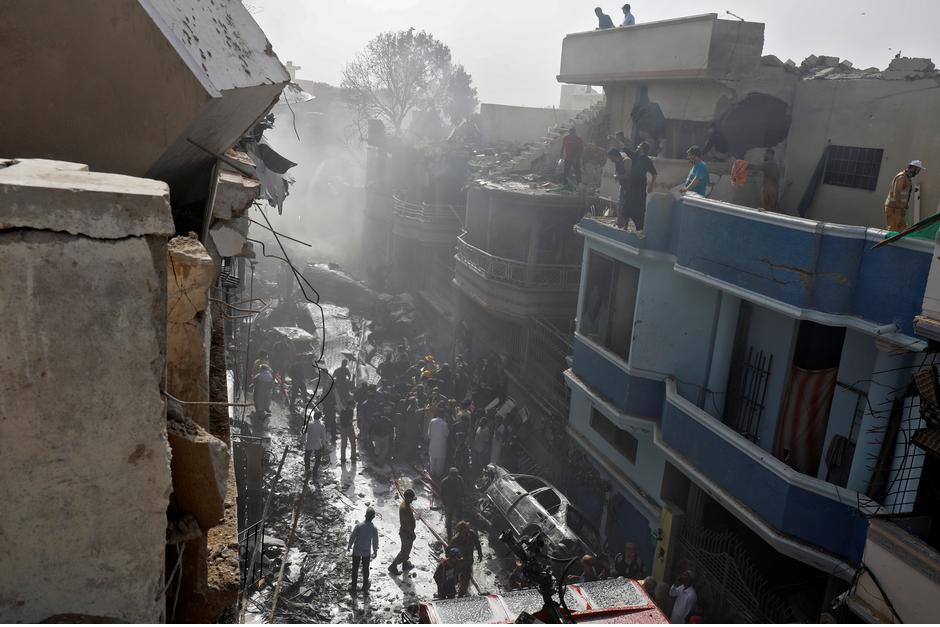 ---
KARACHI: Amid the hellish scene of burning debris, billowing smoke and stinging dust, all that a stunned Muhammad Arif could think about was to rush his wife and daughter to safety.

On the lazy summer afternoon of May 22, Arif, a retired PIA employee who lives near the Karachi airport in Model Colony's Jinnah Garden neighbourhood, was resting at home –fasting and having returned from the mosque after offering Friday prayers amid the scorching sun.

Living in close proximity to the airport and being a former airline employee himself, Arif is accustomed to the sounds of aircraft flying above. However, this time the roar of the jet engines sounded different and too close for comfort. It immediately caught his attention and he was rattled by deafening crash that followed.

He rushed out to witness the nightmare that just a few houses away on the street.

A plane, an Airbus A320, operated by the Pakistan International Airlines, had crashed into the homes in the densely populated neighbourhood while making an attempt at landing after losing power, killing 97 people on board. Two passengers miraculously survived the deadly crash.

"The first thing I did was to move my wife and daughter somewhere else," he told The Express Tribune.

He and his son then helped their neighbours whose homes were fully or partially damaged to safety.

Arif said he is well acquainted with the sounds of planes and the noise from the ill-fated PIA flight PK-8303 was not normal. "I immediately knew from the sound that the plane's engines had failed," he added.

Most residents of the neighbourhood were home at the time of the crash.

Mudassar Ali, who also lives on the same street, was asleep at the time and was shaken by the loud bang from the crash. "There was panic. I heard phones calls being made to the fire brigade," he said.

Another resident said he saw fire coming out of the wings of the plane before it struck the rooftops of the houses and crashed.

Overall, 21 houses were affected by the crash – two completely destroyed and 10 suffering extensive damage.

Seven cars and 17 motorcycles were also damaged.

There are houses measuring 120 yards on one side of the street and 240 yards on the other

It also has a mosque and a mosque. Most of the houses are double and three-storeys. There are also three vacant plots.