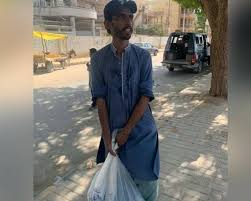 ---
KARACHI: While most Model Colony residents have been gripped by fear and confined to their homes following the devastating plane crash, Khalid Hussain is not among them. Setting an example of courage, resolve and humanity in these trying times, Hussain has been going out of his way to help others at his own expense since the day of the crash.

Model Colony currently finds itself without running water supply due to the calamity. However, its residents have not gone thirsty due to the good samaritans like Hussain, who, realising this important need began distributing water among anyone they could find in the neighbourhood.

Embodying the value of coming together to help each other as a community, Hussain's first reaction to the stoppage of running water was to ensure that plane crash victims, law enforcement personnel and even media representatives had access to drinking water. Hence, despite coming from a low-income background, Hussain, his brother and brother-in-law have been purchasing mineral water bottles and distributing them for free from dawn to dusk.

Hussain lives in a small rented house in Jinnah Garden- the locality most affected by the plane crash- along with his wife and three daughters, and has been washing cars in the neighbourhood to earn a living.

Recalling the crash, Hussain said, "The events of the day are etched our minds, as well as of our children. It was like doomsday."

Lamenting the events of that frightful afternoon, he explained that the plane had crashed in the area with a huge bang, following which flames had erupted and smoke was the only thing they could see. With deep sorrow surfacing during his narration of the incident, Hussain stated that he found it to be a miracle of the Almighty that he and his family remained safe during the disaster.

Unsurprisingly, Hussain revealed that the whole area had been terrified and shocked since the incident took place. People are no longer leaving their house out of fear as the entire street has been reduced ruins, which is devastating for anyone to look at, he said.

With many of the vehicles in the area also having been destroyed in the incident, Hussain found his monthly earning grossly affected. However, none of this was going to stop him from doing his part for the community. He found it essential to give back in this time of need, claiming that he felt content after collecting money and spending it on providing water to the thirsty.

He firmly believes that looking out for each other in times of crises is what is essential for community building.

Hussain has appealed to relevant authorities to complete their investigation soon and reconstruct the affected structures so that he and other in the neighbourhood can work towards restoring normalcy in the area.

Published in The Express Tribune, May 27th, 2020.
COMMENTS (1)
Comments are moderated and generally will be posted if they are on-topic and not abusive.
For more information, please see our Comments FAQ