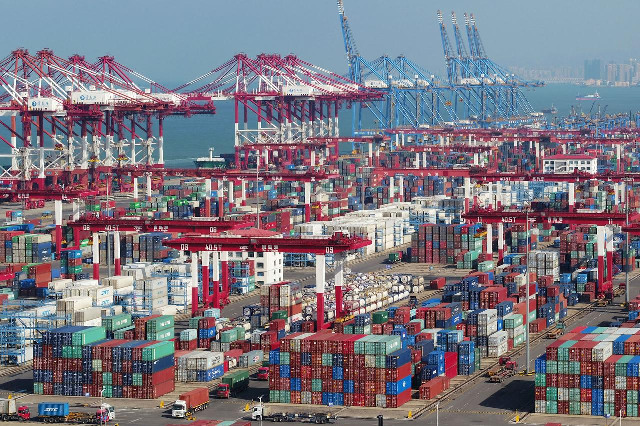 ---
KARACHI: The Covid-19 pandemic has started taking its toll on Pakistan's exports. Merchandise exports in April this year nosedived to $957 million from $2.09 billion in April last year.

The easing of lockdown restrictions for export-oriented industries plus concessional finance packages and massive interest rate cuts may help check this free fall in export earnings from May onwards. But that is just like seeing the half glass full. Nothing is certain in these uncertain times.

Rice exporters say export shipments remained very low in April and only those exporters were able to ship their orders that had got their April-bound consignments cleared by the Customs authorities in March.

They say in April the movement of export containers from mills and warehouses across the country to Karachi Port was badly affected by the lockdown in the country. So, even those exporters who had firm orders from some Asian and African countries could not arrange shipments.

Lockdowns in the importing countries and suspension of shipping services made matters worse.

At the beginning of May, when the federal government announced a ban on the export of food items, it created confusion among rice exporters and they met Commerce Adviser Abdul Razak Dawood for its removal.

The adviser clarified that rice was not in the list of food items whose exports were banned. But even after his clarification, Customs and Karachi Port authorities were not entertaining rice exports on the plea that they had not received any notification – not till May 5 when this writer checked facts. Hopefully, such a notification will be in place by the time this piece is published.

Food exports constitute more than one-fourth of Pakistan's total merchandise exports. Banning food exports makes sense at a time when ensuring food security becomes more important.

Even in normal circumstances, food security is important because despite the fact that Pakistan is a food-surplus country, the National Nutritional Survey 2018 revealed that almost 40% of the population faces food insecurity.

What does not make sense, though, is the fact that the government has apparently not issued a comprehensive list of food items whose export it has banned.

The export of sugar, wheat, onion, tomatoes and potatoes was banned even before the government announced that it would shutter businesses and advised people to stay at home in late March. Those exports remain banned to date and food exporters have no issue with that.

However, they are running from pillar to post to learn if there are any other exemptions – like rice – from the recently imposed ban on food exports. The government must remove the confusion, more so because a big 54% decline in export earnings in April leaves no room for policy confusion that may cause a further decline in such earnings.

Meanwhile, the federal and provincial governments must also work hard to implement the recently promulgated ordinance on smuggling and hoarding. Ensuring enough supplies of edible items during an emergency is not simply possible even after banning exports if hoarders and smugglers continue to operate. Reports of disappearance of tens of thousands of wheat bags in Sindh hit headlines just weeks ago.

Main edible export items of Pakistan are rice, sugar, wheat, kinnows, mangoes, livestock meat, chicken meat, powdered milk, vegetables, seafood, ice cream, bakery items, food spices and processed food items.

Another hurdle

While lamenting lack of clarity about the items exempted from the recently imposed ban on food exports, All Pakistan Fruits and Vegetable Exporters, Importers and Merchants Association (PFVA) Patron-in-Chief Waheed Ahmed brought forth another caveat.

From initial plucking and sorting to final packaging and loading of mangoes, growers require skilled labour that travel from southern Punjab to Sindh. Owing to the lockdown, this movement of labour has been constrained. This means exporters will not get supplies of mangoes for shipments on time.

Sindh and Punjab governments must sort out this issue. Sindh has a significant share of almost 29% in the total 180,000 tons of mango production. If this situation continues for a few more weeks, then it will cause an acute shortage of Pakistani mangoes in domestic and export markets.

Like other food exporters, former Pakistan Vanaspati Manufacturers Association (PVMA) chairman Sheikh Amjad Rashid also appeared worried over the government's decision to ban export of edible items.

"We have not been informed about this decision in writing," he said, when reached over phone for comments. But he said exports of edible oil and ghee will not be affected much. The reason is that exports of these items stand next to nothing.

"We used to export finished products to Afghanistan but repeated closure of borders and imposition of additional taxes have brought down exports of edible oil and ghee to Kabul to negligible levels."

Rashid and several other food exporters think that the Ministry of Planning, Development and Special Initiatives, Ministry of National Food Security and Research and provincial governments need greater collaboration for designing a flawless food export policy and for implementing it in a manner that exporters do not lose whatever goodwill they are left with in international markets.

The writer is a mechanical engineer and is doing masters

 

Published in The Express Tribune, May 18th, 2020.

Like Business on Facebook, follow @TribuneBiz on Twitter to stay informed and join in the conversation.