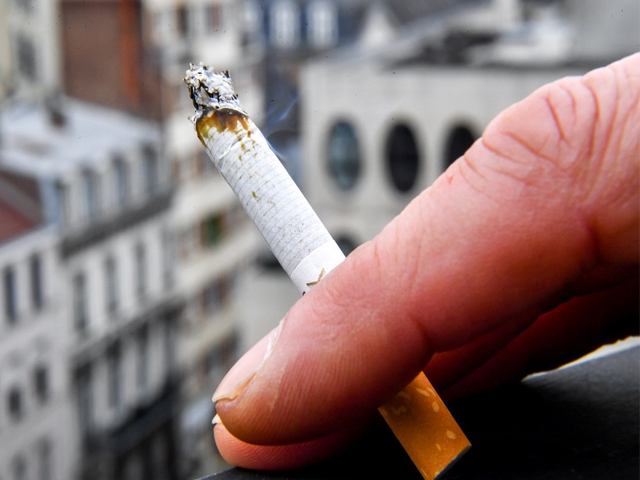 ---
ISLAMABAD: At least two-third of smokers want to quit the habit but are unable to due to a dearth in awareness of smoking cessation.

This was stated by Technical lead of the Tobacco Control Cell Dr ZiaUddin on Wednesday during an online dialogue on the illicit trade of tobacco products in Pakistan. He co-investigated the Studying Tobacco Users of Pakistan (STUP) study that interviewed 6,000 smokers on quitting smoking and views on tobacco control.

"On average, a smoker spends an estimated Rs2,000 on about 13 cigarettes a day," he said.

Dr Zia highlighted that there was a dearth in material available to guide people on counselling and medications for smoking cessation.

For the survey, conducted across 10 populous cities of the country, the investigators examined more than 8,000 cigarette pack to check if they were illicit or smuggled. Approximately 16 per cent of the cigarette packs were found to be illegal – a number much lower than the claimed by the tobacco industry.

The survey, approved by the Pakistan Health Research Council and executed in collaboration with Tobacco Control Cell of the Ministry of National Health Services, Regulations and Coordination, comes ahead of the annual budget.

Pakistan National Heart Association General Secretary Sanaullah Gummam accused multinational tobacco companies of involvement in illegal trade. He cited a SPDC report that stated that the companies under-report production to sell products in the illegal market. "This causes loss of billions to the national exchequer," he said. "The tobacco industry spreads false figures about illicit cigarettes to receive concession from the government. They carry out similar campaigns ahead of budget."

Society for the Protection of the Rights of the Child (SPARC) executive director Sajjad Ahmed Cheema attributed smokers seeking tobacco control to the incumbent government's tobacco taxation reforms. "Most of them want to quit and know that these measures will help in achieving that goal."

He expected the government to continue tobacco taxation policy and enhance the FED on cigarettes to discourage smoking as well as increase revenue.