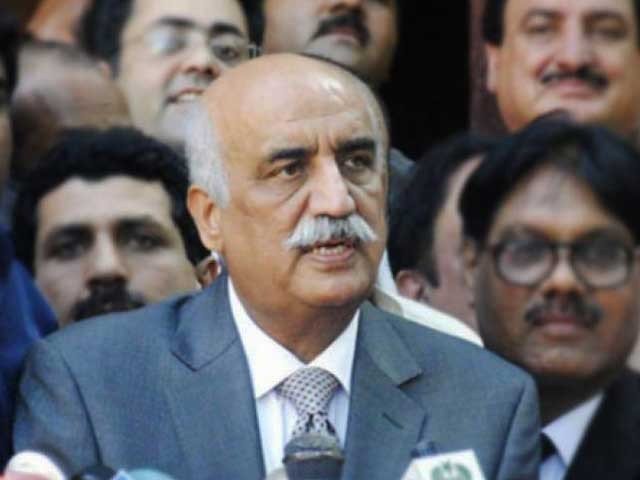 ---
ISLAMABAD: The National Accountability Bureau (NAB) on Wednesday approached the Supreme Court for the cancellation of bail granted to Pakistan Peoples Party (PPP) stalwart Khursheed Shah's family in the assets beyond means case.

The anti-graft buster challenged the bail granted to Shah's wives Bibi Gul Naz and Bibi Talat, son Zeerak Shah, cousin Rahim Bux Awan and nephew provincial minister Awais Qadir Shah.

The NAB also filed an application in the apex court for the cancellation of bails granted to contractors Abdul Razzak Bharani and Muhammad Akram Khan.

The bureau appealed to the apex court to cancel the bails granted to all the accused in the case and declare Sindh High Court's April 22 verdict null and void.

The anti-corruption watchdog contended that the SHC overlooked the evidence gathered against the accused and did not review the facts properly.

The national-graft buster also alleged that the SHC in its judgment ignored the principles set by the top court.

The bureau informed the court that Shah spent Rs710 million more than his income from 2005 to 2019. It added that Shah and his family were unable to justify the $84,000 and Rs370 million in their bank accounts.

Multiple corruption cases against Shah are under investigation by NAB.

In 2012, an accountability court had directed NAB to file a reference against Shah on a complaint pertaining to alleged accumulation of illegitimate assets.

In 2013, NAB had reopened two corruption cases against Shah under the directives of the Lahore High Court.

In July last year, the NAB chairman approved nine inquiries against different personalities, including Shah.

Meanwhile, the NAB opposed acquitting former premier Raja Pervaiz Ashraf in two rental power references.

The anti-corruption watchdog noted that evidence and witnesses were available against the accused and requested the accountability court to allow it to prove allegations against him during the trial.

The PPP leader had filed an application in the accountability court for acquittal in Gulf and Reshma Rental Power references to which the NAB submitted a written reply after issuance of notice by the court.

Accountability Court judge Azam Khan fixed June 17 for hearing of the case.