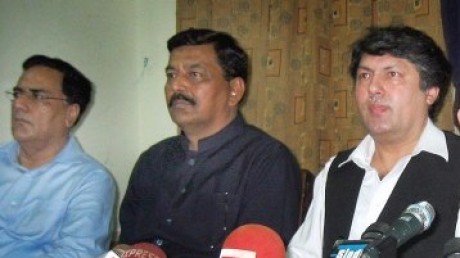 ---
Former president General (Rtd) Pervez Musharraf is expected to arrive in Dubai by the end of July as stage one of his return to Pakistan.

Barrister Saif Ali informed the media of Musharraf's return while addressing a press conference at the Hyderabad Press Club,Thursday night. He said that Musharraf would hold consultative meetings with his supporters and will also assume the chairmanship of his newly formed political party.

He informed the media that the party had launched its contact drive and  the party's paramount manifesto is 'Pakistan' and its entire struggle would be for the development, peace and prosperity of the country.

To a question Saif said "A large number of PML-Q workers support Musharraf, more than they do the Chaudhries, and will flock to join the party," he added while trying to play down the significance of the advice which the Chaudhries lent to Musharraf against returning to Pakistan.

When asked about the problems Musharraf would face with regard to proclaiming the emergency and issuing the NRO, Barrister Saif replied that Musharraf was not the beneficiary of NRO and that he had been vested with the right to promulgate an ordinance in the capacity of the President of Pakistan.
COMMENTS (3)
Comments are moderated and generally will be posted if they are on-topic and not abusive.
For more information, please see our Comments FAQ