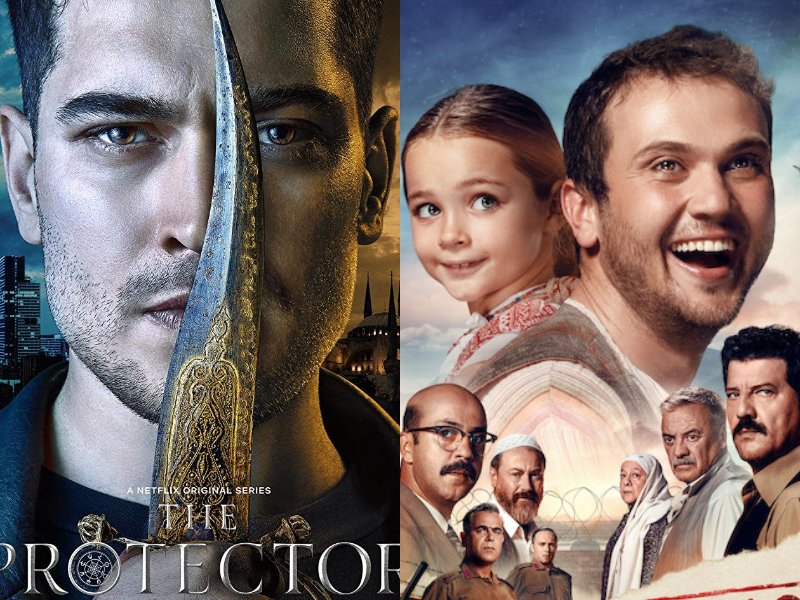 ---
With Diriliş: Ertuğrul making waves and marking the renaissance of popular Turkish content in Pakistan, we think it's the perfect time to delve into Netflix and binge on all the Turkish content you've been missing out on and probably won't find on your TV sets.

From heart-breaking films to gripping serials, Turkish entertainment content seems to strike a special chord with people here, and has something for everybody. While many serials have been aired in Pakistan in the last few years, including the wildly popular Ishq-e-Mamnu, Feriha and Kosem Sultan, there are others that many of you may not have binged yet.

Here's a list of five films and shows from Turkey that should be on your must-watch list while you're under lockdown.

1) The Protector


Starring Çağatay Ulusoy, Hazar Ergüçlü, Okan Yalabik and Ayça Ayşin Turan in the lead, this series is easily one of the best that Turkey has to offer on Netflix right now. Essentially a drama fantasy, The Protector is based on a guy, Hakan (Ulusoy) with dreams who becomes an indestructible hero.

Hakan is put into a tough spot by chance wherein it's necessary for him to assume the role of The Protector, whose duty is to stop The Immortal.

Without revealing too much, we'll just say, if you're looking for a thrilling experience, this one's for you!

2) Miracle in Cell No. 7


A Turkish adaptation of a Korean classic, this movie is a real tearjerker – we're not joking, you will need to keep a box of tissues on the side, just in case.

Revolving around a little girl Ova (Nisa Sofiya Aksongur) and her mentally-ill father, Mehmet (Aras Bulut Iynemli) lovingly called Memo. Memo is wrongly accused of murdering a little girl, and the film trails the father and daughter's painful journey through his incarceration.

3) Sadece Sen


Touted as a must-see film by many of its reviewers, Sadece Sen is the Turkish take on Korean film Always. It tells the story of Ali (Ibrahim Celikkol), a tired boxer with a dark past and Hazal (Belꞔim Bilgin), a blind woman.

"Guilt, remorse, forgiveness, redemption, and love, all play a central role in Sadece Sen, a modern romantic epic that is enthralling, at every turn," reads a review on Eclectic Pop. Loaded with suspense and plot twists, this one is also up on Netflix for anyone who has about 1 hours and 45 minutes to spare.

4) 20 Minutes


This 2013 drama serial tells the story of Ali (Ilker Aksum) and his wife Melek (Tuba Büyüküstün) who are thrown in a whirlwind of events that are alien to their otherwise normal life.

A successful bakery owner, Melek is accused for a murder of a young man and sentenced to 20 years in prison. Ali, a history teacher is left to prove the innocence of his beloved wife and pick up the pieces of his family life with questionable allies by his side - all the while being dogged by a spiteful enemy.

This thriller will keep you hooked for some days for sure.

5) The Butterfly's Dream


Turkey's entry for the Best Foreign Language Film at the 86th Academy Awards in 2014, The Butterfly's Dream is a drama film based in the 1940s.

Two friends, Rüştü Onur (Mert Firat) and Muzaffer Tayyip Uslu (Kıvanç Tatlıtuğ), who make a living out of publishing poems during the second World War, find their worlds overturned when they both find love in the same girl. The two also struggle to survive with tuberculosis if a world rocked by war and famine.

This heart-wrenching drama manages to somehow be heart-warming at the same time and is sure to be a good watch over the weekend.
COMMENTS
Comments are moderated and generally will be posted if they are on-topic and not abusive.
For more information, please see our Comments FAQ