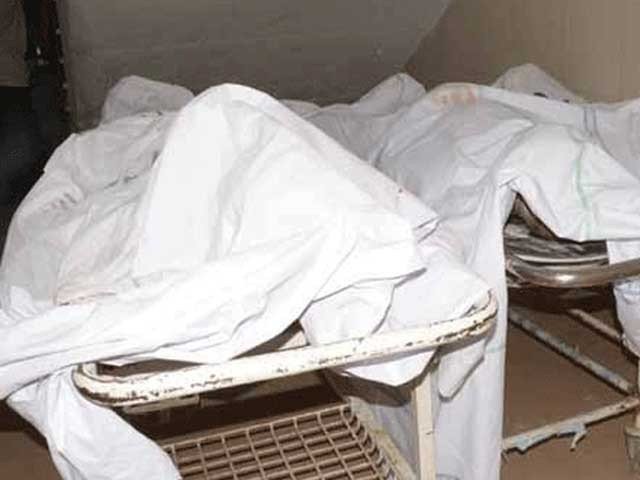 ---
KARACHI: The bodies of two missing boys were found in a car in Nusrat Bhutto Colony on Wednesday. Though the police initially believed their deaths had been an accident, the post-mortem reports indicated that they may have been murdered.

According to Manghopir SHO Gul Muhammad, the deceased have been identified as two and a half-year-old Obaid and four-year-old Muhammad Danish, who went missing on May 10.

Both of them were residents of Abdur Rehman Goth and had gone missing while playing in the streets, the SHO said. Following their disappearance, their families and area locals had approached the police and a case for the disappearance as registered on May 11, he added.

The SHO said that the police had launched a search to find the missing children, but they were found dead in a broken down car, which belonged to a mechanic.

"It [the car] was covered in dust and parked in a long row of vehicles" when the police discovered it, as per the SHO.

He initially suspected that the children might have stepped into the car while playing and locked themselves in. "It is possible they may have been unable to unlock the car and died inside it," he speculated, however, adding that the cause of the death could only be ascertained after the post-mortem.

The post-mortems, however, revealed that the boys had died of head injuries. According to Dr Saleem, a police surgeon at Abbasi Shaheed Hospital, the skulls of both children had been fractured, indicating that they had been murdered instead of dying in an accident.

The SHO later stated that the police had extended the scope of their investigations, adding that the families had not voiced suspicion about any possible culprits. However, he claimed, close relatives are often found to be involved in such cases, killing children as revenge over disputes.

According to a relative of one of the deceased boys, area residents smelt a rotten stench in the area at the time of Fajr prayers, discovered that it was coming from the car. When they broke the car's window, they found the boys' bodies, he told The Express Tribune, adding that the boys belonged to low-income families which did not have any enmity with anyone.
COMMENTS
Comments are moderated and generally will be posted if they are on-topic and not abusive.
For more information, please see our Comments FAQ