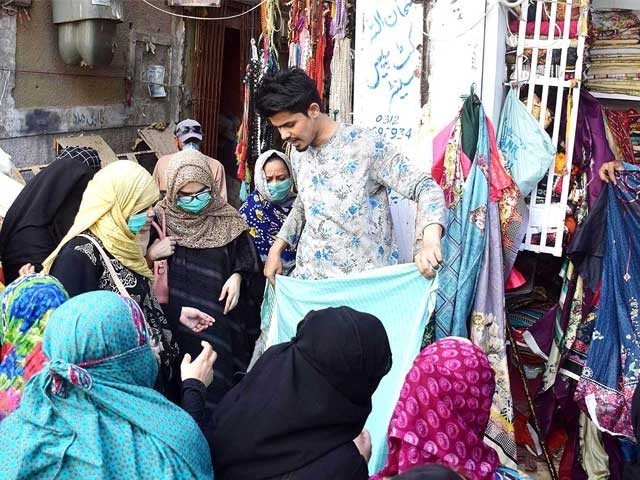 ---
LIVE: Pakistan returns to business 'unusual' as nationwide coronavirus tally reaches 31,743
With first fatality in AJK, the countrywide death toll due to Covid-19 rises to 692
---
MUZAFFARABAD/ QUETTA/ PESHAWAR/ ISLAMABAD/ LAHORE/ KARACHI: The novel coronavirus emerged in the central China city of Wuhan towards the end of last year and proliferated to almost the whole world within a couple of months. ItÔÇÖs not the virulence or fatality, but the infectivity of the new virus ÔÇô also known as SARS-CoV-2 ÔÇô that has set off a global frenzy.

The Covid-19 respiratory illness caused by this mysterious contagion has so far infected more than 4 million people in 202 countries and territories of the world ÔÇô and over 280,000 of them have died and counting.

Pakistan, despite its close proximity with China, remained coronavirus-free until February 26 when a young man from Karachi tested positive after returning from Iran ÔÇô one of the worst-hit countries. After a brief hiatus following the first case, Covid-19 cases spiked as more pilgrims returning from Iran tested positive for the virus.

The nationwide tally of Covid-19 patients stands at 31,743 with 11,568 cases in Punjab, 12,017 in Sindh, 4,875 in Khyber-Pakhtunkhwa, 2,061 in Balochistan, 457 in Gilgit-Baltistan, 679 in Islamabad and 87 in Azad Jammu and Kashmir.

The virus has claimed at least 692 lives while at least 8,342 coronavirus patients have recovered.

The situation remains fluid and┬áweÔÇÖre updating stats as soon as new figures are officially released.

Follow┬áThe Express TribuneÔÇÖs live coverage of the pandemic┬áhere.




12:19am: Country returns to business unusual despite surge in Covid-19 cases

Small businesses reopen after 47 days as govt relaxes lockdown, PM urges a balance between economic activity and precautionary measures

Small markets and shops reopened across the country on Monday, as the government further relaxed coronavirus restrictions after almost two months despite a sharp uptick in number of Covid-19 cases.

Prime Minister Imran Khan said the government was gradually easing the lockdown in order to maintain a balance between economic activity and precautionary measures against the coronavirus pandemic, keeping in view the problems facing the people.

According to officials, all the small markets, shops, and allied industries of the construction sector reopened under a federal government announcement last week. Though the government had framed standard operating procedures to prevent the virusÔÇÖ spread but at several places people appeared to be less careful.

Full story here




10:39pm: One more succumbs to coronavirus in Balochistan

Balochistan registered 44 new cases of Covid-19, bringing the total number of infections to 2,061 in the province.

The health department said in a statement that one more patient succumbed to the coronavirus with provincial death toll rose to 27.




10:26pm: 15 new coronavirus cases take G-B tally to 457

At least 15 new Covid-19 cases emerged in Gilgit-Baltistan, taking the tally to 457.

According to health authorities, 16 patients also recovered from the deadly disease while the number of active cases now stood at 133.




10:08pm: Sindh young nurses to boycott work from Tuesday

The Sindh Young Nurses Association (SYNA) announced on Monday that they would be boycotting work at hospitals in order to stage a sit-in outside the Karachi Press Club (KPC) from May 12 (today).

SYNA president Aijaz Kaleri alleged that while the nurses in Sindh were fighting the battle against coronavirus on the frontlines, the Sindh health department had constantly been taking action against them. He added that the transfer of nurses had become a matter of daily routine.

"Whenever nurses raise their voices for their rights, they are transferred and posted at a different hospital as revenge," Kaleri claimed.

Full story here




9:43pm: Covid-19 hospital to be set up in Karachi

As Sindh becomes the first province to cross 12,000 coronavirus cases, the Sindh government has released Rs1.8 billion for the establishment of a Covid-19 hospital in Gulshan-e-Iqbal, announced Sindh Chief Minister Syed Murad Ali Shah on Monday.

According to Shah, the hospital will have 400 beds, as well as a 100-bed ventilator facility.

Meanwhile, the CM revealed, 537 new coronavirus cases had been detected from 3,730 tests in the province on the day, pushing the tally to 12,017 patients. Of these cases, the majority - 432 - had surfaced in Karachi, where 142 cases were reported in Malir, 62 in Central, 61 in East, 58 in Korangi, 58 in South and 51 in West district.

Full story here




8;58pm: Coronavirus claims life of another cop in Karachi

Yet another police official who had contracted the novel coronavirus passed away on Monday, bringing the number of police personnel killed by the virus in the city to three.

Those who have died include two ASIs and a constable.

ASI Shergul Khan Niazi, who was deputed at MT Garden, had been infected by coronavirus while on duty during the lockdown.

Previously, ASI Anwar Jahangir, who was deputed at City SSP office, and Constable Anas of the Anti-Vehicle Lifting Cell had died while being treated for the contagious disease.




6:51pm: We have to keep wheels of economy running, says FM Qureshi

Foreign Minister Shah Mehmood Qureshi, addressing the National Assembly session on Monday, emphasised on the need to start economic activity in the country and said that the government has to keep the wheels of the economy running.

Like the rest of the world, Pakistan is also affected by the pandemic, said Qureshi and added that the NA session was called considering the importance of the parliament and after consultation with all parties.

The session was convened under the chair of Deputy Speaker Qasim Suri.

The minister stressed that the novel coronavirus is undoubtedly the biggest crisis to hit since the Second World War. Various measures are being undertaken but experts have yet to find a cure for the virus, he said.

ÔÇ£It might take up to 18 months or two years before a vaccine is developed. However, we have to keep the wheels of the economy running,ÔÇØ said the foreign minister.

Full story here




6:27pm: Coronavirus claims 12 more lives in K-P

At least 206 new Covid-19 cases have reported in Khyber-Pakhtunkhwa (K-P) during the last 24 hours, taking the provincial tally to 4,875.

According to provincial health officials, 12 more people succumbed to the deadly disease, taking the death toll to 257.

As much as 130 new patients recovered, taking the total to 1,256.


206 new cases reported (62 from international flights quarantine) taking the total to 4,875. 12 new deaths were reported (6 Peshawar, 3 Mardan, 1 each in Swat, Dir Upper and Nowshera) taking total to 257. 130 new patients recovered taking total to 1,256. Active cases at 3,362. pic.twitter.com/Qt89vytl0k

— Health Department KP (@HealthKPGovt) May 11, 2020


5:50pm: PM Imran has failed to create national unity to fight coronavirus: Bilawal

PPP Chairperson Bilawal Bhutto-Zardari has lashed out at the PTI government over its handling of Covid-19, saying that "Prime Minister Imran Khan has failed to create national unity" to fight the deadly disease.

Addressing on the floor of National Assembly in Islamabad, he said the credit for the highest testing capacity in the region goes to the provinces particularly the Sindh government "which is carrying out highest number of coronavirus tests in the country".


لائیو: پاکستان پیپلزپارٹی کے چیئرمین بلاول بھٹو زرداری قومی اسمبلی سے خطاب کررہے ہیں https://t.co/A8lEKyI9Si

— PPP (@MediaCellPPP) May 11, 2020
4:35 pm: PML-N 'stops' Shehbaz Sharif from attending NA session
پاکستان مسلم لیگ (ن) کی ترجمان مریم اورنگزیب کا بیان

پارٹی نے صدر اور قائد حزب اختلاف شہبازشریف کو قومی اسمبلی اجلاس میں شرکت سے روک دیا

پارٹی نے یہ فیصلہ شہبازشریف کے ڈاکٹرز کی تحریری رائے کی تائید کرتے ہوئے کیا ہے pic.twitter.com/9xBbuPfxas

— PML(N) (@pmln_org) May 11, 2020
4:00 pm: Waiting period for international arrivals reduced
New policy implemented for all flying to Pakistan during #COVID
•Wait period in quarantine reduced to time for test results to come in,tests will be taken at facility
•This is considerable reduction from 72hrs previously. Best efforts will be made to limit this to within 24hrs

— Sayed Z Bukhari (@sayedzbukhari) May 11, 2020
3:30 pm: PM Imran briefed by ministers on national Covid-19 situation
PM @ImranKhanPTI briefed on situation arising out of #COVID19Pandemic https://t.co/EkdCnIS61d #COVID19 #PakistanFightsCorona #TogetherWeCan #COVIDー19 pic.twitter.com/BYI0KfpUQw

— Radio Pakistan (@RadioPakistan) May 11, 2020
2:55 pm: PTIÔÇÖs Khurram Sher Zaman addresses media
Live: #PTI leader Khurram Sher Zaman talking to media in #Karachi. #COVID19 #PakistanFightsCorona #TogetherWeCan #COVIDー19 https://t.co/CjsUQswO8h

— Radio Pakistan (@RadioPakistan) May 11, 2020
2:50 pm: Dr Zafar Mirza urges people to follow precautionary measures

Special Assistant to the Prime Minister on National Health Services, Dr Zafar Mirza says the government is ensuring effective measures on daily basis to cope with the coronavirus pandemic.

He expressed these views during his visit to the coronavirus helpline ÔÇÿ1166ÔÇÖ centre in Islamabad on Monday.

The SAPM urged masses to strictly follow precautionary measures being issued by the federation and provinces with regard to the coronavirus.

He said the spread of coronavirus can effectively be stopped through adopting the precautionary measures. He said coherent and effective awareness is being provided to the general public through the helpline.


2:45 pm: Deputy speaker inspects measures taken in lower house ahead of NA session

Deputy Speaker National Assembly Qasim Suri inspected the lower house ahead of the National Assembly session.

The deputy speaker saw the arrangements made at the parliament for the NA session.

He also visited the test center established in the parliamentÔÇÖs parking space and urged that all members of parliament, media and staff should be tested for the virus.

Digital machines have been installed at the entrance of the parliament for measuring the body temperatures. The machines will also help to identify visitors without facemasks.

All parliamentarians will be provided with facemask, gloves and sanitizers while entering the NA hall.


2:30 pm PM chairs meeting to review coronavirus situation in the country

Prime Minister Imran Khan chaired a meeting to review the coronavirus situation in the country.

Minister Asad Umar briefed the meeting with the latest National Command and Operation Center findings.

The meeting was also informed of the steps taken by the provinces in the wake of the federal governmentÔÇÖs decision to ease lockdown.


2:15 pm: Over 294,000 tests conducted so far
Govt enhanced testing facilities and a total of 294,894 tests have so far been conducted.



2:00 pm: Ambassador says arrangements to bring back students from Wuhan being finalized
Pakistan Ambassador to China, Naghmana Hashmi has said that arrangements were being finalized to airlift the first batch of Pakistani students from Wuhan, China through a special flight on May 18.

ÔÇ£There coordination is in progress to airlift all these Pakistanis students from, Wuhan and Hubei province to Pakistan through special flights starting from May 18,ÔÇØ she said in a statement.

Ambassador Hashmi informed that Wuhan was epicenter of the novel coronavirus outbreak.

Around 1,300 Pakistani students were studying in different universities in Hubei, including 800 students in Wuhan when the Chinese government decided to impose a lockdown in the city as well as the province.

Ambassador Hashmi said that some of these students from Wuhan would be returning while a number of students who were waiting to get their degrees after completion of their studies in the next couple of months, would stay.


1:45 pm: First Covid-19 death reported from Adiala Jail
As Pakistan crosses 100 cases of #Covid19 among prisoners across the country, it also reported the first casualty of the virus from Adiala Jail.

Reducing prison population and implementing strict SOPs is the only way to prevent more deaths inside our grossly overcrowded jails.

— Justice Project Pakistan (@JusticeProject_) May 11, 2020
1:35 pm: Education boards agree on canceling exams
All Board exams are cancelled. No confusion on that. 80% students have no issues. There are some categories like repeaters or improvers and private students and some others whose issues need to be addressed and will be by Friday https://t.co/Mnwy1Nrgx7

— Shafqat Mahmood (@Shafqat_Mahmood) May 11, 2020


1:30 pm: Usman Buzdar directs strict implementation of SOPs

Chief Minister Punjab Sardar Usman Buzdar has directed to ensure strict implementation on SOPs relating to easing lockdown in the province.

In a statement, the chief minister directed administrative departments to strictly monitor lockdown SOPs and warned that taking undue advantage with regard to ease in lockdown will not be permitted.

Buzdar underscored that PTI government allowed ease in lockdown by taking into account economic difficulties of the common man.

He emphasized that the dangers of coronavirus still persist and everyone will have to show responsibility and care.

He warned that strict action will be taken against those business organisations and industrial units for not ensuring full implementation on SOPs and permission of those institutions violating the SOPs will be canceled .
1:15 pm: 537 cases, 11 deaths reported in Sindh

Out of the 3,730 tests conducted across Sindh in the past 24 hours, 537 new cases have been reported in the province taking the provincial tally to 12,017.

With 11 more death reported in the province the death toll has speared to 200.

In his daily press briefing Sindh Chief Minister Murad Ali Shah stated 68 more people have recovered from the virus during the past 24 hours.

He further said that markets opened across the province at the decided time and urged traders to strictly abide by the SOPs.

Murad said he would personally visit markets to ensure that the SOPs were being followed.


1:05 pm: Protection of public's health govtÔÇÖs foremost priority: Shibli

Federal Minister for Information and Broadcasting Senator Shibli Faraz says protection of public's health is the foremost priority of the government.

In a tweet on Monday, he said we will have to encourage people and create awareness among them to adopt the effective weapon of precautionary measures to protect themselves from coronavirus.


ویڈیو کانفرنس کے ذریعے تمام وزارتوں کے پی آراوز سے گفتگو ہوئی۔کرونا وباء کے دوران انفارمیشن افسران کا کردار انتہائی اہم ہے۔عوام کا حوصلہ بڑھانے اور ان میں احتیاطی تدابیر کے مؤثر ہتھیار کو اختیار کرنے کی آگاہی پیدا کرنی ہے۔عوام کی صحت کا تحفظ اولین ترجیح ہے۔ pic.twitter.com/iDdiT1ln0r

— Senator Shibli Faraz (@shiblifaraz) May 11, 2020


The minister said he held talks with PROs of all the ministries through video conferencing. He said the role of Information Officers is of vital importance during the coronavirus pandemic.


12:45 pm: 12,000 Pakistanis to be repatriated in 10 days

Special Assistant to the Prime Minister on National Security, Dr Moeed Yusuf says the government plans to bring back home about 12,000 Pakistanis stranded in foreign countries in next 10 days.

Addressing a news conference in Islamabad on Monday, he said earlier about 7,500 stranded Pakistanis were repatriated in 10 days.

The special assistant said under the new policy, coronavirus test of the Pakistanis will be conducted soon after their landing in the country, and then those who test negative will be sent home while people with positive tests will be quarantined either at government facilities or at their homes.

Moeed Yusuf said about 20,000 stranded Pakistanis have so far been brought back home while 110,000 other Pakistanis in foreign countries desire to return home.


12:15 pm: First death reported in AJK

An 85-year-old coronavirus patient passed away in Muzaffarabad early Monday. This the first death reported from the region.

As many as 87 cases have been reported from AJK out of which 64 people have so far recovered.

According to the AJK Minister Information Technology Dr Mustafa Bashir Abbasi, Ikramullah was admitted to the hospital on May 8 and passed away in the wee hours on Monday.


11:50 am: SAPM on National Security Moeed Yousuf addresses media
Live: SAPM on National Security, Dr. Moeed Yusuf briefing media in #Islamabad. #COVID19 #PakistanFightsCorona #TogetherWeCan #COVIDー19 https://t.co/PMZNsRDwko

— Radio Pakistan (@RadioPakistan) May 11, 2020
11:30 am: PIA flight carrying 200 Pakistanis leaves for Islamabad from Washington

The first PIA relief flight PK-8722 bringing back 200 Pakistanis has left Washington for Islamabad.

Pakistan Ambassador to US Dr Asad Majeed Khan was present at the airport to see off the passengers.

According to CEO PIA, special flights will continue till return of Pakistanis to their home from abroad.


11:15 am: Flight taking MNAs to Islamabad delayed over technical fault

A PIA special flight that was due to take members of the parliament to Islamabad for the NA session was delayed after a technical fault was detected in the plane.

The flight was to take MNAs from Karachi and Quetta to Islamabad for the lower house session.


10:55 am: Fawad Chaudhry to skip NA session amid coronavirus threat

Minister for Science and Technology Fawad Chaudhry took to Twitter on Monday to announce that he will not be attending the National Assembly session due to take place later in the day after various members of the lower house tested positive for the virus.

The minister stated that he has been insisting on a virtual session and convening an NA session at this time was only putting the lives of MNAs at risk.


کئ اراکین اور عملے کے ٹیسٹ پازیٹو آنے کے بعد میں نے فیصلہ کیا ہے کہ آج اسمبلی کے اجلاس میں شرکت نہیں کروں گا، پہلے دن سے میں ویڈیو لنک پر سیشن کا کہ رہا ہوں اپوزیشن کے دباؤ میں آ کر پارلیمانی کمیٹی نے غیر دانشمندانہ فیصلہ کیا اور ملکی سیاسی قیادت کو غیر ضروری خطرے میں ڈال دیا۔

— Ch Fawad Hussain (@fawadchaudhry) May 11, 2020
10:00 am: 2.5m people to receive cash assistance under Punjab CMÔÇÖs initiative

Under the Punjab Chief Minister's Insaf Imdad Programme, Rs12,000 cash assistance is being given to 2.5 million deserving people at more than 600 Imdadi Camps across the province from today.

According to Provincial Disaster Management Authority, this cash assistance is being given to those, who had applied on a special number 8,070 recently.

Their scrutiny has been ensured jointly by the NADRA, Punjab Information Technology Board and PDMA itself.


9:30 am: Businesses open in Sindh

Businesses resume in Sindh following Chief Minister Syed Murad Ali ShahÔÇÖs presses conference on Sunday allowing shops and retail entities to open.

Apprising the members of small traders associations of the development in a meeting, the CM also outlined the standard operating procedures issued by the government for shops.

He said that those permitted to resume business included retail outlets and standalone shops in residential areas, while shopping malls are to remain closed.

Read story here


9:15 am: IBCC to finalize decision on matric, inter exams today

The Ministry of Education has convened an important meeting of the Inter Board Committee of Chairmen (IBCC) via video link on Monday (today) to clear the air regarding the confusion surrounding the cancellation of examinations of students of matriculation and intermediate by the federal government.

According to the sources, consultations have kicked off on granting four to six per cent extra marks to the students, while the ministry has proposed not promoting private students.

The sources said that recommendations would also be given on devising a policy to determine whether the students who have flunked in two or three papers in Class IX or first year intermediate examinations could be promoted.

Read story here


9:00 am: ISPR releases new video amid coronavirus crisis
ISPR says there is no cause bigger than serving the Nation https://t.co/1DEw4lr0na #OurMartyrsOurHeroes#COVID19 #PakistanFightsCorona @OfficialDGISPR #TogetherWeCan #Torkham pic.twitter.com/lUIqY0OBYZ

— Radio Pakistan (@RadioPakistan) May 11, 2020
8:45 am Shops open in Peshawar

Shops open in Peshawar following federal governmentÔÇÖs decision to ease lockdown in the country.

Khyber Bazaar, Qisa Khuwani Bazaar, Peepal Mandi, Kochi Bazaar, Meena Bazaar among other markets opened on Monday.

Traders were advised to strictly follow the SOPs laid down for them.
8:30 am: NA session to discuss coronavirus situation to be held today

The National Assembly will conduct its first session following the lockdown in the country amid the coronavirus crisis.

The session will begin at 3 pm to discuss and debate the current situation in the country.

President Dr Arif Alvi summoned the session of the lower house.


8:15 am: National tally near 31,000 cases

The nationwide tally of coronavirus has soared to 30,941 with 1,476 new cases reported during the last 24 hours.

According to the National Command and Operations Center, 11,568 cases have so far been detected in Punjab, 11,480 in Sindh, 4,669 in Khyber-Pakhtunkhwa, 2,017 in Balochistan, 442 in Gilgit-Baltistan, 679 in Islamabad and 87 in Azad Kashmir.

8,212 patients have so far recovered from the virus while the death toll stands at 667 with 28 new deaths reported during the last 24 hours.


8:00 am: Shops not following SOPs sealed in Peshawar

A number of shops were sealed in Peshawar for not following the defined SOPs.

According to the DC spokesperson, the police raided a number of places including the University Road and as many as 133 people were arrested for violating the lockdown.


7:45 am: Additional Deputy Commission Bajur tests positive for coronavirus

Additional Deputy Commission Bajur Zameen Khan Mohmand tested positive for the coronavirus making him the first among the authorities in the region to have contracted the virus.
7:30 am: Domestic flights to remain suspended till May 13

The Civil Aviation Authority (CAA) notified an extension in the suspension of domestic flight operations till May 13 as part of the government plans to stem the spread of Covid-19.

ÔÇ£As per the decision of the [government], the suspension of domestic flight operations, as effected earlier, has been extended up to Wednesday, May 13, 2020 at 2359 hours PST,ÔÇØ the CAA said in a tweet.

As per the decision of the GoP, the suspension of Domestic flight operations as effected earlier has been extended upto Wednesday, May 13, 2020 at 2359 hours PST. Remaining provisions as applicable to the suspension of domestic flt reflected in previous orders remain unchanged.

— PCAAOfficial (@official_pcaa) May 10, 2020


7:15 am: Posing trade challenge

The Covid-19 will likely alter global trading patterns in the long term. Major economies constituting the core of the global trading system have been adversely impacted such that their import demand is likely to be severely inhibited for several quarters.

The World Trade Organisation (WTO), in its recently released statement, expects world trade to plunge between 13% and 32% in 2020. This will be an unprecedented fall since the end of World War II. A recovery is expected in 2021 as countries kick-start their economies.

Read story here


7:00 am: Army major succumbs to Covid-19 in the line of duty at Torkham border: ISPR

A Pakistan Army officer deployed at the Torkham border terminal succumbed to the novel coronavirus, the Inter-Services Public Relations (ISPR) said in a statement on Sunday as the total cases of the respiratory disease caused by Covid-19 crossed 30,000 ÔÇö making the country 19th most affected in the world.

The military's media wing said that Major Muhammad Asghar "laid his life in the line of duty" in the fight against Covid-19.

"He was managing Torkham border terminal to ensure screening of people and move of logistic convoys to Afghanistan," the official statement added.

Read more here