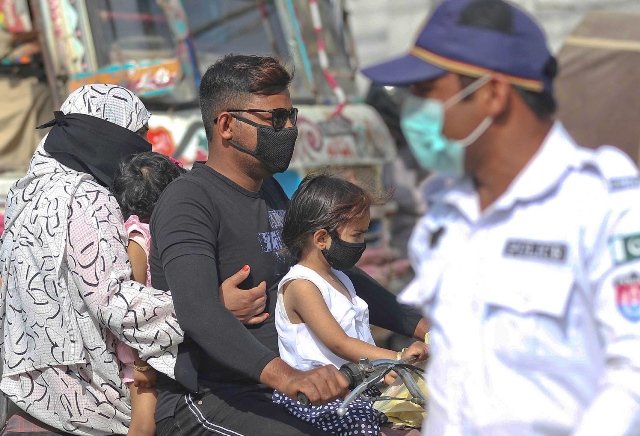 ---
Covid-19 cases surge past 30,000 across country
Tally of infection exceeds 11,000 in both Sindh and Punjab
---
KARACHI: Coronavirus cases in the country surged past 30,000 on Sunday with nearly 1,300 new infections as the tally exceeded 11,000 in both Sindh and Punjab. The death toll from the disease also surpassed 650.

The spike in cases has landed Pakistan on the 19th spot on the John Hopkins University coronavirus tracker's list of countries with most Covid-19 cases.

Over 8,000 patients across the country have recovered from the disease so far.

The country has recorded its highest number of cases for three consecutive days with the government lifting the coronavirus-induced lockdown in phases.

Sindh Chief Minister Murad Ali Shah said 709 new cases were reported in the province in the past 24 hours pushing its tally to 11,480.

Govt to cordon off specific areas in virus hotspots

With nine more deaths, total death toll from the disease in the province has hit 189.

The chief minister said 61 more patients recovered in the last 24 hours. The total number of patients who have recovered in the province now stands at 2,081.

The number of cases in Punjab has jumped to 11,093 with 622 new infections across the province. According to a notification issued by the Punjab health department, only asymptomatic patients or those experiencing mild symptoms will be allowed to isolate themselves at home or a government-certified facility.

The Khyber-Pakhtunkhwa health department in its daily situational report has confirmed 160 new cases – four from quarantine centres –taking the total to 4,669 in the province.

It also reported 11 new deaths – eight in Peshawar and one each in Mardan, Swat and Battagram – taking the total to 245.

It said 40 more patients had recovered from the disease to bring the total number of recoveries to 1,126 across the province. The active cases now stand at 3,298.

Retail shops to reopen for four days a week as Sindh starts easing lockdown

The Balochistan health department confirmed 82 fresh cases in the last 24 hours, bringing the provincial tally to 2,017.

It reported two more casualties due to virus in the province bringing its death toll to 26.

So far, 242 people have recovered from the disease in the province.

The number of cases has reached 442 in Gilgit-Baltistan, 641 in Islamabad and 87 in Azad Jammu and Kashmir.

The Sindh government has announced that it was reopening some of its departments as the federal government had eased coronavirus restrictions across the country.

The provincial government has directed industries, science and technology, social welfare and several other departments to resume working from Monday (today) with "minimum essential staff".

It also gave permission to shops and retail outlets to reopen from Monday. However, shopping malls will remain closed.

With input from our correspondents in Islamabad, Lahore, Peshawar and Quetta.