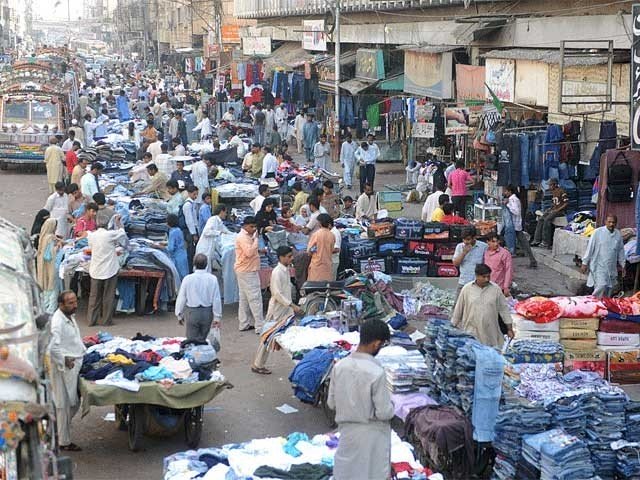 ---
Retail shops to reopen for four days a week as Sindh starts easing lockdown
They are to operate from 6am to 4pm, Mondays through Thursdays
---
KARACHI: Sindh Chief Minister Syed Murad Ali Shah gave permission on Sunday for shops and retail entities, except shopping malls and plazas, to resume business from Monday onwards.

Apprising the members of small traders associations of the development in a meeting, the CM also outlined the standard operating procedures issued by the government for shops.

He said that those permitted to resume business included retail outlets and standalone shops in residential areas, while shopping malls were to remain closed.

"Shops [given permission to resume business] will operate from 6am to 4pm, Mondays through Thursdays, and will be given an hour to close all business by 5pm, as the lockdown will still be enforced at 5pm sharp [every day]," he added. But Saturdays and Sundays will be observed as "safe days," on which all businesses, except essential ones, will remain closed, the CM maintained.

Listing entities that were yet to given permission to resume operations, the CM said, besides shopping malls, educational institutes, officer, eateries, wedding halls and marquees, cinemas, places created for hosting large gatherings, barber shops, beauty parlours and salons, spas, game centres, video game arcades, games shops including those for carom and pool, gyms, social clubs and parks were to remain closed. Also, no concerts and sports events are to be organised, he underlined.

Moving towards 'smart lockdown' through data and technology, says Umar

Giving details of the meeting called by Prime Minister Imran Khan to discuss lockdown relaxation SOPs, he said, "I had opposed two proposals made during the meeting – restoring public transport and air traffic and to allow businesses to operate from 8pm to 12am. I am grateful to the federal government that it considered my objections and allowed selected businesses to operate from 6am to 5pm."

He told traders that he had been corresponding with the federal government on the matter of issuing small loans to businesses so that they could pay their employees and meet other expenditures.

"We are working on a plan to steer the business community out of the crisis," he assured them.

Acknowledging that it was a difficult time for small traders, he said there was little choice but to keep them closed initially so as to curb the spread of the pandemic.

"I know your [traders'] position but I can either save lives or allow businesses to thrive at the cost of human lives. I chose to save lives at the cost of businesses," he said, expressing gratitude to the business community who had supported his government in implementing the lockdown. "You kept business activities suspended for two months and are affected badly, but we have to find a new way of leading our lives," he stated.

Following the CM's address, home secretary Usman Chachar read out the SOPs devised for businesses.

Karachi Chamber of Commerce and Industry (KCCI) leader Qasim Siraj Teli, addressing the traders, said, "If any trader has any objection over the SOPs, he may point it out now. Once the SOPs are implemented, everyone will be bound to abide by them and in case of a violation, the government will authorised to take action," adding that in such a case, the KCCI would not support the violator.

Restrictions on movement

Meanwhile, a notification issued by the Sindh home department on Sunday clarified that restrictions on movement would continue to apply from 5pm to 8pm every day, as per earlier orders given by the Sindh government.

"While the gradual opening up of businesses and related activities is undertaken in line with the national guidelines…and for the sake of uniformity within the country…it becomes more of public responsibility to comply with the distancing and preventive measures against Covid-19 spread," it stated, adding, "It requires care, concern, discipline and above all, patience to conduct oneself in such a situation of more opened-up activities when the cases show a rise."

The notification further pointed out that the government could review and revoke the new relaxations depending on the disease pattern in the coming days.