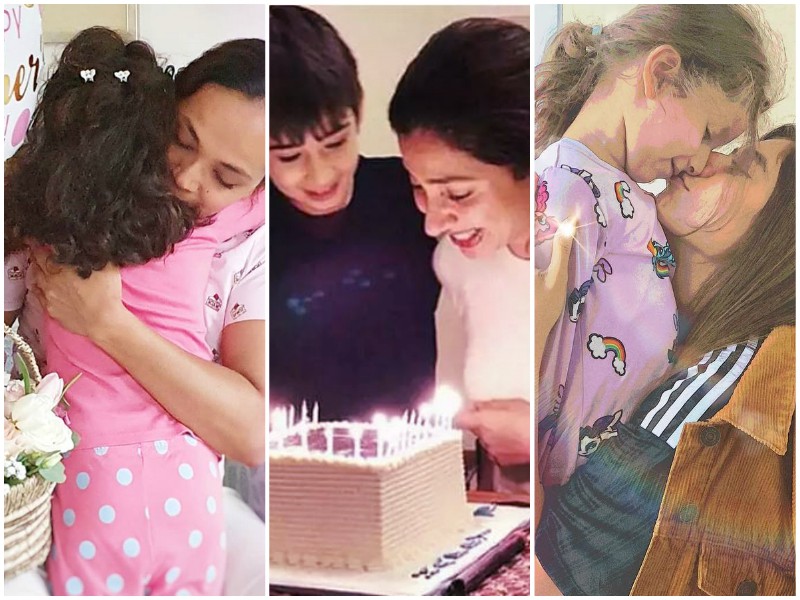 ---
KARACHI: The fact that all moms are superheroes isn't lost on anybody. From carrying you in her belly for nine months and birthing you in immense pain, to going back to work (be it at home or outside) just as swiftly to raise you into the person you are today - there's nothing a mother can't or won't do for her child.

Let's snag this opportunity to shine some light on mothers from our very own entertainment industry who toil day after day on sets and still manage to be there for their little ones!

Ayeza Khan

https://www.instagram.com/p/B__t6c4g_Hl/

Easily the most sought-after actor today, Ayeza seems to have gotten the hang of everything – from picking just the right roles and scripts to being the perfect mother to her two little tots.

The actor is mother to daughter Hoorain and son Rayyan and makes sure to show up for every milestone in their life, even if her own life is swamped with commitments. Need proof? Ayeza documents her time with her kids on her Instagram extensively – from birthday parties to bedtime story sessions, she does it all with her kids. All while being a part of some of the biggest shows in the country!

Syra Yousuf

https://www.instagram.com/p/B8N_Y-5pVoW/

Syra has been the country's sweetheart for a while now and when she gave birth to daughter Nooreh back in 2014, it was one of the sweetest news to come out of entertainment in a while.

Even though she may have separated from Nooreh's father, Syra remains an exemplary mother to her now 5-year old.

Nooreh spends ample time with both her father and mother and is also one of Pakistan's favourite star kids – thanks to her adorable makeup tutorials using her mother's prized makeup collection, which of course Syra doesn't seem to mind.

She also regularly spends quality time with her mother, as seen on Syra's Instagram – the two spend their days painting, taking beach trips and going to school events together which is always amazing for bonding time! In Syra's own words for Nooreh, "For you, I will."

Mahira Khan

https://www.instagram.com/p/B6c8sNNhLsA/

Before Mahira Khan found sweeping stardom and was still known as VJ Mahira, she got married. She has one adorable son from the marriage, named Azlan, who is easily her strength and perhaps her lucky charm!

Born to Mahira in 2009, Azlan became her driving force, and as Mahira said in a post for his 10th birthday, "Exactly 10 years ago my life changed. I was a 24-year-old girl with a baby in my arms celebrating my 25th birthday. These ten years feel like a thousand... with experiences worth a lifetime. I became a mother, I became an actor…"

She is also fiercely protective of her son, who she lovingly calls Azzu. "This is one thing I would want to protect with my life. I want to protect my child. At first, I wanted to show everyone what an adorable baby Azlan is, but now I've become more cautious. I know we shouldn't be so superstitious and I wasn't someone who you would call a vehmi, but now I'm just like I don't want any nazar (evil eye)," she says.

Aamina Sheikh

https://www.instagram.com/p/B9_P3tXhy3s/

Aamina Sheikh and Mohib Mirza were one of the most beloved tinsel town couples, and through their marriage, the world was blessed with Meissa Mirza. While the two may have decided to go their own ways after a decade-long companionship, Aamina has continued to be a class act of a mother!

Meissa's name is also a testament to her parents' love for her. "There is a star named Meissa in the constellation Orion," said Aamina but that's not it. Her name is also a reference to Game of Thrones' mother of dragons, the Khaleesi herself who was called Meissa by people.

Currently, since Aamina has taken the backseat for a while from her career, she has devoted her time completely to her daughter. She also runs an Instagram page dedicated solely to Meissa, with the handle @meissamama. More power to you, Aamina for spreading the love and knowledge of a caring mother!

Aiman Khan

https://www.instagram.com/p/B-9aXMUFnB1/

Aiman Khan, who is a relatively new mother, took a backseat from her thriving career to cater to her at-home lifestyle and that is telling enough of her zest to nurture her daughter who was born in August 2019.

Married to actor Muneeb Butt in 2018, Aiman was at the peak of her acting career before she left the screen to start a new life. Whether she will return to the screen is unsure for now, but she is definitely a hands-on mother to her little Amal for sure!

Have something to add to the story? Share it in the comments below.