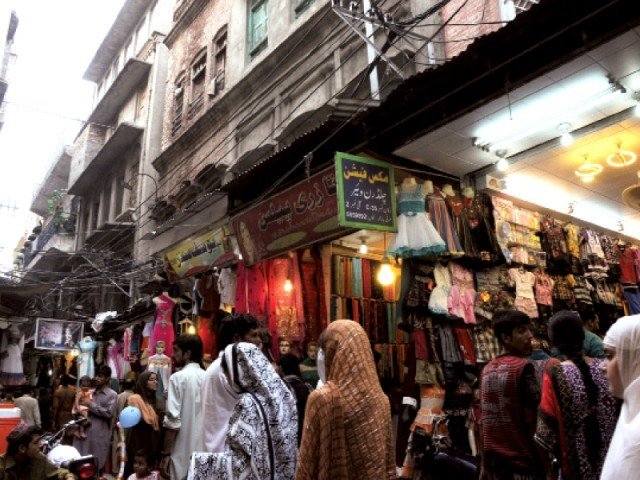 ---
Once bustling Moti Bazaar now wears deserted look
Thousands of small traders unemployed due to its closure
---
RAWALPINDI: Like many other business places, this Ramazan is not the same for over a century old Moti Bazaar that has turned out to be a desolated place, one like never seen before with Eidul Fitr being so much close.

Moti Bazaar was shut down due to the lockdown imposed to prevent the coronavirus spread.

The famous market is located in the heart of Rawalpindi city and is visited by shoppers, mostly women, from across the Potohar region, Azad Kashmir and Khyber-Pakhtunkhwa. The bazaar offers a variety from new-borns' clothing to wedding attires. The shelves are still stacked with the items but sadly behind the closed shutters.

Moti Bazaar: A pearl losing its shine

The Moti Bazaar came into existence when a few local women started selling homemade clothes and handicrafts. This attracted others too and more and more shops started opening there every passing day. It was only with the passage of time that those few shops transformed into a bustling marketplace that now sprawls over a large area, having over 1,400 shops and stalls.

Moti Bazaar is made up of around 12 markets, with narrow streets that connect various roads and lead to one central location. Each street has its own, unique variety. Some streets are just allocated for footwear while some have shops selling wedding dresses. One aisle entirely consists of shops offering unstitched fabric while another one having shops offering cosmetic items to the shoppers.

The market's closure timings used to increase after 15th Ramazan and it functioned round the clock with the religious festive occasion one week away. But, there are no such scenes this year.

Eid around corner: Shopping reaches frenzy peak

The Moti Bazaar Union members including Chaudhry Iqbal, Naveed Kanwal, and others told The Express Tribune that thousands of small traders in the market have become unemployed due to its closure over a month. They added that every shop had at least two to three helpers or salespersons. Therefore, Iqbal said that nearly 5,000 families have been hit hard by the lockdown situation. "The businesses have gone down," Kanwal lamented.

The union members said that the orders many shopkeepers had given orders for the new stock that was supposed to be sold in Ramzan. However, it could not be delivered due to the restriction on the transport movement.

Published in The Express Tribune, May 10th, 2020.