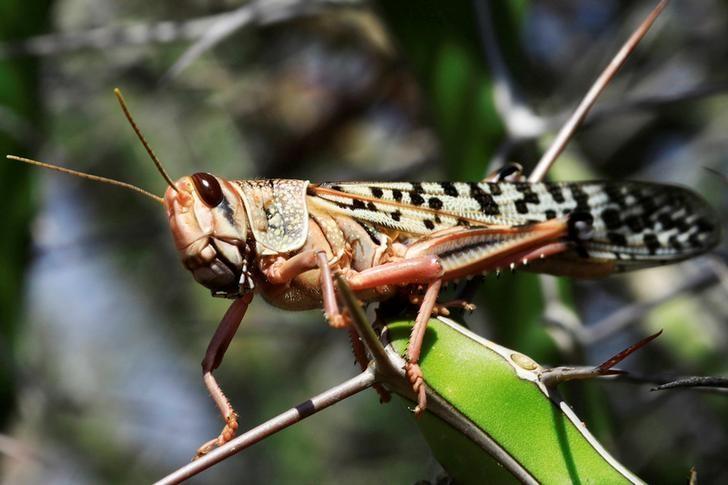 ---
The world is still grappling with the brutal global economic consequences of the Covid-19 pandemic. Pakistan has also experienced severe economic distress due to the disease. As if that were not enough, it is now certain that enormous locust swarms are set to invade Sindh after May 15. The swarms could devastate agriculture not only in Sindh but in other parts of the country as well by devouring precious crops. This could further weaken Pakistan's economy and trigger a food crisis. During the 41st Desert Locust Control Committee (DLCC) meeting of the UN's Food and Agriculture Organization (FAO) in Addis Ababa in December 2019, it was stated by the Iranian delegate that the level of infestation in Iran in 2019 was the highest in 50 years! The situation is, therefore, grim for Pakistan too.

Locusts are insects that are characterised by their tremendous ability to hop and cruise. They have perfected this specialised mobility with the help of their strong hind legs that can catapult them into the air with great ease. Another evolutionary typicality that they exhibit is called phenotypical plasticity which allows them to change their behaviour and form. Thus, from solitary, non-interacting individuals, these entomological chameleons can become highly sociable insects.

This spectacular transformation is reportedly triggered by serotonin, a natural chemical that generates the feelings of happiness in an organism. An integral part of the human body as well, serotonin is nicknamed the happy chemical. The behavioural gregarisation of the locusts activates mutual amity, propensity to act communally, swarm formation and the urge to migrate en masse. Terrifyingly, large locust swarms can be several hundred square kilometres long and may contain up to 80 million adult locusts per square kilometre!

If a locust invasion occurs in Sindh, it may lead to appalling economic hardships. The Covid-19 pandemic is already causing supply chain uncertainty, market chaos, lockdowns, panic buying, scarcity of food items and trade disruptions. Evidently, the food supply mechanism is not monolithic in nature: it is a highly intricate mix that involves producers, transporters, middlemen, static and mobile markets, market managers and consumers. The locust infestation could create more problems.

Currently, the Department of Plant Protection (DPP), a wing of the Ministry of National Food Security and Research, is tasked with locust control. However, the situation on ground and the gargantuan size of the challenge indicate that the department is too small and ill-prepared to tackle the issue. The federal government must create a financially and administratively autonomous Federal Locust Control Authority which should, in conjunction with the provinces, assess the situation, generate funds and plan remedial measures. To begin with, the National Action Plan for Desert Locust Surveillance and Control 2020 must be implemented vigorously under the aegis of the authority.

A monitoring and information collecting system should be designed to identify the routes of the swarms so that their movement could be observed. Surveys should be conducted and information gathered about the type, size and density of the swarms. Pakistani officials need to remain in constant touch with Iranian and Indian officials to ensure better cooperation. Local residents should be made part of this exercise as their knowledge about locusts is extensive.

Pakistan must also consult with the FAO regarding the selection of pesticides, a comprehensive treatment model and clean up strategies. FAO can also help Pakistan procure safer biopesticides. Manpower should be carefully chosen and properly trained for the purpose of mechanised spraying. Both land-based and aerial spraying should be used to kill the rampaging swarms. Reportedly, Pakistan has only two crop-spraying planes which simply cannot deal with the threat being faced by the country. The required number of planes could be rented out from other countries. Drones could be used for the purpose as well. They could also be employed for aerial surveys.

The latest locust emergency is about to knock at our doors. Are we ready? 

Published in The Express Tribune, May 10th, 2020.

Like Opinion & Editorial on Facebook, follow @ETOpEd on Twitter to receive all updates on all our daily pieces.
COMMENTS
Comments are moderated and generally will be posted if they are on-topic and not abusive.
For more information, please see our Comments FAQ