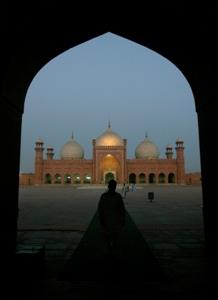 ---
LAHORE: The novel coronavirus pandemic has done little to damp Pakistan Tehreek-e-Insaf's enthusiasm to develop the country into a hub of religious tourism.

While many country's appear no closer to lifting restrictions on international travel, the PTI-led Punjab government plans to press ahead full steam with schemes to renovate historical mosques and religious shrines, The Express Tribune has learnt.

According to Punjab Auqaf Department officials work to geo-map and redevelop the sites with modern facilities will carry on in the upcoming fiscal year. The government has set aside almost Rs250 million for these projects in 2020-21, they revealed.

Computerised geo-mapping of Auqaf will alone cost Rs80 million, the officials said, adding that the exercised will be completed over the course of the upcoming fiscal year.

Around Rs60 million will be spent on five projects in northern Punjab, the officials told The Express Tribune. These include restoration work on the Badshahi Masjid and the provision of water for ablution at Data Darbar. Both the schemes will cost Rs10 million each, the same as the renovation of the shrine of Baba Farid in Pakpattan and the scheme to facilitate pilgrims at the shrine of Imam Ali-ul-Haq in Sialkot. The projects also include the uplift of the shrine of Bibi Pakdaman, which will cost Rs20 million.

More than Rs80 million will also be spent on various shrines in South Punjab, the officials said. These include the shrines of Bahauddin Zakariya, Sakhi Sarwar and Haji Sher Dewan Chawli Mashaikh, works on which are estimated to cost around Rs10 million each.

Renovation work will also be carried out on the shrine of Abdul Wahab Bukhari in Muzaffargarh for a cost of Rs20 million, they added.

In addition to various renovation and uplift schemes, the Punjab government has also set aside Rs10.5 million for a proposal to automate collections at all shrines looked after by the Auqaf department.

The provincial government will also earmark Rs13 million to water plants and trees and clean all roads in the vicinity of the various locations.

Speaking to The Express Tribune, Punjab Auqaf Minister Saeedul Hassan said his department has recovered several hundred acres of land from illegal occupants all over the province.

He added that in addition to restoration work on religious sites, the government is committed to setting up a Sufi University in Lahore with a state-of-the-art library and other modern facilities.

Published in The Express Tribune, May 9th, 2020.
COMMENTS
Comments are moderated and generally will be posted if they are on-topic and not abusive.
For more information, please see our Comments FAQ