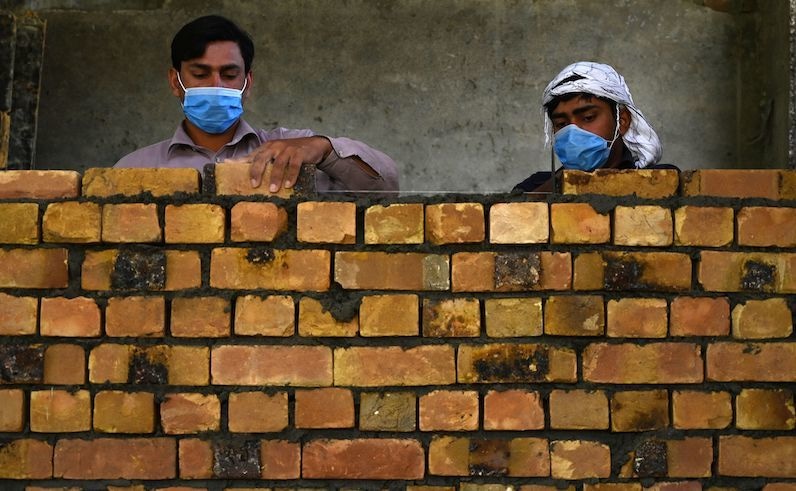 ---
LIVE: Covid-19 death toll rises to 611 in Pakistan as govt begins to lift lockdown
Surge in new cases reported across the country as coronavirus tally jumps to 26,990
---
KARACHI / ISLAMABAD / QUETTA / PESHAWAR / LAHORE / GILGIT / MUZAFFARABAD: The novel coronavirus emerged in the central China city of Wuhan towards the end of last year and proliferated to almost the whole world within a couple of months. ItÔÇÖs not the virulence or fatality, but the infectivity of the new virus ÔÇô also known as SARS-CoV-2 ÔÇô that has set off a global frenzy.

The Covid-19 respiratory illness caused by this mysterious contagion has so far infected more than 3.8 million people in 202 countries and territories of the world ÔÇô more than 270,000 of them have died and counting.

Pakistan, despite its close proximity with China, remained coronavirus-free until February 26 when a young man from Karachi tested positive after returning from Iran ÔÇô one of the worst-hit countries. After a brief hiatus following the first case, Covid-19 cases spiked as more pilgrims returning from Iran tested positive for the virus.

The nationwide tally of Covid-19 patients stands at 26,990 with 10,033 cases in Punjab, 9,691 in Sindh, 4,327 in Khyber-Pakhtunkhwa, 1,873 in Balochistan, 421 in Gilgit-Baltistan, 558 in Islamabad and 87 in Azad Jammu and Kashmir.

The virus has claimed at least 611 lives while at least 7,530 coronavirus patients have recovered.

The situation remains fluid and┬áweÔÇÖre updating stats as soon as new figures are officially released.

Follow┬áThe Express TribuneÔÇÖs live coverage of the pandemic┬áhere.




12:10am: Covid-19 patients urged to go to isolation facilities in Sindh

Sindh Health Minister Dr Azra Fazal Pechuho has appealed to coronavirus patients to be admitted to hospitals and isolation centres instead of staying at their homes.

In a video statement issued on Friday, Pechuho said that those isolated at home have very mild or no symptoms, adding that many of them did not disclose that they were experiencing any symptoms because they wanted to avoid being moved to hospitals or isolation centres.

She also advised coronavirus patients suffering from other conditions such as asthma, blood pressure, diabetes or heart and kidney diseases to go to isolation centres.

Read full story here




12:07am: Back to business - for some sectors in Sindh

As Sindh enters ÔÇÿPhase TwoÔÇÖ of the lockdown on Monday, implementing the standard operating procedures (SOPs) issued by the federal government for easing restrictions, certain business sectors would be able to resume operations, Sindh Chief Minister Syed Murad Ali Shah announced on Friday.

He clarified that there would be some extra restrictions in virus hotspots, while minor exemptions would be given to specific sectors and neighbourhood shops.

The decision came as Sindh reported another 598 coronavirus cases on the day, bringing the provinceÔÇÖs disease tally to 9,691, while another five patients also passed away.

Read more here




11:25pm: Seven family members of Covid-19 patient test positive in AJK

Seven family members ÔÇô parents, two siblings, daughter, nephew and niece ÔÇô of a coronavirus patient have also tested positive for Covid-19 in Azad Jammu and Kashmir (AJK), health department officials confirmed.

This brings total number of Covid-19 cases in the region to 87.




11:04pm: 27 new Covid-19 cases take G-B tally to 421

As much as 27 new Covid-19 cases were reported during the last 24 hours in Gilgit-Baltistan, taking the regionÔÇÖs tally to 421.

The G-B health department said that 298 patients have recovered from the deadly disease in the region.

Three people have died due to the contagious disease in the region.




10:58pm: With one new case, AJK Covid-19 tally rises to 79

One more person infected with the novel coronavirus in Azad Jammu and Kashmir (AJK), taking the regionÔÇÖs tally to 79.

According to health authorities, no casualty due to Covid-19 has been reported in AJK.




10:15pm: 115 police personnel infected with coronavirus in Sindh

As many as 115 Sindh police officials have been infected with Covid-19 so far, of which two have lost their lives during treatment.

According to a Sindh police spokesperson, 97 officials are undergoing treatment and one of them is in critical condition, while 15 have recovered.

The Sindh police have claimed that the affected officials are being given the best care. The spokesperson maintained that the police force remains steadfast in fulfilling its duties to serve the nation and continue the fight against coronavirus.




9:06pm: Sindh govt allows another 32 export-oriented factories to resume operations

The permission is given on condition of adherence to SOPs with regards to coronavirus outbreak




8:40pm: Balochistan reports another 151 Covid-19 patients; tally rises to 1,873

The Balochistan Health Department, in its daily situational report, has confirmed another 151 cases of coronavirus in the past 24 hours, taking the tally to 1,873.

The virus has claimed 24 lives while 222 patients have recovered from the mysterious disease in the province so far.




8:10pm: Doctor, patient test positive for Covid-19 in Karachi

A doctor and a patient admitted in the gynaecology ward at Jinnah Postgraduate Medical Centre (JPMC) tested positive for coronavirus on Friday.

The patient had been admitted to the ward five days ago and was screened for Covid-19 on Wednesday.

Meanwhile, the doctor was directed to quarantine herself at her apartment in the JMPC hostel, where she lives with three other doctors.

Over 12 people, including six gynaecologists, have reportedly been infected with coronavirus at JPMC so far, while the family members of one of the doctors was also affected.

However, JPMC obstetrics and gynaecology chief Dr Khadija Bano claimed that only one doctor in the department has tested positive for the virus so far. She further said that coronavirus screening tests had been made mandatory for patients being admitted to the gynaecology department for surgery.




6:20pm: Market watch: Stocks fall despite easing of lockdown

The bearish trend continued at the stock market on Friday as the KSE-100 index slipped further amid lacklustre trading interest.

The benchmark index opened up and after a brief advance the momentum could not be sustained. Investors remained on the sidelines as confidence stood low, which resulted in a continued slide in the index.

The downturn came on the back of concern over International Monetary Fund (IMF)ÔÇÖs projection of surging government debt coupled with poor data of oil and cement sales for April 2020.

Read more here




6:00pm: Lockdown in Sindh to be eased along federal govt's directions, says CM Shah

Sindh is on board with the federal governmentÔÇÖs plan to ease the lockdown, said Chief Minister Murad Ali Shah, addressing a press conference on Friday.

The decisions announced by the Centre will be implemented in Sindh and the lockdown will remain in place under those directives, said the chief minister.

The CM apprised that all industries, except for construction and related industries, will remain shut in Sindh from May 9 onwards. Essential shops and stores will remain open from Fajr prayers till 5pm, but offices which are closed now will remain closed.

Read full story here




5:40pm: 12 more succumb to Covid-19, 371 new cases surface in K-P

The Khyber-Pakhtunkhwa (K-P) Health Department has confirmed that 12 more people have fallen prey to coronavirus in the province to bring the death toll to 221.

It also said that 371 new cases ÔÇô 12 in Torkham isolation centre and 65 international flight quarantine centers ÔÇô have been reported in the past 24 hours, taking the total to 4,327.

Of 12 fresh casualties, five were reported from Peshawar, five from Swat and one each from Swabi and Dir Lower.

49 more patients have recuperated from the mysterious disease, taking the total number of recoveries to 1,033. Active cases stand at 3,073 in the province.


371 new cases confirmed (12 Torkham, 65 international flight quarantine centers) taking the total to 4,327. 12 new deaths reported (5 Peshawar, 5 Swat, 1 Swabi, 1 Dir Lower) taking the total to 221. 49 new patients recovered taking the tally to 1,033. Active cases 3,073. pic.twitter.com/OunoDt8X8M

— Health Department KP (@HealthKPGovt) May 8, 2020


5:25pm: Punjab reports 961 new coronavirus cases in one go; tally jumps to 10,033

The Punjab Health Department, in its daily situational report, has confirmed 961 new cases of Covid-19 to bring the provincial tally to 10,033.

The virus has claimed 183 lives while 4,062 patients have recovered in the province so far.


4:50 pm: PPP makes Covid-19 tests mandatory for lawmakers attending Parliament
PPP made it mandatory for all Senators, MNAs leaving for parliament to be tested for Covid-19. Strongly urge Chairman Senate/ NA Speaker to make it mandatory for others as well including limited staff coming into the building. There is zero ventilation in building due to security

— SenatorSherryRehman (@sherryrehman) May 8, 2020


4:15 pm: President Arif Alvi visits National Assembly

President Arif Alvi visited the National Assembly and was briefed on measures taken to incorporate social distancing measures ahead of MondayÔÇÖs planned session. He directed that social distancing measures as per WHO should be followed.


صدر ڈاکٹر عارف علوی کاقومی اسمبلی کا دورہ۔پیر کو ہونے والے اجلاس کے حوالے سے انتظامات کا جائزہ لیا۔عالمی ادارہ صحت کی جاری کردہ گائیڈ لائنز کےمطابق سماجی فاصلے کے اصول پر عملدرآمد یقینی بنایا جائے۔سماجی فاصلے پرعمل سے ہی مرض کے پھیلاؤ کو روکا جاسکتا ہے۔صدر ڈاکٹر عارف علوی ۔۔ pic.twitter.com/Z6YBvbvM5j

— PTV News (@PTVNewsOfficial) May 8, 2020


3:40 pm: Punjab to urge federal govt to not lift lockdown in big cities

Punjab Information Minister Fayazul Hassan Chohan has said the provincial government will submit a recommendation to the federal government urging them to not lift the lockdown in major cities of the province.

ÔÇ£There is a hype about the coronavirus in the bigger cities and we are submitting a recommendation to the federal government. If the federal government approves it, then the lockdown and relevant SOPs will remain in place in the big cities.ÔÇØ




3:15 pm: Sindh reports new cases

Sindh Chief Minister Murad Ali Shah said that 598 new coronavirus cases have emerged in the province, taking the provincial tally to 9,691.

Death toll in the province is 176.


#Live: Chief Minsiter Sindh Syed Murad Ali Shah addressing a news conference in #Karachi https://t.co/v3JDXml7cc

— Radio Pakistan (@RadioPakistan) May 8, 2020


2:45 pm: Info minister welcomes Japans's $2.16m assistance

Japanese Ambassador Kuninori Matsuda called on Information Minister Shibli Faraz in Islamabad on Friday.

The information minister welcomed Japan's assistance worth $2.16 million to fight the coronavirus pandemic.

He also thanked the Japanese ambassador for medical aid of worth Rs35 million from international Japanese Non-Governmental Organisations as emergency support for deserving families of Mansehra district.

The two exchanged views on matters of mutual interest and bilateral relations. They also discussed prevailing situation in the wake of Covid-19 and lockdown.



2:35 pm: FM launches platform for digital discussions on Covid-19

Foreign Minister Shah Mehmood Qureshi introduced a digital discussion series titled FM Connect Digital: The Thought Leaders.

The platform would host digital round table discussions with intellectuals from around the globe on Covid-19 realities

Read story here




2:30 pm: 'Students will be facilitated in every possible way'

Federal Minister for Education Shafqat Mehmood in a tweet assured students that the govt would do everything to facilitate them in acquiring education amid the pandemic.


Rest assured that we will do everything to facilitate students. Even now cancellation of exam has been taken reluctantly in the larger interest of safety of students

— Shafqat Mahmood (@Shafqat_Mahmood) May 8, 2020


2:15 pm: K-P MPA Bahadur Khan contracts coronavirus

Khyber-Pakhtunkwa Member Provincial Assembly Haji Bahadur Khan was tested positive for coronavirus on Friday.

Confirming the news of his test, the MPA also stated that his guard and son had also tested positive for the virus.




2:00 pm: 'Will follow decisions of federal govt'

Adviser to K-P chief minister Ajmal Wazir has said that the provincial government will follow all decisions of the federal government regarding lockdown restrictions being eased.

He added that aluminium, PVC, steel, electrical and paint industries will be allowed to operate and shops would remain open five days a week.


#Live: Adviser to the Chief Minister Khyber Pakhtunkhwa for Information Ajmal Wazir briefs media in #Peshawar https://t.co/AvDXp0enMA

— Radio Pakistan (@RadioPakistan) May 8, 2020
1:15 pm: Sindh health ministers names hospitals for Covid-19 treatment
کرونا کے اعلاج کے لیے کراچی کے کس ہسپتال میں سہولیات موجود ہیں، وزیر صحت سندھ ڈاکٹر عذرا پیچوہو نے عوام کی آگہی کے لیے ویڈیو پیغام جاری کردیا۔#SindhGovernment #SindhHealth #Covid19 pic.twitter.com/5MZfovYg1Z

— Health and Population Welfare Department, Sindh (@SindhHealthDpt) May 8, 2020
12:45 pm: Governor Punjab addresses a ceremony at Nankana Sahib
#Live: Governor Punjab @ChMSarwar addressing a ceremony in Nankana Sahib https://t.co/EQ65gKXPzx

— Radio Pakistan (@RadioPakistan) May 8, 2020


11:45 am: CM Balochistan reviews provincial Covid-19 situation

Chief Minister Balochistan Jam Kamal reviewed the current situation of the lockdown in the province and other coronavirus related issues.

The meeting agreed to give some relaxation in lockdown for one weak and traders will also be taken into confidence in this regard.




11:00 am: PIA receives PPE from NDMA

Pakistan International Airlines has received PPE kits to safeguard its staffers. The kits have been provided by NDMA.




10:30 am: Shibli urges people to cooperate

Newly-appointed Information Minister Shibli Faraz has warned that the lockdown could be reinforced if the people did not take precautions. He urged the citizens to cooperate and make the phase-wise easing of the lockdown successful.


لاک ڈاؤن کھولنے کی کامیابی میں عوام کا تعاون درکار ہے۔کاروباری شعبوں کیلئے بنائے گئے ایس او پیز پر سختی سے عمل کرناہوگا۔احتیاط نہ کی گئی تو دوبارہ لاک ڈاؤن کی طرف جانا پڑے گا۔ کورونا مشترکہ قومی مسئلہ ہے، متحد ہو کر مقابلہ کرنا ہے۔ 1/2

— Senator Shibli Faraz (@shiblifaraz) May 8, 2020


9:45 am: Virus peak expected end of May or in early June

Pakistan expects the coronavirus peak in the country by the end of May or in early June and by keeping this in mind, the government was making its policies to cope with the pandemic, Foreign Minister Shah Mehmood Qureshi said.

Qureshi said that nobody knew for sure how long this outbreak would last, therefore, the government could not opt for a continuous lockdown.

Read story here


9:30 am: K-P to ease restrictions on restaurants

The Khyber-Pakhtunkhwa government has eased down timing restrictions of lockdown on restaurants and eateries across the province.

According to a notification of Relief Rehabilitation and Settlement department, the take-away and home delivery of food items will continue beyond the limitation of 4pm.

The step has been taken to serve the public interest.


9:15 am: All resources being utilized to contain COVID-19: CM GB

Gilgit-Baltistan Chief Minister Hafiz Hafeezur Rehman says government will distribute five lac face masks among people in the region in next 10 days.

In a statement, he said all available resources are being utilized to contain COVID-19.

He said tests are being done free of cost and capacity of laboratories being enhanced.


9:00 am: Highest number of cases reported in a single day

According to the National Command and Operations Center, Pakistan reported its highest single-day number of Covid-19 cases on Thursday (1,764) taking the national tally 25,835.

With 30 deaths being reported in the past 24 hours the death toll from the virus now stands at 594.

A total of 7,530 people have so far recovered from the virus.