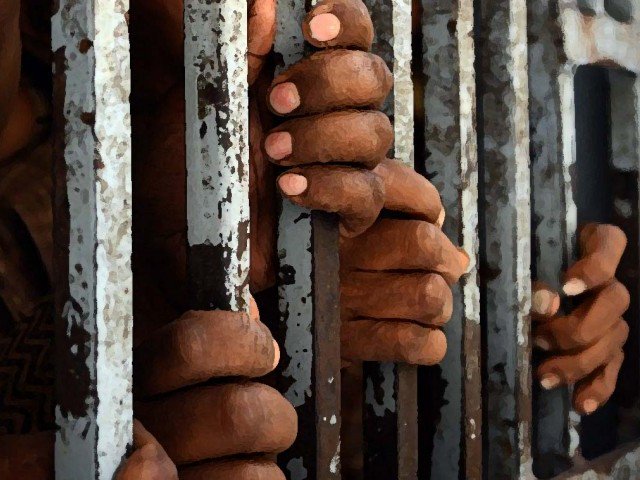 ---
Covid-19 spread in jails could spell disaster
Virus confirmed in 78 prisoners and staff in Punjab jails, of whom 44 have recovered
---
LAHORE: The number of coronavirus cases in the country is increasing day by day. The pandemic has affected people in every city and the prisoners of Punjab's jails could not be kept safe from the contagion.

So far, 78 prisoners and jail staff in Punjab's jails had tested positive for coronavirus. Of these confirmed cases, 44 have recovered, while 34 are still undergoing treatment.

IG Prisons Mirza Shahid Baig said that a patient Abid Hussain, who was arrested in a drug trafficking case, was brought to Camp Jail, Lahore on March 9. "He tested positive for coronavirus during the screening of prisoners in the jail. The test was conducted on March 22 under the supervision of the chief health officer's team."

Jail authorities strive to protect inmates from coronavirus

After he tested positive, Abid was immediately admitted to the coronavirus isolation centre of Lahore's Mayo Hospital.

Prisons department spokesperson Amir Rauf Khawaja said that 29 prisoners and five jail staff at Lahore District Jail were infected by the virus.

"Those who were infected by coronavirus elsewhere include 17 prisoners, one jail employee and 17 others."

According to the spokesperson, the other 17 cases were reported in five jails, including three employees in Gujranwala Central Jail, five prisoners in Jhelum District Jail, two prisoners in Bhakkar District Jail and one employee in Shujaabad Sub Jail, while six prisoners in DG Khan Central Jail had tested positive for coronavirus.

Lodhran Jail Superintendent Ali Gohar Chauhan said that 450 prisoners were shifted to the prison to keep other healthy prisoners safe after the virus spread in Camp Jail, Lahore.

In Sindh, prisoners paroled amid coronavirus fears

According to data of the jail authorities for April, there were 46,938 prisoners across Punjab.

These include 45,671 men, 716 women and 551 minors. All women and children in prisons across Punjab were reportedly safe from the virus. Prisoners also fast during the month of Ramazan. Bahawalpur Jail Superintendent Shehram Tauqeer Khan said it had a capacity for 1,434 prisoners but there were currently 2,000 prisoners in it. "The jail has six rooms for quarantine, 32 isolation cells and one barrack was set up at a hospital."

He highlighted that 41 prisoners and 11 jail staff were tested after they showed certain symptoms of coronavirus. "The result of 45 suspected cases was negative while seven people were still waiting for their reports."

Shujabad jail doctor tests positive for Covid-19

Camp Jail Superintendent Asad Warraich said that infrared thermometers as well as a disinfectant spray gate had been installed in the prison to prevent coronavirus. Kot Lakhpat Jail Superintendent Ejaz Asghar said that a house was being used to accommodate the prison psychologist.

He added that no employee or prisoner in the jail had tested positive for coronavirus. "However, three prisoners were tested for coronavirus after they showed certain symptoms and two of them tested negative, while the result of the third prisoner is pending."

Published in The Express Tribune, May 8th, 2020.