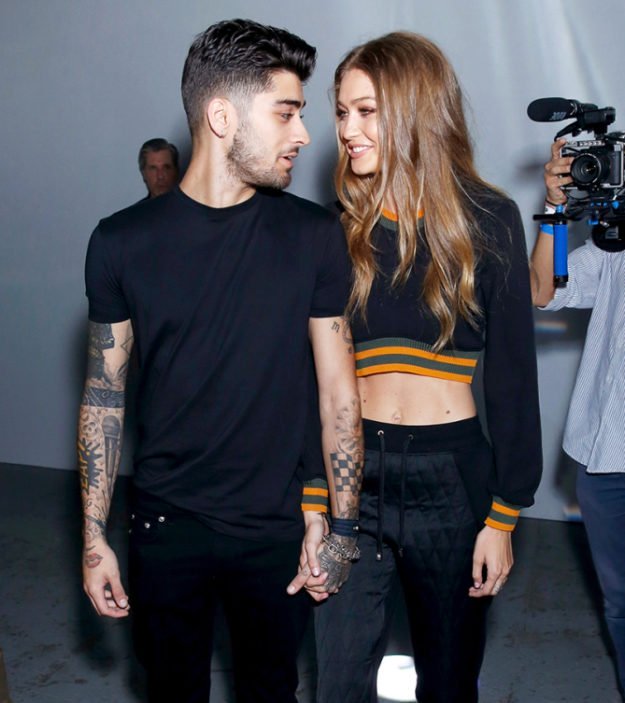 ---
Zayn Malik and Gigi Hadid are pregnant with their first child, and now, grapevine has it that Zayn might be popping the question soon!

Yes, according to fans theories - who have a knack for noticing the smallest of details in whatever content they get of the generally private couple - the couple might be tying the knot soon, or maybe, already have, reported E! News. 

But what's the hint? It's the former One Direction star's latest ink - an excerpt from Kahlil Gibran's poem The Prophet.

The excerpt on his arm reads, "Sing and dance together and be joyous but let each one of you be alone. Give your hearts, but not into each other's keeping. Stand together, yet not too near together; For the pillars of the temple stand apart. And the oak tree and the cypress grow not in each other's shadow."


— georgethejeweler on Instagram story pic.twitter.com/J1Lnb1dH9T

— Zayn Malik Updates (@ZaynReport) May 2, 2020


The picture that showed off his tattoo was originally shared by jeweller George Khalife. In another picture from the jeweller, Gigi and Zayn also flaunted matching bracelets - some fans took that as another hint!


Zayn and Gigi wearing matching Diamond Evil Eye Bracelet in 14k Gold bracelets by George Khalife.https://t.co/xaZMH0a3rM pic.twitter.com/29WUriYK3a

— ZFN (@ZaynFashionNews) May 2, 2020


One fan also pointed out that Zayn had shared the same excerpt of the poem on his Instagram back in May 2019.


Zayn's recent tattoo is from a poem called 'The Prophet' by Kahlil Gibran, which he posted on Instagram in May of 2019. pic.twitter.com/pW4qFsXwGV

— Zayn Malik Updates (@ZaynReport) May 2, 2020


Rumours of a proposal linger in the wake of the couple confirming that they're expecting their first child together after a long on again-off again relationship.

Supermodel Gigi confirmed her pregnancy virtually on The Tonight Show Starring Jimmy Fallon, saying, "Obviously, we wished we could have announced it on our own terms but we're very excited and happy and grateful for everyone's well wishes and support."

Have something to add to the story? Share it in the comments below
COMMENTS
Comments are moderated and generally will be posted if they are on-topic and not abusive.
For more information, please see our Comments FAQ