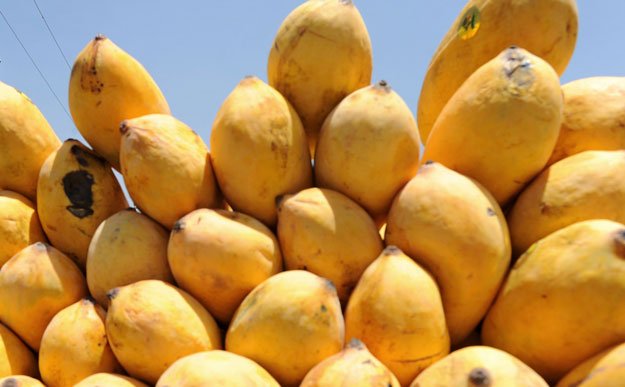 ---
MULTAN: Experts have warned that mango production in south Punjab this year may drop by up to 23 per cent due to recent storms, rains and diseases.

In addition to the storms, rains and prolonged cold weather, the powdery mildew and anthracnose diseases have badly hit the orchards. As a result, the mango trees have produced considerably less fruit than last year.

Agronomists have warned that the production will fall by 23% this year. They said the production of export quality mango types, including Sindhri and seasonal Chaunsa, will be very low, making it difficult to achieve the export target.

Last year, the target of 100,000 metric tonnes was set for export of mangoes, but due to higher than expected production 118,000 tonnes were exported. The target for this year has also been set at 100,000 tonnes.

Mango orchards cover about 277,000 acres in Punjab, from which 1.3 million tonnes of the fruit is produced. But this year, due to climate change and diseases, the production is expected to fall by 270,000 tonnes. The fruit started ripening quite late due to climate change as cold weather continued for a longer time this year. The yield of many varieties of mangoes is likely to drop substantially because of the adverse weather conditions.

According to the Department of Agriculture, if the effects of the coronavirus on the demand lessen, there might be a better export of mangoes. However, the farmers are already worried about low yield amid the other prevailing problems.

The farmers expect losses of millions of rupees due to the unexpected weather and disease problems.

The traders who have brought the produce of orchards after advance payment to the farmers are also worried.

On one hand the production has declined and on the other hand they are facing difficulty in getting a better price from the market due to the coronavirus pandemic. If the situation does not improve in the near future, they might be left under the burden of debt.

Local farmers said sprays were also carried to eradicate diseases, but the pesticides did not work effectively due to which the fruits fell to the ground in the orchards without ripening.

According to the Mango Research Centre, orchards are being cut down and housing colonies are being built on their land in south Punjab, which is one of the reasons for the decline in production.

Published in The Express Tribune, May 7th, 2020.
COMMENTS
Comments are moderated and generally will be posted if they are on-topic and not abusive.
For more information, please see our Comments FAQ