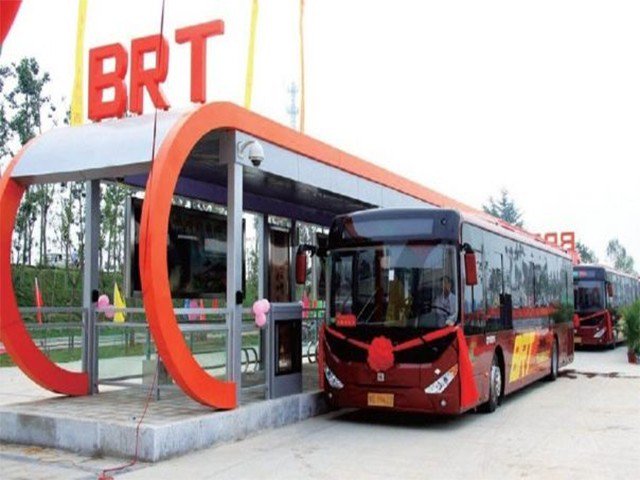 ---
ISLAMABAD:

The Supreme Court on Tuesday expressed its displeasure over the continuous delay in the completion of controversial Peshawar Bus Rapid Transit (BRT) project and observed that it was an example of 'one step forward, two steps back'.

However, the SC extended its stay order on directions issued by the Peshawar High Court for the Federal Investigation Agency (FIA) to conduct an inquiry into the project.

Hearing a petition filed by a citizen over the demolition of parts of the BRT after their construction, Justice Umar Ata Bandial asked the Khyber-Pakhtunkhwa government's counsel about the projects' completion date.

"The provincial government cannot dodge objections about the project's transparency," he remarked.

The K-P government counsel prayed before the court that the completion date of the project was July 31, but the construction work had come to a halt because of the coronavirus outbreak.

Accountability court to indict Hamza Shehbaz in Ramzan Sugar Mills case

"The contractors have not given a new completion date yet," the lawyer added.

The SC judge noted that the BRT project was being constructed with taxpayer's money and the provincial government was responsible for utilising the funds in a transparent manner.

"Questions will be asked if the money is wasted," Justice Bandial said. "People's money should be used carefully."

While extending the stay order against the PHC's earlier judgement, the apex court sought a reply from the K-P government on objections raised by the petitioner and adjourned the hearing indefinitely.

In November last year, the PHC had ordered the FIA to probe into alleged irregularities in the project. A bench, headed by PHC Chief Justice Waqar Ahmad Seth, had instructed the FIA to submit its findings within 45 days, and take action against the officers involved.

Vajda to replace Wells as US envoy for South Asia

In its order, the PHC termed the PTI government 'visionless' for concentrating money obtained as a loan from the Asian Development Bank (ADB) for just one project in a single city.

It further noted that no detailed feasibility study was undertaken to determine its economic, financial and technical viability before starting work on the mammoth project "which is why the design [of the project] has been repeatedly changed," the judgment read.

The project's per kilometre cost currently stands at Rs2.427 billion, which is "exorbitantly high".

Screenshots of shocking student rape chat group go viral

In February this year, the top court stayed the PHC directive on a petition filed by the K-P government but sought complete details of the project's initial estimated cost and its increase caused by the delay.