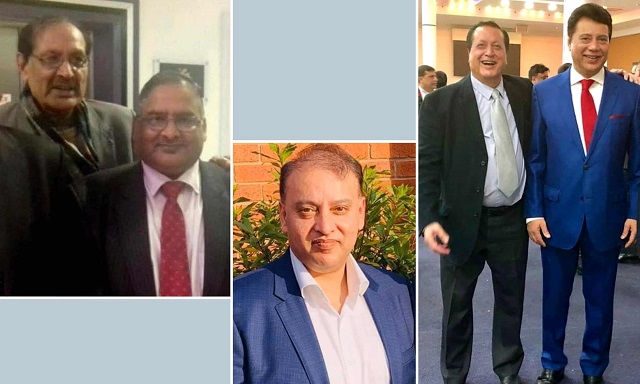 ---
How five Covid-19 deaths tore a hole in Birmingham's Pakistani community
Five victims of coronavirus
---
As the virus took a brutal toll on the UK's minority communities, The Guardian in an article explored the life and unfortunate deaths of five Pakistani friends who died within 17 days of each other.

Aged 50 or older, the men were said to be the backbone of the Pakistani community in Birmingham. "Their friendships ranged over decades, their passions running from philanthropy to cycling, their duties from activism to business," the newspaper reported.

Some of the five were childhood friends as they hailed from nearby villages in Pakistan.




Talking about deceased 67 years old Nazir, his 44-year-old son Amer Awan said,"We will be lost without them. They were our backbone - the keepers of our history. It is phenomenal that they have all gone."

Central banks' battle could stretch

The five victims were particularly vulnerable to severe or fatal infection as they were all male, all older, some with underlying health issues.

Amer told The Guardian that,"Their generation came over when times were much harder and they laid the foundations for us. Without them we wouldn't be where we are today. They were fighters."

In addition to Nazir Awan, the four others who died last month were Choudhary Aslam Wassan, 67, Miah Zaffer, 80, Umar Afzal, 71, and Jawad Iqbal, 50.

All of them were often seen together at each other's homes, charity events and family gatherings.




Nazir Awan was a multi-millionaire businessman known for his generosity. He was the former director at the Birmingham Chamber of Commerce. He had found the  Awan Marketing International,  a cash-and-carry wholesale market, in 1976. It is functional to this day.

Global markets slide as trade war fears revive

He showed symptoms of coronavirus at the end of March with a fever and was taken to the hospital. Within few hours, he was put on a ventilator. He died on April 8th.

On the same day, just 10 miles away from Nazir, his friend Umar Afzal, the older brother of former chief crown prosecutor for north-west England Nazir Afzal, lost his life to the virus in Acocks Green.




Umer was a broadcaster and certified interpreter. He reportedly came in contact with the virus when he went to visit his 91-year-old mother at the hospital. Since he didn't have any health issues he was told to self-isolate at home, where he later died.

"These guys are the ones that sacrificed so much for our communities and put us on the map," Amer told the UK daily.

Nazir Afzal also reflected Amer's thoughts. He told the newspaper that, "There will be a reckoning when we realise the consequences of this - losing a generation of leaders, peers and role models."




The third friend, Choudhary Aslam Wassan, was a popular former food business pioneer and political campaigner. He came to Birmingham aged 21, and devoted his life to the city thereafter.

Covid-19 disrupts urea supply chain

The first one to die out of the five friends was 80-year-old Mian Zaffer, a former mill worker. He was described as being "incredibly popular". He used to spend most of his time with his family and visit Pakistan for up to five months every year.

The youngest of all of them was Jawad Iqbal. He was 50 years old, and was a businessman and political activist. His company, Overseas Express, was said to be one of the oldest money exchange businesses in the city.

"They would always be around each other's houses drinking tea and talking about everything," said Wassan's son, Zia.

"They would always be sat together at events chatting away, and whenever there was a photographer you could guarantee they would be in the picture," he added.

The friends were not just entrepreneurs but were also political. They served their community by not only employing large numbers of local people in their businesses, but also highlighting their issues politically.

However, depressingly, it is reported that there were many other men from the Muslim community in the area who died one after the other, besides the five friends.

The newspaper spoke to a mosque trustee who said that Muslim coronavirus victims were kept in refrigerators inside a tent before their burial in accordance with Islamic rituals.

The trustee said they had to do this because of the high death rate of Muslims from Covid-19. "To keep the coronavirus deaths separate from the normal ones we set up a morgue outside," he said.

"Each fridge can hold up to 50 bodies and we can store 150 in total - but God forbid that actually happens," the trustee said.