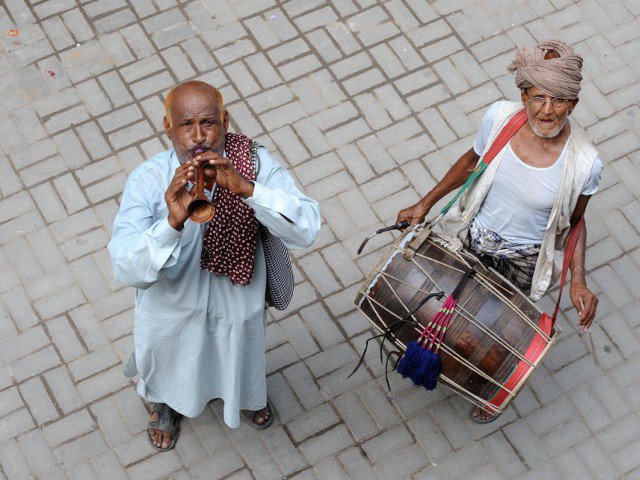 ---
LAHORE: Over the centuries, the people of Punjab have woken up to the drumbeat from bands that arrived to remind them of the Sehri time in the wee hours.

However, the tradition is slowly dying out in the urban centres of the province, though the rural areas still enjoy the beat of the drummers that stroll through the neighbourhoods to wake people up for Sehri.

"Uth Jao Logo, Sehri Kha Kar Roza Rakh Lo (Wake up people, have Sehri to observe the fast)," has become a rare sound compared to yesteryears when it was far too common in the streets of Lahore.

Pre-coronavirus containment, these bands earned a living by playing their tunes and beats at festivals, weddings and other celebrations. Now that the lockdown has curtailed all such gatherings, the drummers can only come out to help people rise for the early meal of Ramazan.

An aged drummer, Ali Mohammad, said, "People are not holding weddings and functions due to the lockdown which has caused us financial problems. This is the only job we can do in Ramazan."

He added that he observes fast after consuming a meal given by someone in the neighbourhood.

Baba Faqir Hussain, a resident of Wagah, is also one of such Ramazan drummers. He has been working to wake people up through drumming in the month of Ramazan for the past 20 years.

"I get up at one o'clock at night, take my son along with me and then go drumming around the whole village. It takes around two and a half hours for us to complete the task," Baba Faqir said while narrating his Ramazan routine.

Speaking to The Express Tribune, he said they do this considering it a good deed, "We do not do it for any compensation."

The veteran drummer said, "Some people do pay us at their own accord but we never demand compensation from anyone."

He stated that he travels several kilometres at a fast pace, drumming around every single day in empty streets to draw people's attention to Sehri time.

Usually, people pay these bands toward the end of the holy month. The amount ranges from Rs100 to Rs1,000. The drummers said they use this amount to buy clothes and shoes for their families, particularly their children.

Published in The Express Tribune, May 3rd, 2020.