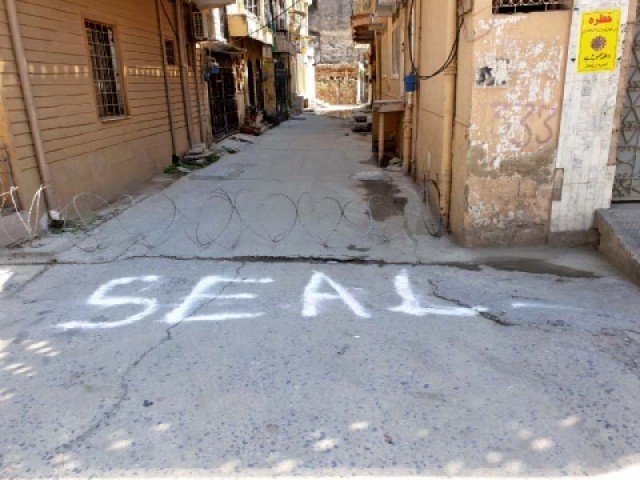 ---
RAWALPINDI/ ISLAMABAD: The Islamabad administration sealed two areas of Sector I-10 for a week after confirmation of 33 coronavirus (Covid-19) patients in the area, an official notification said on Thursday.

The sub-sectors I-10/1 and I-10/2 has been put under a curfew and barbed-wire has been laid across streets to restrict movement in the sealed parameters.

A curfew has been imposed in both affected areas and the police, paramilitary rangers and army personnel stood sentinel on the entry points of these areas.

Deputy Commissioner (DC) Hamza Shafqaat said that the test results of as many as 33 locals of both areas resulted back positive on Thursday.

Following this, the administration decided to seal both the localities rather than moving such a large number of infected people to quarantine centres, he added.

Shaafqat told the media that the reports of some 37 people declared them free of the contagion while the results of 100 more residents were still awaited. There were over 40 suspected cases in both areas, DC asserted.

Commenting on the rise in cases from these localities, the official said that the locals had been flouting the social distancing advice for the last 15 days. Particularly since the beginning of Ramazan and relaxation in lockdown, the people had forgotten that they had to take precautionary measures while being in contact with others, Shafqaat said.

The administration has started preparing lists of people who had come into physical contact with the infected patients during the last week, Shafqaat added.

Shops sealed

Rawalpindi district administration has sealed 50 shops were on Thursday during a crackdown against the violators of lockdown orders.

Cantonment Assistant Commissioner (AC) Ramsha Javed and other district officials conducted the action in markets located in Gulzar-i-Quaid, Morgah, Koth Kalan and other such areas.

AC Ramsah ordered police to close the shops by force which were open without official permission.

The sealed shops included garments, cosmetics, paint shops, decoration services.

Later, the AC also checked various exempted businesses to see if they followed the standard operation procedures (SOPs) devised by the government to stem the spread of the pandemic virus. Pursuing her action, Ramsha imposed fine on some 19 shops where the SOPs were being openly flouted.

Talking to the media workers, she said that there was a zero-tolerance policy on the lockdown orders and precautionary SOPs, adding that no laxity in this regard would be entertained.

She added that the businesses that were not allowed to open during the lockdown would not be allowed to do so until further orders by the government.

The official warned that shop owners would be sent to jail if they did not comply with SOPs onward.

Published in The Express Tribune, May 1st, 2020.