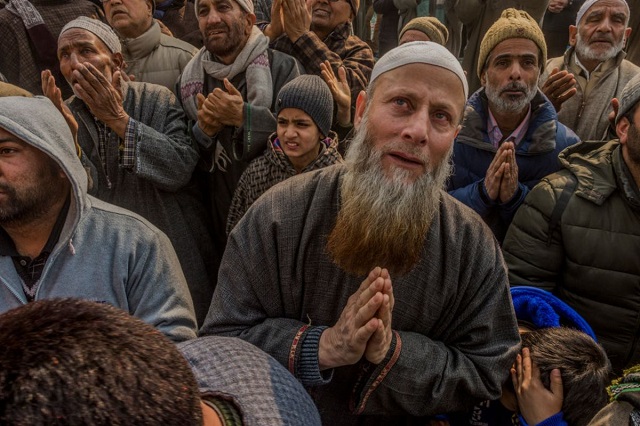 ---
ISLAMABAD: The United States Commission on International Religious Freedom (USCIRF) in its annual report released on Tuesday recommended that the State Department should designate India as "country of particular concern" or CPC, for "engaging in and tolerating systematic, ongoing, and egregious religious freedom violations, as defined by the International Religious Freedom Act (IRFA)".

Giving India its harshest rating since 2004, the independent and bipartisan US federal government commission also pushed for imposing targeted sanctions on Indian government agencies and officials responsible for severe violations of religious freedom by freezing those individuals' assets and/ or barring their entry into the US under human rights-related financial and visa authorities, citing specific religious freedom violations.

It suggested strengthening the US Embassy and consulates' engagement with religious communities, local officials, and police in India, especially in regions impacted by religiously motivated violence.




The USCIRF also called for increasing US partnerships with Indian law enforcement to build capacity to protect religious minorities, houses of worship, and other holy sites, and confront religious-based hate crimes.

It proposed allocating funding to support civil society in India to create a monitoring and early warning system in partnership with police to challenge hate speech and incitement to violence.

The USCIRF recommended that the US Congress should continue to hold hearings highlighting religious freedom conditions in India and the government's policy toward the country.

"In December 2019, parliament passed the CAA, providing a pathway to citizenship for non-Muslim migrants already in India from Afghanistan, Bangladesh, and Pakistan by treating them as refugees fleeing religious persecution," the report read.


The Citizenship (Amendment) Act in #India "potentially exposes millions of Muslims to detention, deportation, and statelessness when the government completes its planned nationwide National Register of Citizens" USCIRF Vice Chair @nadinemaenza #USCIRFAnnualReport2020

— USCIRF (@USCIRF) April 28, 2020


"The CAA would be even more problematic in conjunction with a nationwide NRC, which could be modeled after the statewide NRC in Assam, and is a goal outlined in the BJP's manifesto and repeatedly promised by BJP leadership,"it added.

"The NRC process in Assam raised significant concerns: impoverished families could not present the necessary documents due to poor record keeping or illiteracy. Even with documentation, citizens were excluded because of minor inconsistencies; some were excluded despite using the same documents as included relatives. The Foreigners' Tribunals that adjudicate citizenship status have been critiqued for their anti-minority bias. In December, the Parliament approved an NPR to collect residents' citizenship data. According to government statements and under the Citizenship Rules, 2003, the NPR—which allows residents to be marked as "doubtful citizens" and placed under scrutiny—is the first step toward a nationwide NRC."

The USCIRF noted that cow protection had been promoted as a key issue by the BJP and the Rashtriya Swayamsevak Sangh (RSS). "Lynch mobs, often organised over social media, have attacked minorities—including Muslims, Christians, and Dalits—under suspicion of eating beef, slaughtering cows, or transporting cattle for slaughter. Since the BJP came to power in 2014, there have been over 100 attacks, amounting to over 98 percent of such attacks since 2010. Lynching victims, rather than the perpetrators, are often arrested under these laws."

The commission observed that while the Indian constitution protected the right to proselytise, 10 states had anti-conversion laws criminalising conversion using force, allurement, inducement, or fraud, but many use vague language that can be interpreted as prohibiting consensual conversions.
"In 2019, the BJP-ruled Himachal Pradesh increased the penalties for forced conversions. Authorities predominately arrest Muslims and Christians for conversion activities. To date, however, there are no known convictions for forced conversion. Hindutva groups pursue mass conversions through ceremonies known as ghar wapsi (homecoming), without interference from authorities," the report read.
"Empowered by anti-conversion laws and often with the police's complicity, Hindutva groups also conduct campaigns of harassment, social exclusion, and violence against Christians, Muslims, and other religious minorities across the country. Following attacks by Hindutva groups against religious minorities for conversion activities, the police often arrest the religious minorities who have been attacked. In September 2019, the Home Ministry introduced new rules under the Foreign Contribution (Regulation) Act requiring all members of nongovernmental organisations (NGOs) to sign an affidavit affirming they have 'not been prosecuted or convicted for indulging in forced religious conversion or creating communal tensions' to receive foreign funding. Faith-based NGOs, in particular Christian organizations, expressed fear that this is intended to limit their activities."
The USCIRF noted that in August last year, the India stripped the Muslim-majority occupied Jammu and Kashmir of its autonomy and imposed security measures, including restricting freedom of movement and assembly, cutting Internet and phone access, and arresting Kashmiri leaders, including religious leaders.
"The restrictions on movement and assembly limited the ability to attend prayers and religious ceremonies. The USCIRF also received several reports of mosques being closed, imams and Muslim leaders arrested and detained, and threats and violence by extremist groups."
The commission observed that US officials highlighted concerns over India's religious freedom violations through public statements, congressional hearings, and bilateral engagements. "In October, US Ambassador-at-Large for Religious Freedom Samuel D. Brownback travelled to India. The Indian government, however, continued to reject the State Department and USCIRF's reporting on religious freedom violations in India."
USCIRF Vice Chair Nadine Maenza said perhaps the "steepest, and most alarming, deterioration in religious freedom conditions was in India, the largest democracy in the world".
"The most "startling and disturbing" was India's passage of a citizenship amendment act that fast-tracks citizenship for newcomers who belong to six religions but excludes Muslims," she added.
"This potentially exposes millions of Muslims to detention, deportation and statelessness when the government completes its plan for a nationwide, national register."
The USCIRF recommended 14 countries for designation as CPCs including nine that the State Department designated in December 2019 -- Burma, China, Eritrea, Iran, North Korea, Pakistan, Saudi Arabia, Tajikistan, and Turkmenistan -- as well as five others India, Nigeria, Russia, Syria, and Vietnam.
Instead of using its own "Tier 2" category, as in past reports, the 2020 Annual Report also recommends 15 countries for placement on the State Department's Special Watch List (SWL) for severe violations. These include four that the State Department placed on that list in December 2019—Cuba, Nicaragua, Sudan, and Uzbekistan—as well as 11 others—Afghanistan, Algeria, Azerbaijan, Bahrain, Central African Republic (CAR), Egypt, Indonesia, Iraq, Kazakhstan, Malaysia, and Turkey. The USCIRF had recommended Sudan, Uzbekistan, and CAR for CPC designation in its 2019 Annual Report; the SWL recommendations this year are based on improved conditions in those countries.
The 2020 Annual Report further recommends to the State Department six non-state actors for designation as "entities of particular concern" (EPCs) for systematic, ongoing, egregious violations. These consist of five groups that the State Department designated in December 2019—al-Shabaab in Somalia, Boko Haram in Nigeria, the Houthis in Yemen, Islamic State in Khorasan Province (ISKP) in Afghanistan, and the Taliban in Afghanistan—plus one other—Hay'at Tahrir al-Sham (HTS) in Syria.