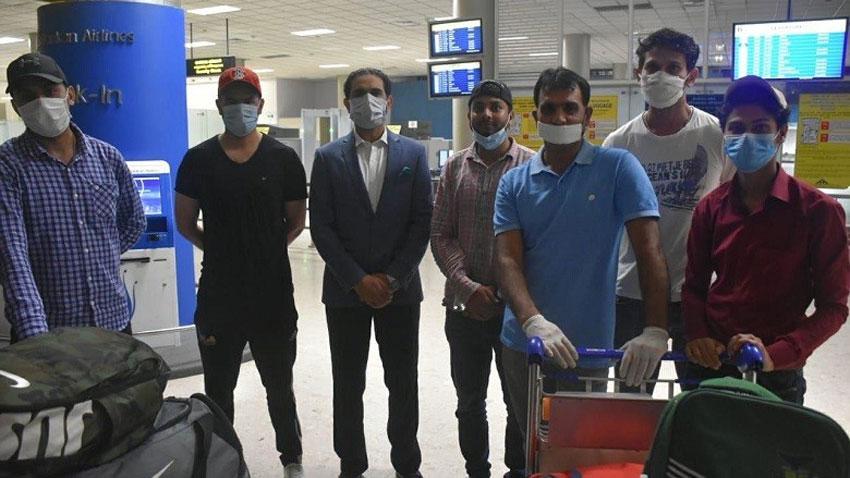 ---
Pakistani nationals repatriated from Sri Lanka
At least 50 citizens return to the country
---
Pakistani nationals, stranded in Sri Lanka since the start of the lockdown, were repatriated on Tuesday from the island nation.

The repatriation of the 50 individuals was made possible after coordinated efforts of Pakistan High Commission and Sri Lankan authorities.

The returning citizens thanked their government for bringing them back to their country.

They also expressed their gratitude to the Pakistan High Commission for the welfare and well-being of the community members in these difficult times.

Deputy High Commissioner Tanvir Ahmad saw off the departing Pakistanis at the Bandaranaike International Airport in Colombo.

On April 27, it was reported that The Pakistan International Airlines (PIA)  worked out an extraordinary special flights operation to bring back 20,000 stranded Pakistanis from around the world within a fortnight.

103 PIA flights to repatriate 20,000 by May 9

Under its special mission, the sources said, the national flag carrier would operate 103 flights to repatriate the stranded Pakistanis from the UK, UAE, France, Germany, Bahrain, Qatar, Saudi Arabia, Muscat, Malaysia and Oslo by May 9.

Thousands of Pakistani citizens, including expatriates, are held up in various cities around the world because of airport closures and flight bans imposed by governments to contain the spread of novel coronavirus, which causes Covid-19.

On Friday, Foreign Minister Shah Mehmood Qureshi, while addressing a virtual meeting with the Pakistani-American community, put the number of registered stranded Pakistanis at 60,000 and said that the government was trying to airlift a maximum number of them before Eidul Fitr.

Under the PIA plan, about 20,000 Pakistani citizens would be flown back to Karachi, Lahore, Islamabad, Faisalabad, Peshawar, Multan, and Sialkot airports in the next 15 days. The passengers would go through screening at these airports and any Covid-19 patients would be kept in a 14-day quarantine.